Customers are crucial to any business model, and we understand that customer support plays an extremely important role here. It is difficult to make every individual customer happy. Hence I decided to take this opportunity to give you a tour around the workings of the customer support system today, with a few infographics down below (We know how wording can be puzzling and confusing, visualization is a much better option to stick with), and hopefully give you guys a chance to be in our shoes, even for a few minutes.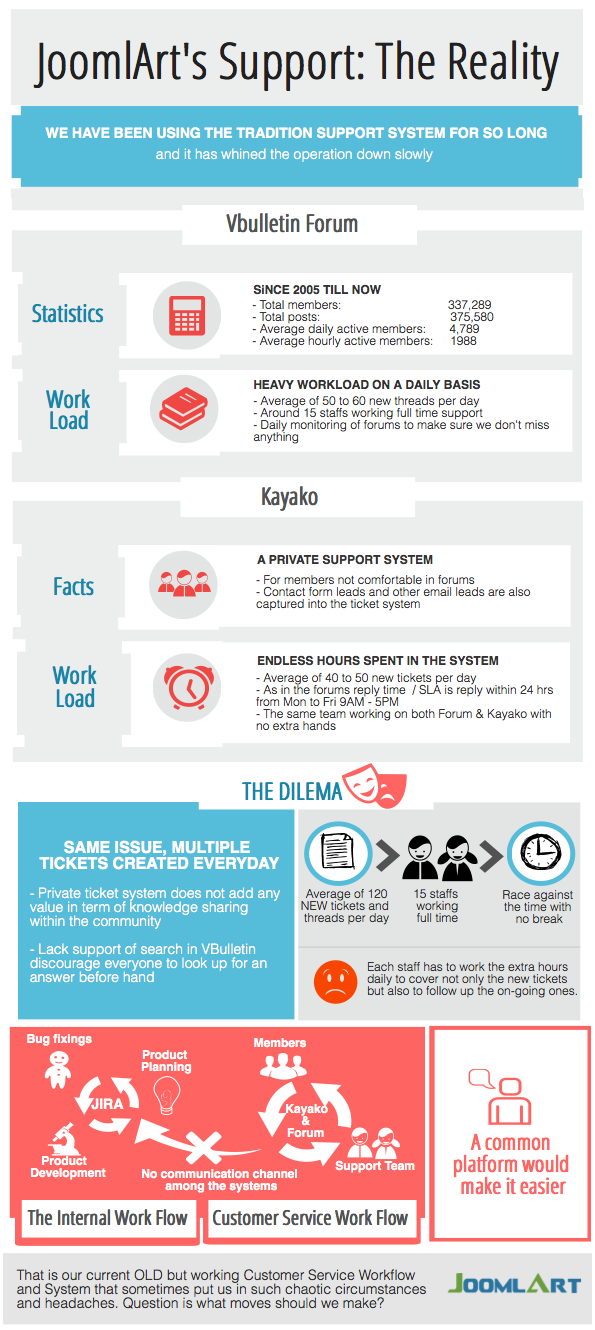 Should we stick to the existing workflow? The question keeps bugging us for years and
It's time to move on

We said

Hmm! So, will this "move" have any affect on existing customers?
For existing customers, you will still be able to raise a support ticket in Jira as normal, replicating the exact same method you are doing with Kayako. It's a pity that we can't bring along all of your existing tickets in Kayako to the new platform, but we will keep them as read-only mode for a few months in Kayako for your reference.
When and how will the "move" be implemented?
At the moment, we have slowly migrating to JIRA, such as piping all the submitted requests from our newly design contact forms into JIRA. It is now an email-only-support HelpDesk. Whenever a request is submitted via the contact form, JIRA will create an issue under an internal JIRA project and automatically assign it to the right person based on the chosen category in the contact form.
In a couple of weeks, we will be testing out the single-sign-on feature of JIRA with Joomla, VBulletin, amember (basically these are the systems we are currently using to mangage everything) to make sure that you can sign in anywhere with only 1 unique account across the system. Then we will have the beta launch for the new HelpDesk as an extra option for you to submit a support request (you still can choose to submit via Kayako if you prefer to stick with the old interface).
Once everyone feels comfortable with the new interface, we will release a plan to freeze the Kayako system, putting it in the maintenance mode and direct all the support requests to the new JIRA interface.
Why you are so excited with JIRA? What is the most exciting feature of JIRA you are looking forward to as a HelpDesk system?
This will be the topic of the 2nd part where I will be sharing an inside look of the new system and why we decided to "move". If you have any questions, feel free to ask me down below and I will be more than happy to answer.