The World's Leading
Joomla Page Builder
150,000+

Downloads & Active Installations

Create stunning Joomla sites visually and easily with #1 Joomla Page Builder. Plenty of beautiful website bundles, 100+ pre-made content blocks, 30+ add-ons, and 100% visual design-builder that helps you create any website that you can imagine.

Visual Design
Web design is not time-consuming. Not with 100% drag & drop T4 Joomla Page Builder.

Website Bundle
Simply build a complete website with no-code Free and Pro layout packs.

Performance Optimization
The faster and SEO-friendly the website is, the more it converts. You got this with T4 Joomla Page Builder.
Designed for anyone
No knowledge of code? Not a problem!
T4 Joomla Page Builder helps you build your website easier than ever. Visualise the website that you desire, pick the website bundle that you like and start organizing the content blocks and add-ons altogether. What's more? T4 Joomla Page Builder even makes it fully responsive and optimized for SEO.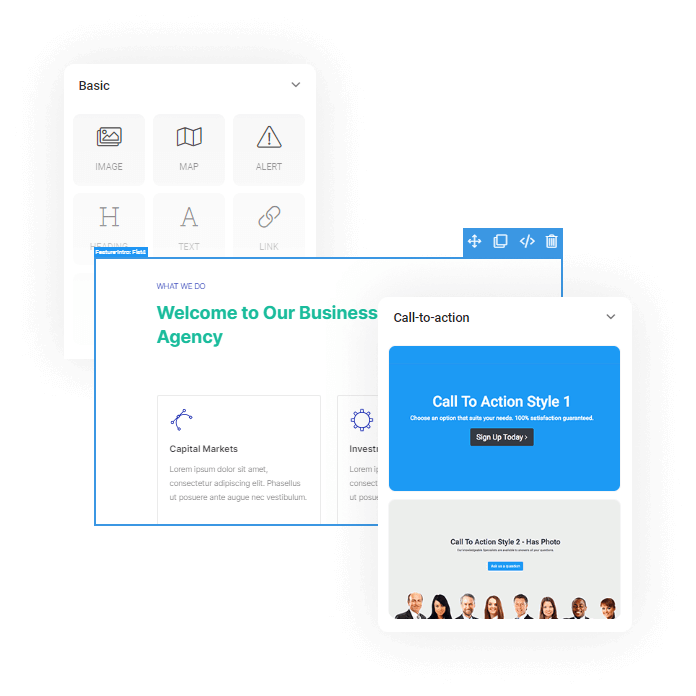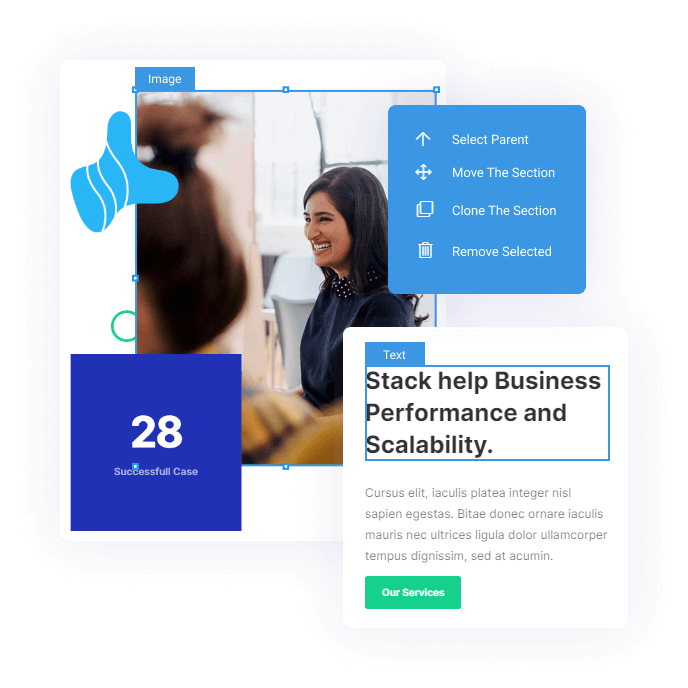 Visual Design
Drag & drop T4 Joomla Page Builder
Say goodbye to a boring code editor and enjoy the design work with the ultimate visual editor. We save you time while you push forward with creating a spectacular page with ease and efficiency.
Ease Of Usage
All-in-one web design platform
Design, edit and customize every part of your website without hassle with our grouped & organized field managers.
Beautiful Website Bundles
Build any landing page or a complete website in just a few clicks using the pre-made pages and website layout packs.
New website bundles are updated regularly along with free photos and icons.
70+ pre-made content blocks on T4 Joomla Page Builder
Beautiful section designs for many topics to speed up your landing page, website, and campaign building. Drag and drop, update content and publish to the world.
More content block types and layouts will be updated regularly so you don't have to worry about being out-dated.
View Block Library
30+ add-ons and more to come
We support many content elements and add-ons that you need to build a website: carousel, button, tab, nested grid layout, and many more.
Joomla Module

Module Position

Accordion

Carousel

Slider

Horizontal Tabs

Vertical Tabs

Typed Text

Grid Layouts

Slider

Image

Video

Google Map

Member

Heading

Icon

Table

Feature Item

Progress Bar

Order List

Icon List

Card

Alert

Box

Quote
Design Tool
Time-efficient design with T4 Joomla Page Builder
Many tools and features are integrated to help you build any website faster: undo, redo, copy and paste, add custom classes, page clear, etc. You always have more with T4 Joomla Page Builder.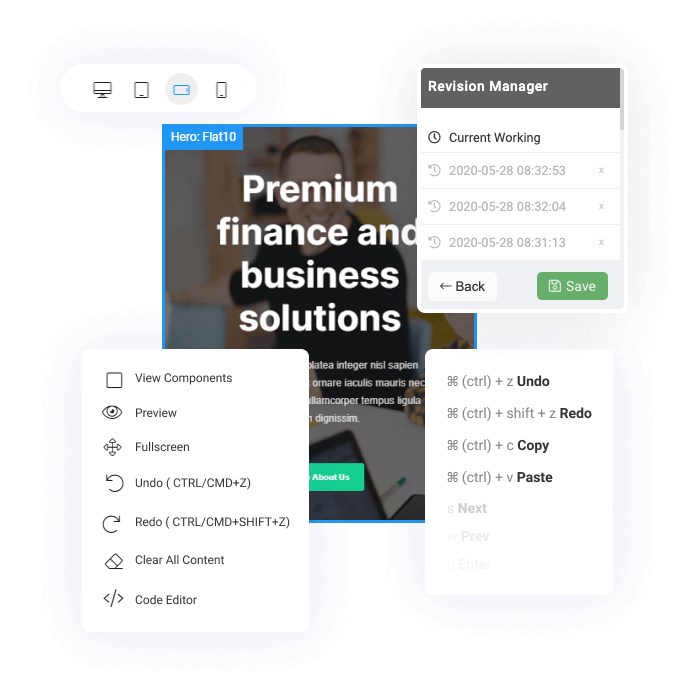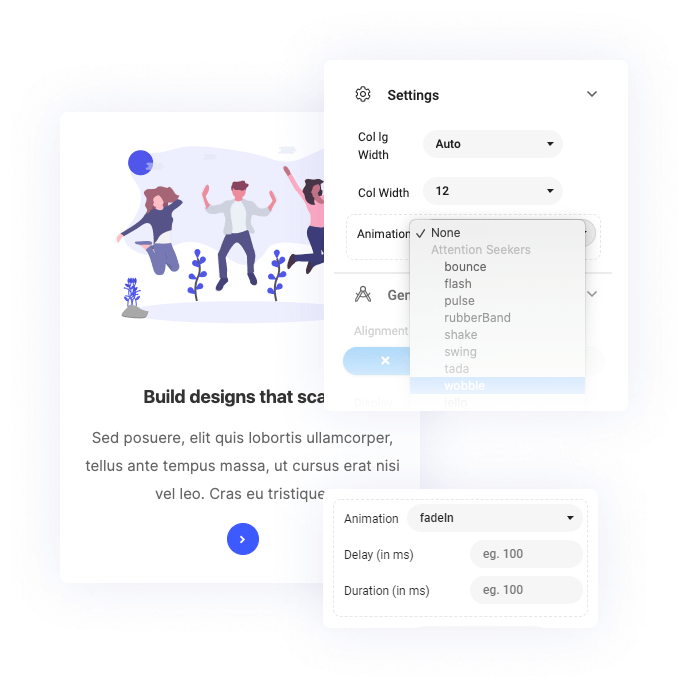 Animations & Effect
Beautify your website with 50+ animations library
The Joomla page builder supports 50+ animations, you can easily add animation for any element using the animation settings: animation type, duration, and interval time.
Custom Code
Extendable & Developer-Friendly
You can update HTML mockup and CSS for any section and page easier with the full-featured inbuilt code editor. You can customize the HTML of the whole page or any section.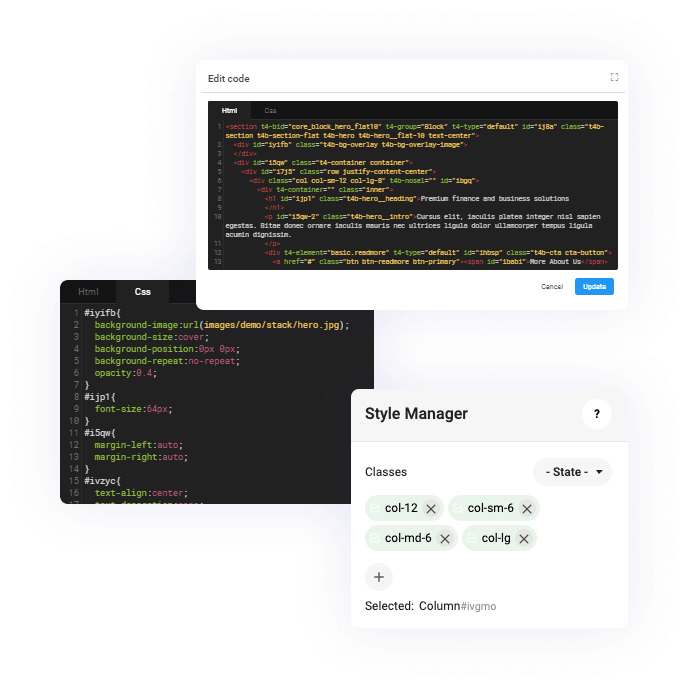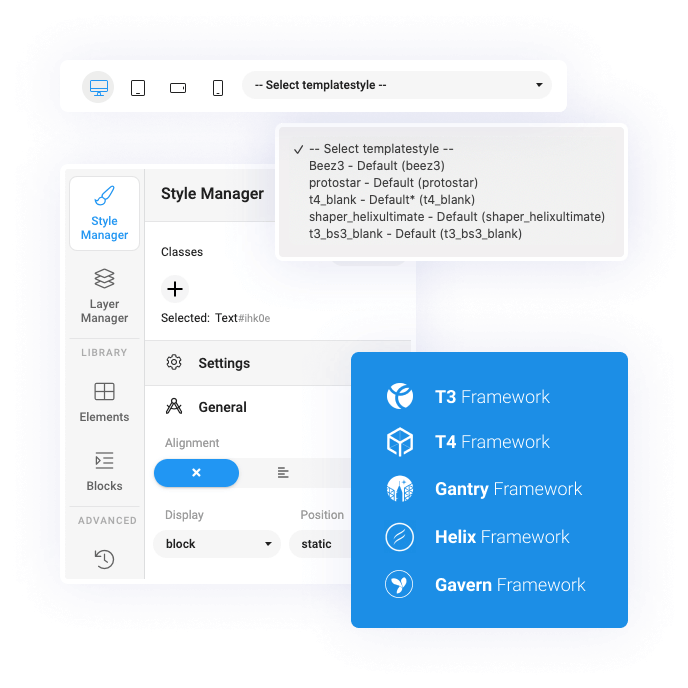 Highly Compatible
Work perfectly with popular templates & framework
T4 Joomla page builder is developed to work with any framework and template. At this stage (RC version), we are working to make it fully compatible with popular Joomla templates and frameworks.
Popular Third Party Extensions Supportable
The Joomla page builder supports Joomla articles and many 3rd party extensions including K2, Virtuemart, and many more coming soon.

Joomla Article Integration
Create professional Joomla articles using T4 Page Builder

K2 (coming soon)
Edit and style your K2 contents with advanced functions of T4 Page Builder.

Virtuemart (coming soon)
Decorate and beautify your product page to maximize conversion rate
Flexible Pricing That Works For You
Buy T4 Page Builder Pro to enjoy all the beautiful website bundles and premium section designs. You are always opted to a 7 day risk-free trial and no-question-asked refund policy from Joomlart in case you don't know.
FREE

$00

Pro

$59

Premium

$159

For Developers & Agencies

Installation Package

Builder Tool

Free Package Update

30+ Add-ons

Forum Support

Pro Website Bundles

Pro Page Library

100+ Pro Content Blocks

Premium & Helpdesk Support

Limited Customization Support

Free Download
Buy Now
Buy Now
Buy with confidence
With over 10 years experience with Joomla and being trusted by 300,000+ members. No risk to join us today.
Try the best Joomla Page Builder now
Join the community with professionals who use T4 to build Joomla websites faster and better than ever before