Getting started
Getting-started
T4 Joomla page builder is all you need to build a complete Joomla based website, beautiful landing page or insert amazing content sections to your Joomla website.
In this section, we will provide you easy steps to get started with the all-new page builder for Joomla that cover following sections:
Access T4 Page Builder Dashboard
Login T4 Page builder dashboard
Category manager
Page manager
Bundle Import
Page import
Import-Export
Front-end Edit
---
Access T4 Page Builder Dashboard
To access T4 Page Builder dashboard, from your website back-end, go to: Components → T4 Page Builder.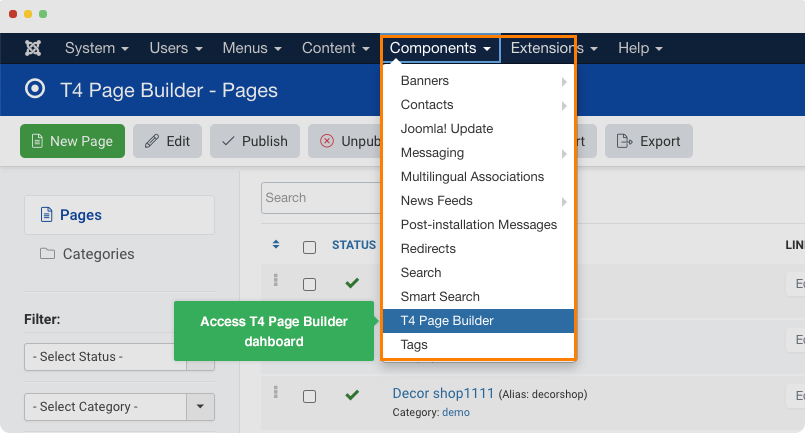 The dashboard provides you all features to manage pages and categories.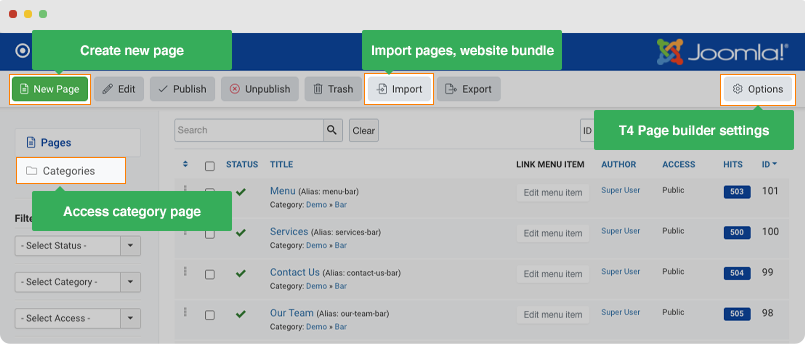 Manage pages: create, edit and delete any page
Import: to import a website bundle, a single or multile pages from any website bundle
Manage categories: create, edit and delete any category
Options: contain global settings for t4 page builder that include settings for
---
Login user dashboard
To login the dashboard of T4 Page Builder, from your website back-end, go to: Components → T4 Page Builder and access Page Import panel.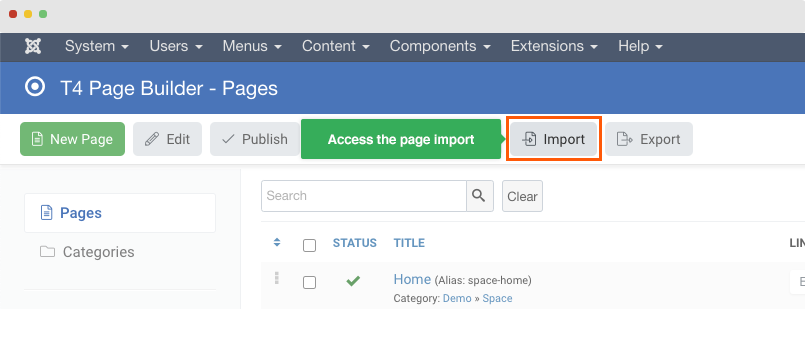 Now, you can login to the T4 Page Builder dashboard using your JoomlArt account, after login, you can see account's plan.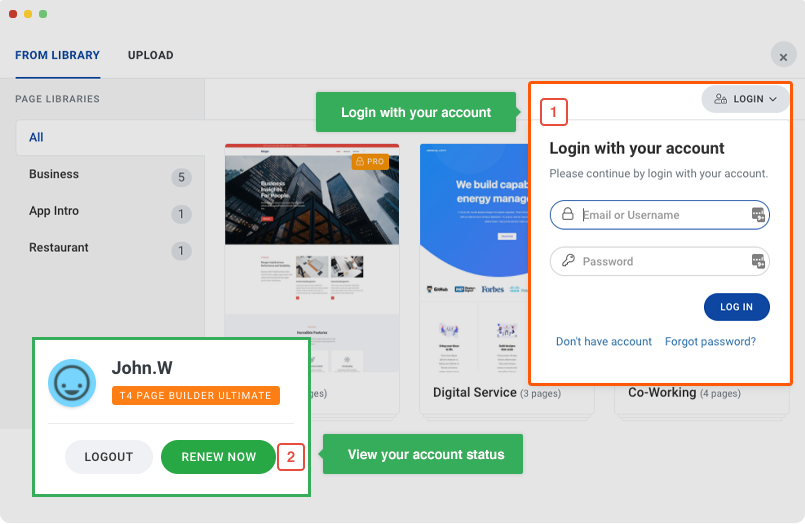 The login is to validate your permission to use the pro content blocks and pro website bundles. To import free website bundle and free content block, you can just register FREE account.
---
Import pages and website bundle
T4 Page builder is designed to help user create a complete website in the least time using the website bundle feature. Each website bundle is a layout pack that includes multiple pages for a topic.
It is easy and simple to import pages or a website bundle:
Hit the Import button in the dashboard

Login with your JoomlArt account.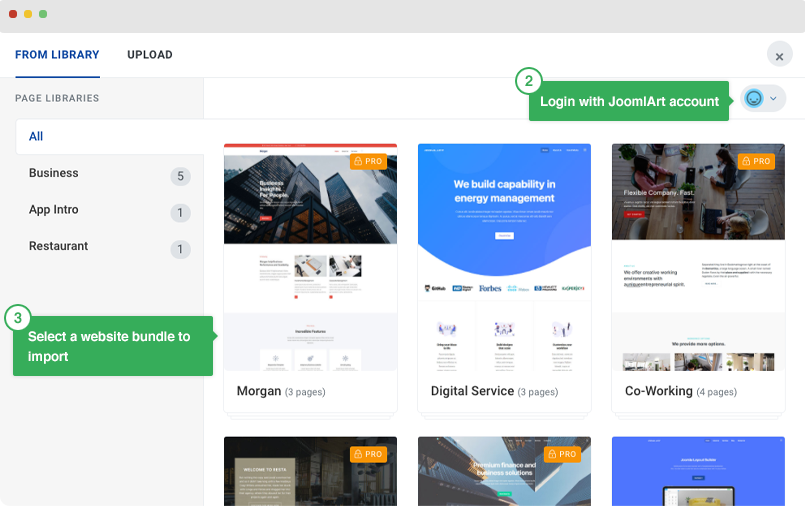 Select a website bundle then select all or specific pages in the bundle to import.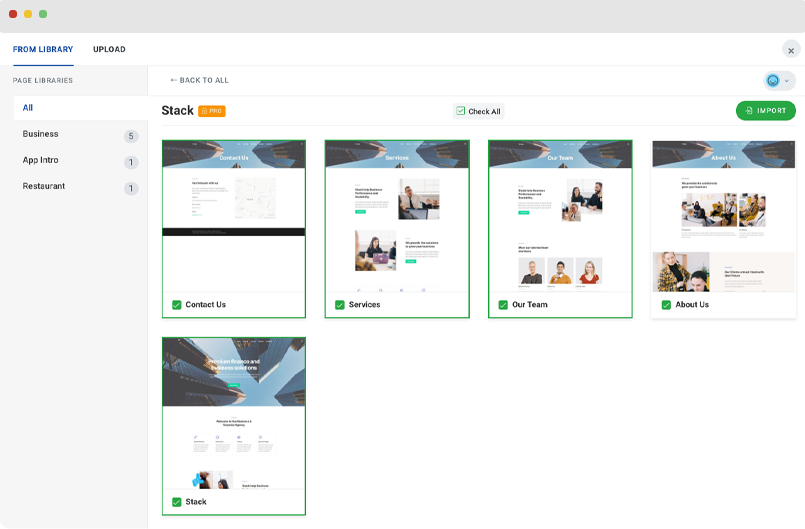 Add menu item for T4 Page Builder page
To publish the page to your users, add menu item for each page. Simply hit the Add menu item button.

Update the menu item info like when you create any normal Joomla menu.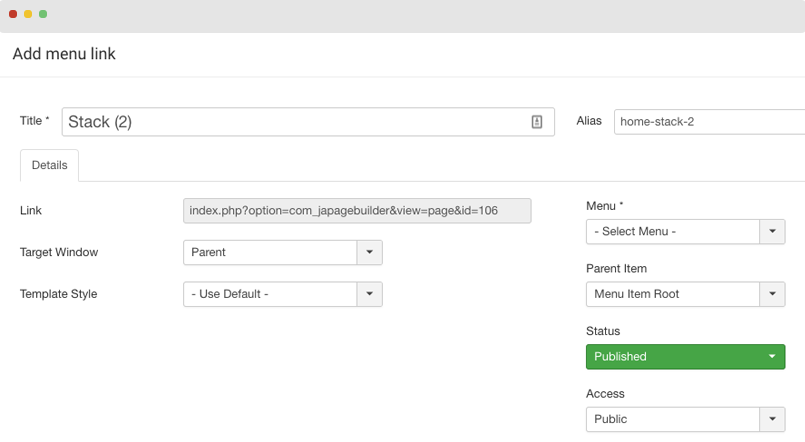 How to import PRO website bundles?
The PRO website bundles are for T4 Page Builder Pro and Ultimate users. You can upgrade to the PRO members from the page.
Purchase T4 Page Builder Pro →
Create a New Page
In the page dashboard, you can manage all your created page. Click Add New button to create new builder page.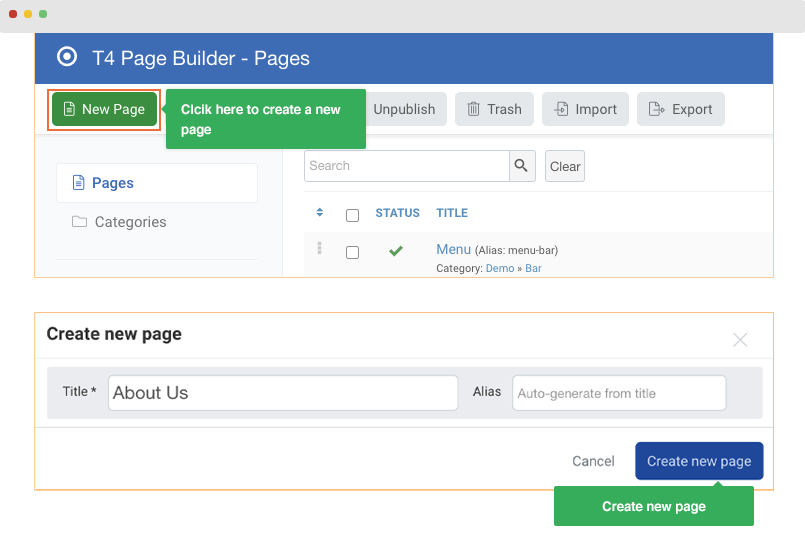 You can update the page title, status, access and more in the page edit panel.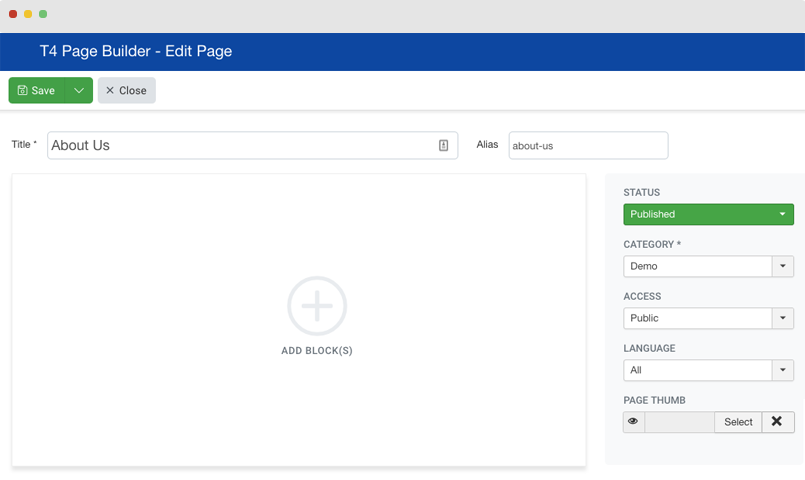 Click Add Blocks to start building your page.
Front-end Edit
T4 page builder allows users with permission can edit pages from front-end. Here is the steps:
1. Permission settings
Administrator can configure the permission settings the same ways of Joomla ACL. You can allow specific user group with specific permissions like editing their own page.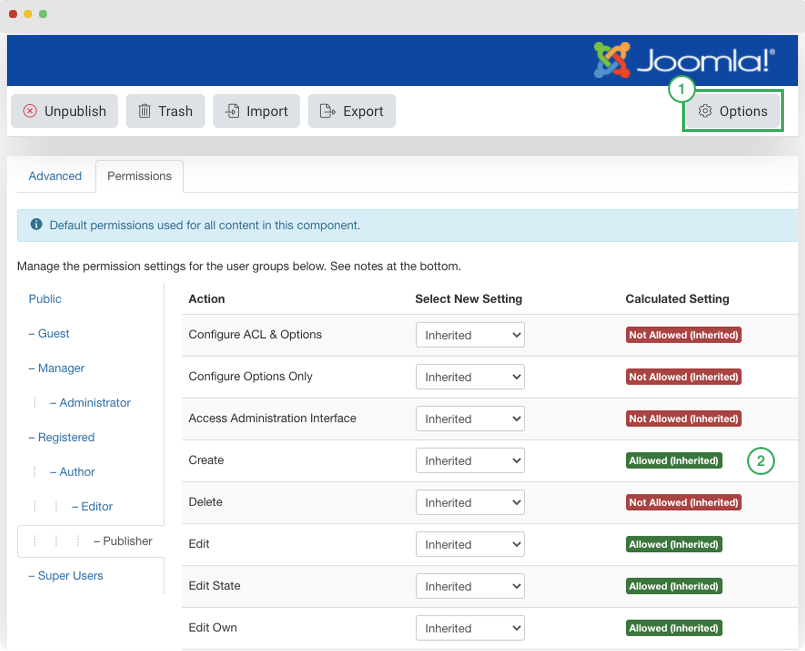 Front-end Edit
Users with edit page permission login from front-end (using Joomla login form), hit the Edit page to edit the page.