We are back from Christmas holidays and its time to put 2019 plan in motion. 2018 was a busy year and we did surprisingly good, for once we were worried if we would be able to handle all the acquisitions, thanks to our unified portal, all went smooth. Let's have a quick look at what we did back in 2018 and what we have in mind for 2019.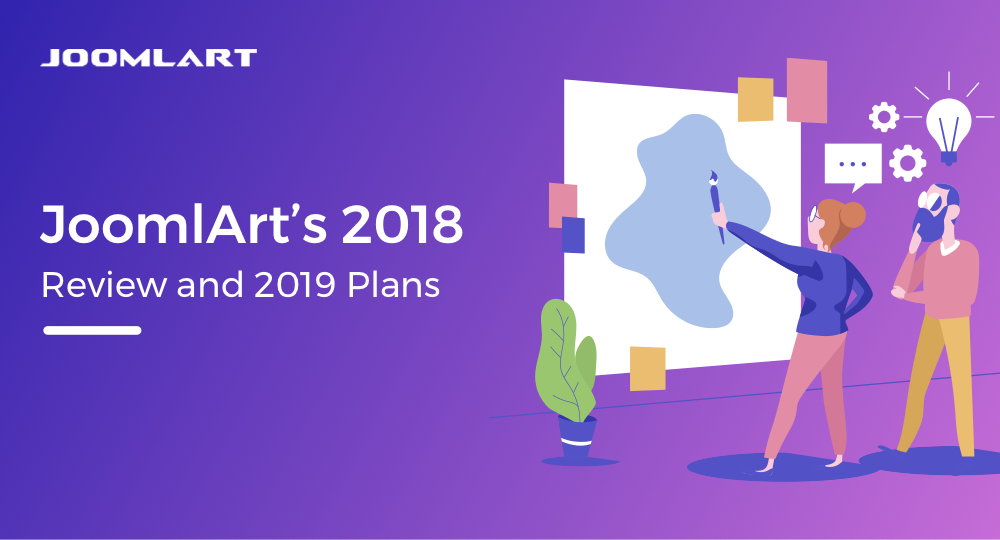 2018 - A quick review
1. Acquisitions & Mergers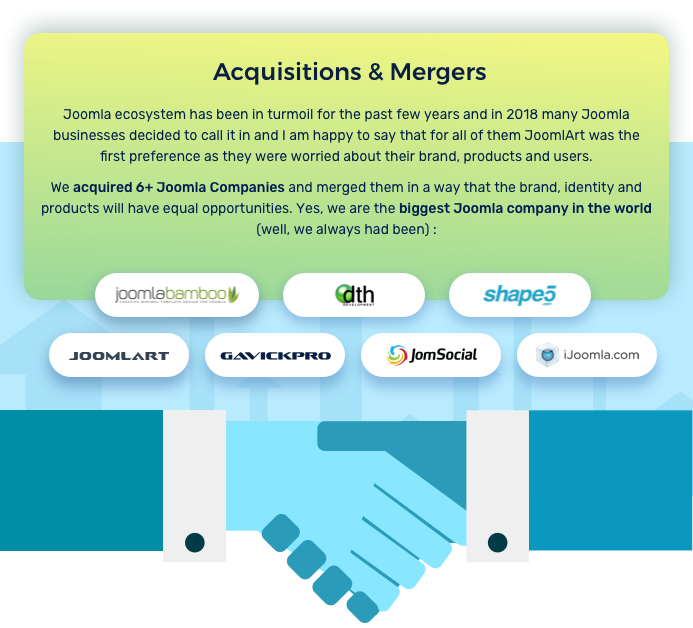 2. Products:
We could have developed more products back in 2018 but the Joomla 4 schedule changed and we had to pause new extension development. Still we released more new templates than promised. 16 new templates (12 for JoomlArt.com and 4 for Gavick.com), 2 new extensions and featured product: T4 Framework (in progress).
We had hoped to release T4 based Joomla templates but that has to wait till Joomla 4 is released.
2.1 New Joomla Templates
This year, our team released 16 pro Joomla templates added to our 200+ Joomla template library. The new templates are designed for different categories: eCommerce, Business, Gym and Fitness, Travel, Education, Portfolio, News and Magazine, Online courses and more.
JoomlArt: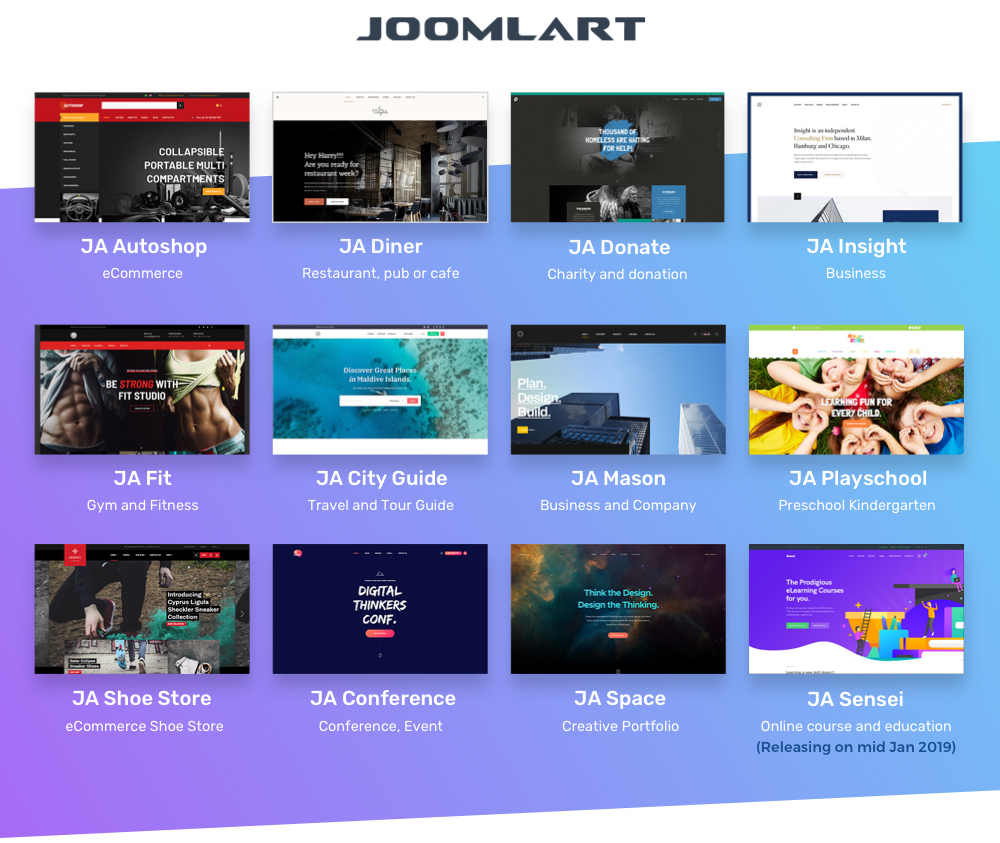 Gavick: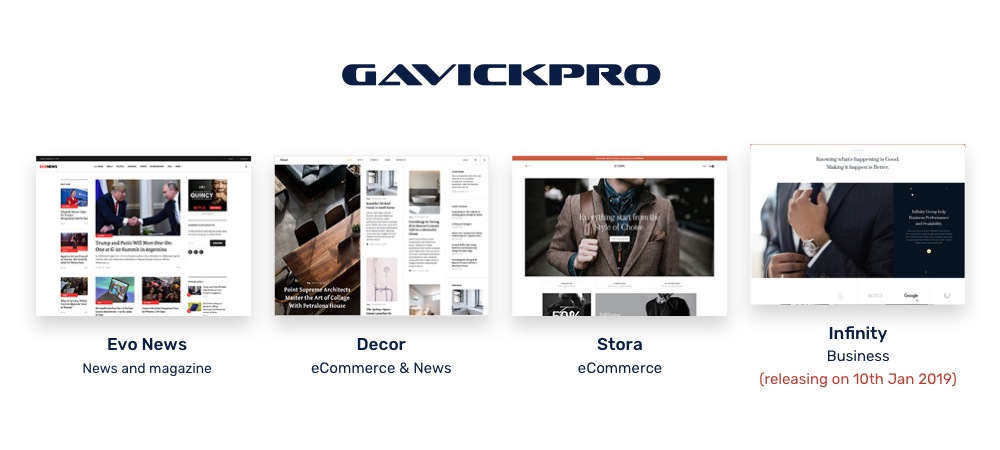 2.2 New T4 Framework and T4 Page Builder
It's a work in progress, we had to pause for a few months due to Joomla 4 release reschedule. This will be our featured project for 2019. The preview will be available soon.
T4 Framework core comes with unique page builder to build beautiful Joomla websites with just few clicks and save development time and make Joomla robust especially while content editing or layout configuration.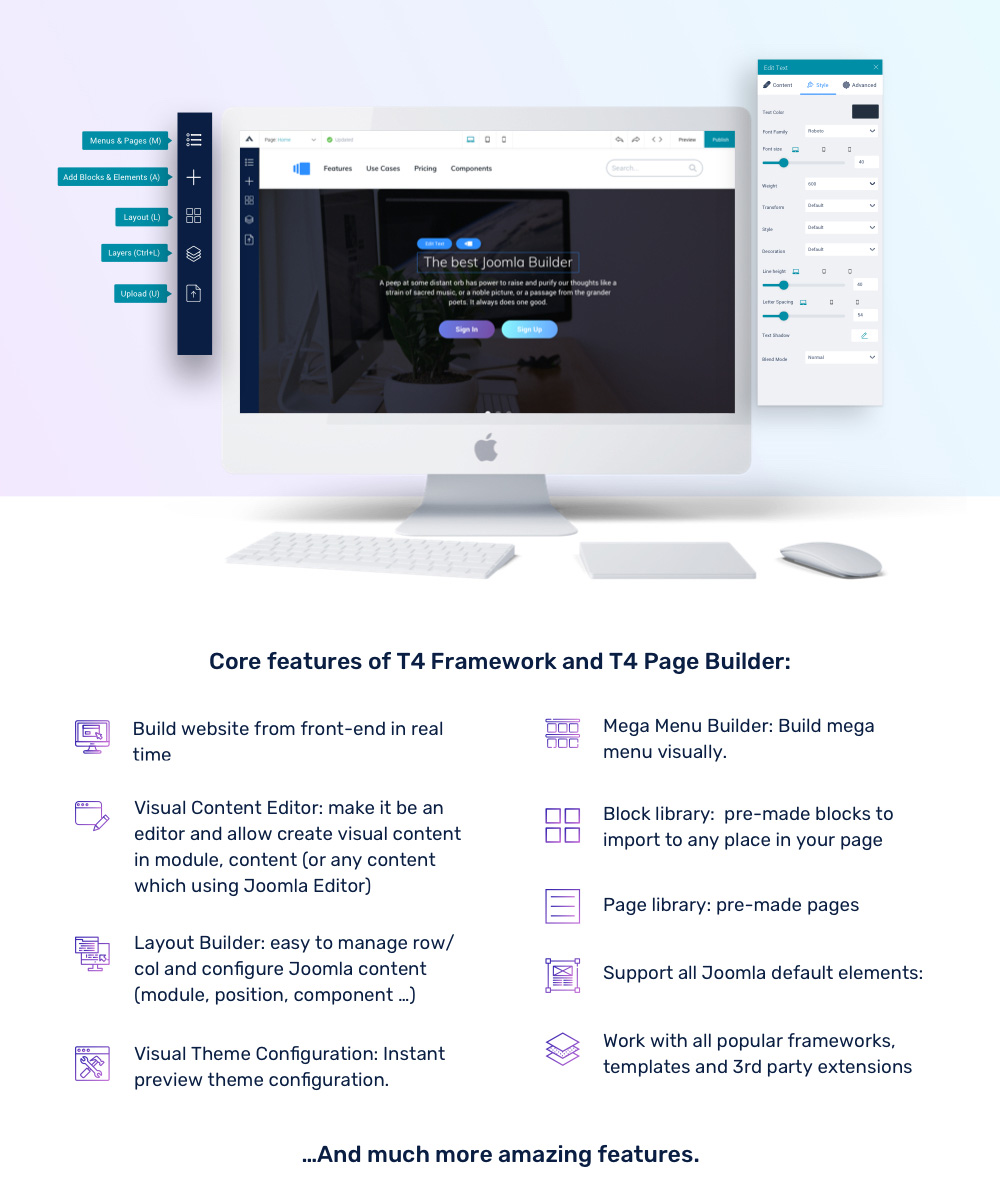 2.3 New Extensions: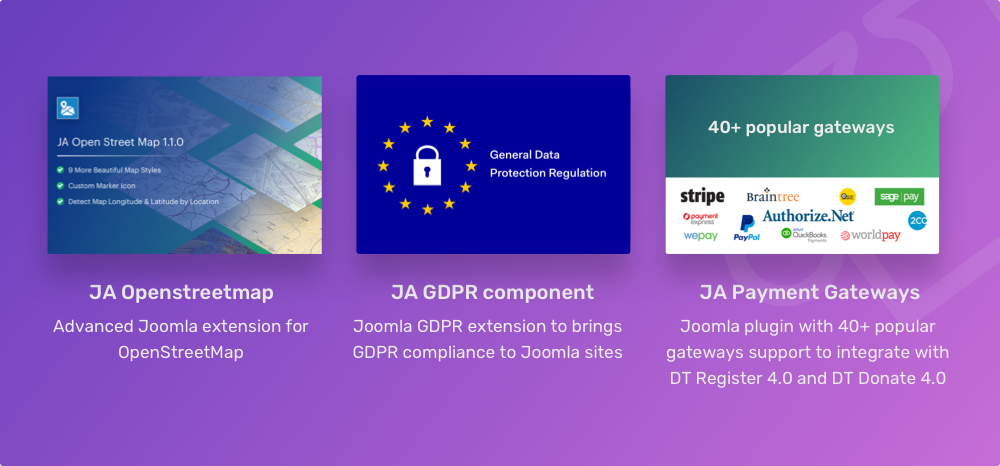 In 2018, we released 3 more Joomla extensions added to our Joomla extension club that have 40+ extensions :
JA OpenStreetMap plugin: Advanced Joomla extension for OpenStreetMap
JA GDPR component: Joomla GDPR extension to brings GDPR compliance to Joomla sites
JA Payment Gateways plugin: Joomla plugin with 40+ popular gateways support to integrate with DT Register 4.0 and DT Donate 4.0
2.4 JomSocial major releases:
JomSocial development has been on track and we have had quite a few good major releases with lots of big features, improvements and bug fixes. Following is the main features added: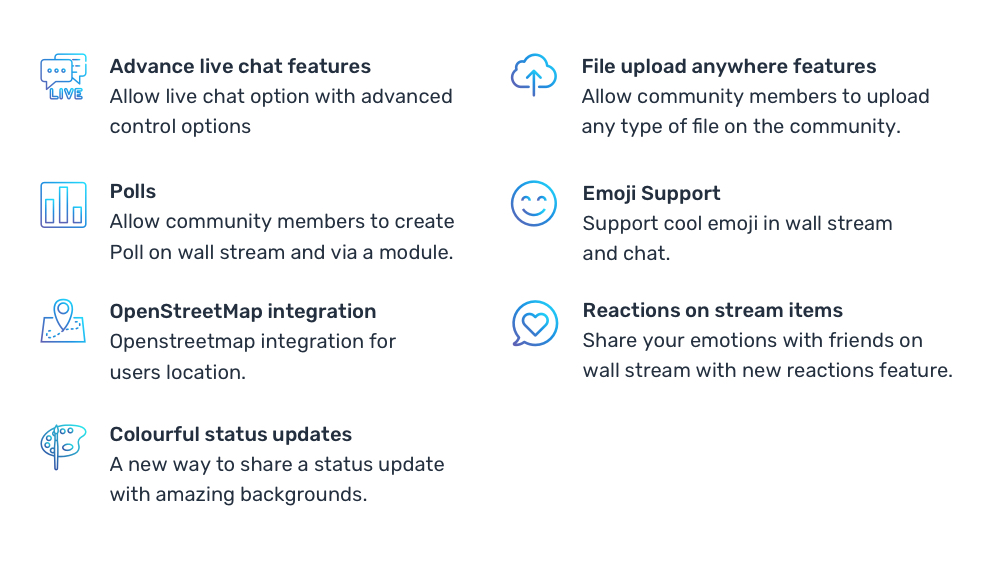 2.5 Product Updates:
Maintaining hundreds of products is not a easy task, the team did great work in 2018 while all active products were kept up to date with new Joomla version, reported issues from user were fixed, new features and improvements were added too.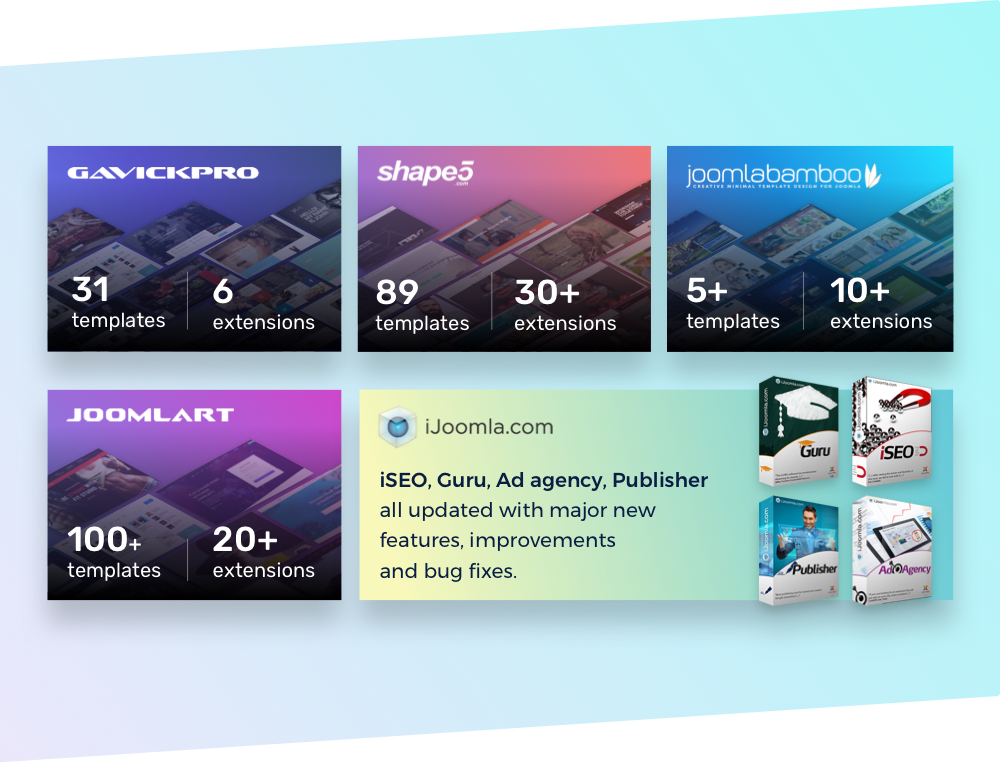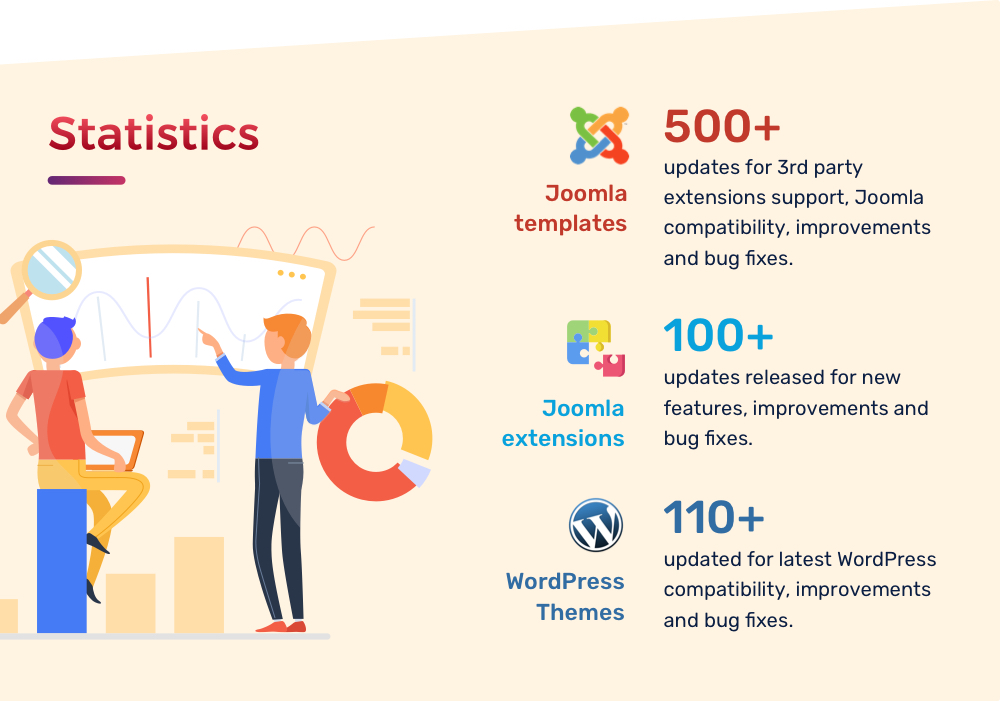 2.6 DTHDevelopment:

This one required a lot of work and there is still lot to do with DTH products :
Rebuilt the website, integrated the system with our unified system
DT Register 4.0, DT Donate 4.0 and DT SMS 2.0 with major core updates, workflow and integrated with JA Payment gateway plugin that supports 40+ popular gateways.
JA Payment gateway plugin with support for 40+ popular gateways to integrate in DT Register 4.0 and DT Donate 4.0
---
3. New Unified Portal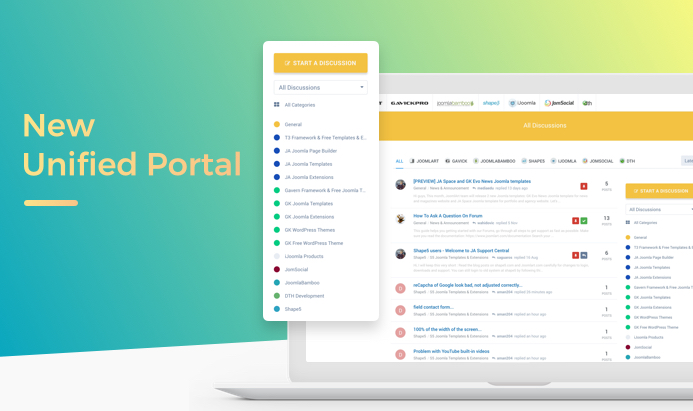 With 6 acquisitions in the last 2 years, we have 7 different cart systems, support forums, ticket systems, download system. Out of which some are still Joomla 1.5 and some on Joomla 2.5.
We built the new unified system with purposes of: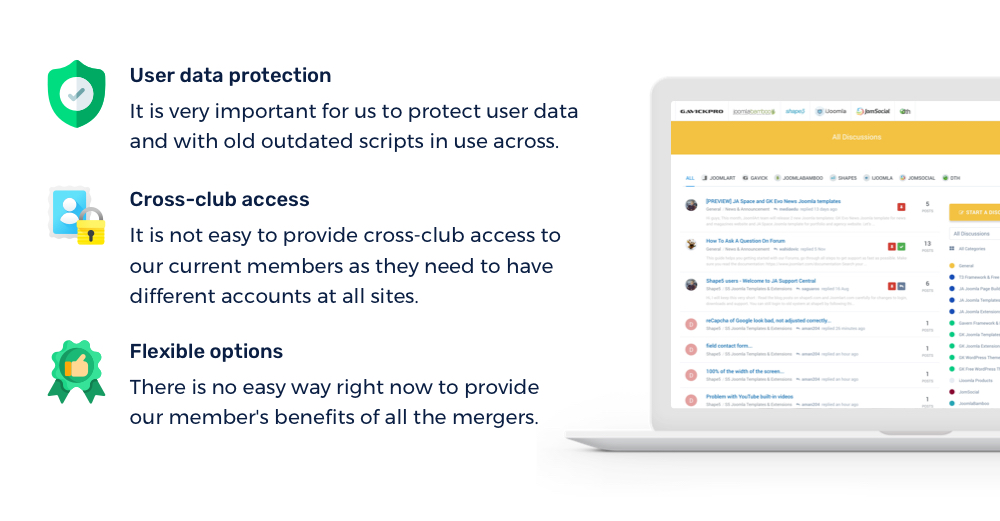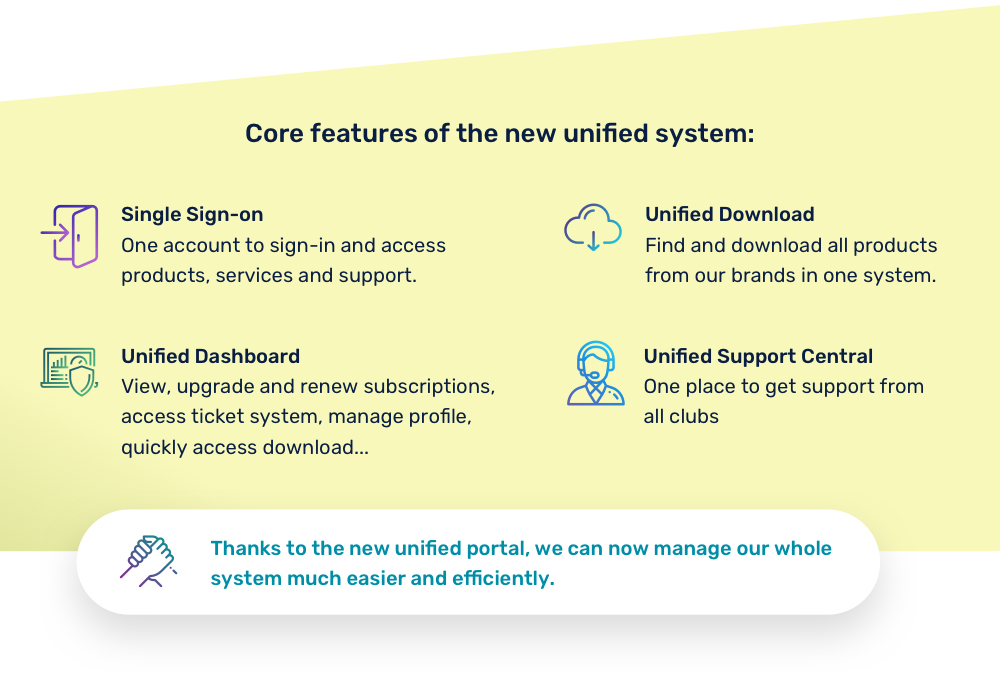 ---
4. We are ready for Joomla 4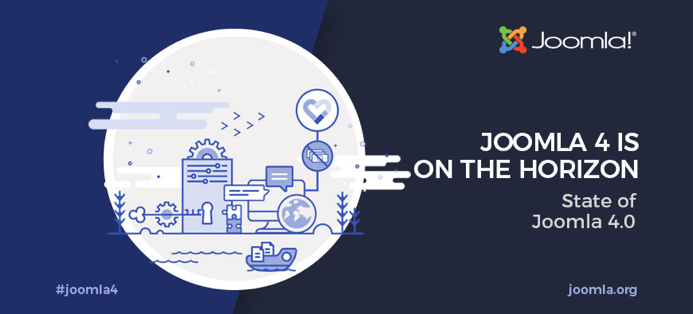 Joomla 4 is a major release with lots of promising core updates, new features and improvements. The stable version would be released somewhere around summer 2019.
Since the Joomla 4 alpha version first released, our team have already been working on testing and upgrading our frameworks, templates and extensions to be Joomla 4 ready.
Current status (as on 30th Dec 2018)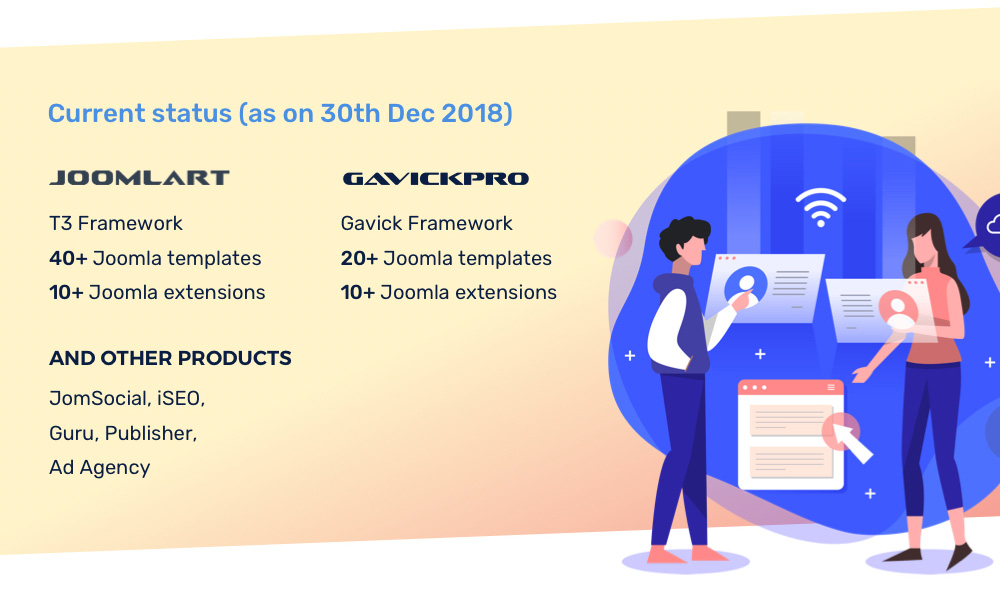 We will devote more resources to Joomla 4 upgrades of our products as the Joomla 4 beta is released.
---
5. Support
With support members spread across the world, we tried to provide all around support and I am happy to say that response time is down to few hours instead of 12+ hours. Highly technical issues though would still have higher response time as they need developer support with access to user site for isolating and debugging the issue. Support has been and will always be our highest priority.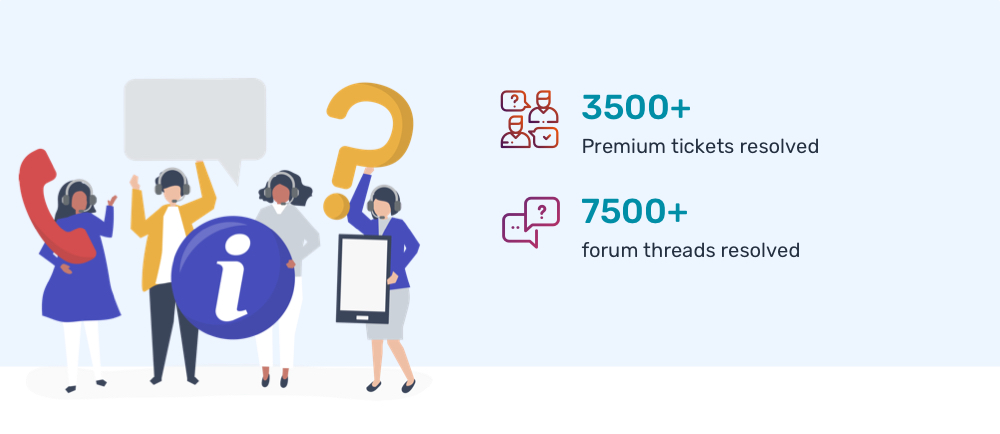 ---
6. Tutorials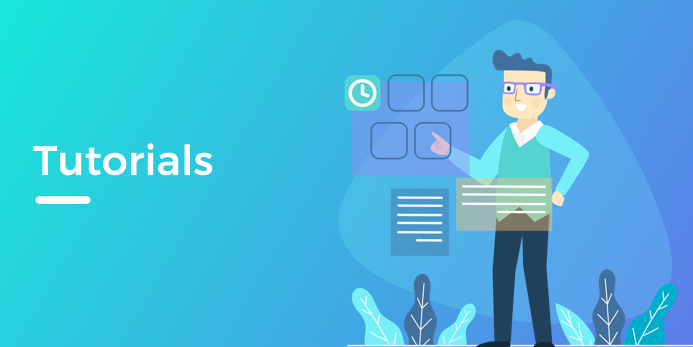 We did work on Joomla 4 tutorials
---
Our plans in 2019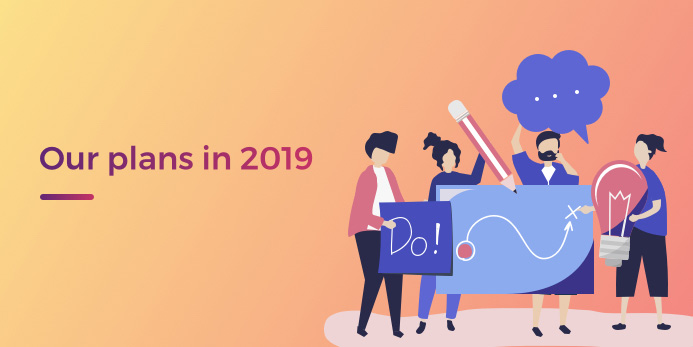 Our plans for 2019 seems simple but it will keep us all busy for sure:
T4 Page Builder (to work across all our brands and any 3rd party Joomla templates)
T4 Framework (to work across all our brands)
Rich Page Library
Pro Templates every month.
Pro support
Updated products always.
Improvise.
1. "T4" Framework
The team is working hard on this 2019 featured product to have a preview release on Jan 2019. T4 is native on Joomla 4 and our new templates on Joomla 4 will be based on the new framework so you can expect its stable release when Joomla 4 stable released.
Preview Release: Jan 2019
We are releasing the preview version in January 2019. This preview release is for you to check out our new Page Builder, it will include all core features and some content blocks.
2. Joomla 4
Joomla 4 stable is coming and we are preparing well for it :
All supported Joomla templates from our brands: JoomlArt, Gavick, Shape5, Joomlabamboo will be compatible with Joomla 4 (WIP)
All supported frameworks: T3 Framework (ready), Zengrid Framework (Joomlabamboo), Vertex Framework (Shape5) and Gavern Framework (Gavick)
All supported extensions will be compatible with Joomla 4 (WIP)
Release new Joomla templates for Joomla 4 on JoomlArt.com and Gavick.com
Update JomSocial to be ready for Joomla 4 (Ready)
Upgrade all iJoomla products to be ready for Joomla 4. (WIP)
Upgrade all DTHDevelopment extensions to be ready for Joomla 4. (Planned)
3. Scheduled Releases: 18 Joomla Templates for 2019
18 New Joomla Templates will be released in 2019. 12 Joomla templates for JoomlArt.com, 6 Joomla templates for Gavick.com.
Once T4 Framework stable is released, new templates will be based on the new framework.
More is scheduled for 2019
There is more to look forward to this year as new products, templates and performance upgrades are getting lined up and we look forward to your feedback, let us know what you expect from us and we will refine our deliveries to suit your requirements.