Joomla 3.9.24 released for 3 security vulnerabilities, more than 35 bug fixes and improvements. We updated our first batch of 30 Joomla templates and we would like to announce the second batch update with 64+ more Joomla templates updated for Joomla 3.9.24.
The updates also include upgrade for new version of 3rd party extensions compatibility support:
AcyMailing 7.0.4
J2Store 3.3.16
VirtueMart 3.8.6
Easysocial 3.2.24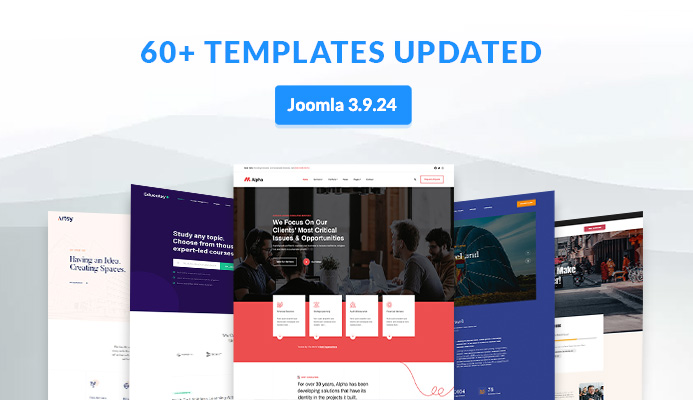 Please find the update details below:
Update details:
1. JA Alpha - Version 1.0.1 - More Info
Missing background with megamenu
[Module: Features]: Got error when hover items
Button display error when hover on Feature module homepage
Extra field tab display error when editing front-end articles
[Improvment] Updated style, options, color for Video ACM module.
[Improvment] HTML 5 Lightbox version replaced with a Bootstrap popup to show video.
2. JA Spa - Version 1.0.1 - More Info
Issue when hovering buttons on homepage
Fixed footer display issue in IE
3. JA Resort - Version 1.0.1 - More Info
[Personalised Accommodation Australia: Module] Title color incorrectly
[Alpome Junior Suile with Matterhorn View : Module] Text color incorrectly
Got some errors on About Us page
Missing color Read more link on Blogs page
4. JA Beauty - Version 1.0.3 - More Info
Restyle for text color megamenu
Can't insert image when edit module on the frontend
Got error with Edit Article
Restyle for Detail Articles
Got error when enabling offcanvas on Sidebar
Home 1 - Light: Footer position display error
Badge display wrong position on Product page
Remove textbox border on Contact page
Can not see text on Register and Forgot your password page
Restyle Tags page for style fixes
Missing highlight active on menu
5. JA Event Camp - Version 1.0.4 - More Info
Restyle Login, Register page
Got error with Header position
All modules display error on Homepage
Category button is error on Event page
6. JA Educatsy - Version 1.0.1 - More Info
Missing background color button on homepage
Missing style on Categories page
Missing icon on Course detail page
7. JA Helple - Version 1.0.1 - More Info
Missing 'Capital Region Community Covid' module on Home 1 display issue fixed - DT Donate module
Missing 'The Capital Region Community Covid-19 Response Fund' module on Home 1 - Joomla
Missing content of 'Become A Volunteer' module on Home 2 - Joomla
Mising 'Recent Campaigns' module on Home 2 - Joomla
Missing somes module on Sidebar position
Missing border textbox on Contact form
8. JA Artsy - Version 1.0.2 - More Info
Can't edit Modules, Articles, Profile on the Frontend
[3 step to a New Home : Module] Missing color when hover icon
Contact page layout broken issue fixed
9. JA Flix Template - Version 1.0.2 - More Info
Restyle for Status Box on JomSocial Page to support latest JomSocial version.
Restyle for Edit Articles on the Frontend
Can not show offcanvas menu when at Trailers and Contact page
10. JA Landscape - Version 1.0.4 - More Info
Restyle for Login Form for style fixes.
Got error with edit article on the frontend
Can't insert image when edit module on the frontend
11. JA Symphony - Version 1.0.4 - More Info
Can't show menu on small screen
Got css error with Home Page
Fix link hover style issue
12. JA Donate Template - Version 1.0.6 - More Info
Issue when not set start/end date for campaign
Update style for Acymailing 7.0.4 version
13. JA Stark - Version 1.0.4 - More Info
No JA Extra Fields tab when editing JA ACM module from frontend
If change the Mega menu in JA Stark it change for all template styles
JoomGallery issue with Stark: JoomGallery Support added to show Gallery view
Restyle Login Form for better view
Got error with edit article on the frontend
Can't insert image when edit module on the frontend
Issue of JA Masthead with Turkish language
Missing highlight active color for Submenu
Restyle for logo on mobile/ipad when change logo is big image
Got error with Home Page when added item captions for menu
---
List of template quickstarts updated:
T3 Blank
JA Simpli
JA Admin
JA Tour
JA Vital
JA Campaign
JA Justitia
JA Morgan
JA KidsCorner
JA Good
JA Aiga
JA Sensei
JA Space
JA Insight
JA Fit
JA Mason
JA Playschool
JA Allure
JA Smallbiz
JA Edenite II
JA Mood
JA Oslo
JA Intranet
JA Resume
JA Moviemax
JA Platon
JA Magz II
JA Events II
JA Hotel
JA Purity III
JA Jason
JA Sugite
T4 Blank
JA Property
JA Social II
JA Autoshop
JA Diner
JA CityGuide
JA Conf
JA Shoe
JA Focus
JA Law firm
JA Company
JA Alumni
JA Brickstore
JA Restaurant
JA Megastore
JA Healthcare
JA Elicyon
JA Playstore
JA MixStore
---
Upgrade Steps