Responsive quality is an essential element of an element rich Professional template as the sites are currently being gotten to comprehensively by means of cell phone, iPhone, tablets and desktop gadgets. For picking the financially savvy, efficient, mechanically progressed and fast performing Professional Joomla Templates, you have to concentrate on sundry qualities like similarity, hues, designs, structure, custom choices, documentation, and parts more. We move the pressure from your shoulders to our by giving a gathering of premium templates supportive for all kind of business spaces.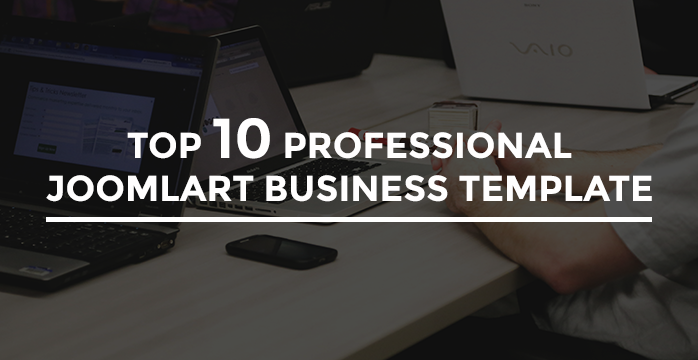 Professional JoomlArt Template: Check out the Exclusive List
Here you can find out the top class templates for business and non profit organizations.
1. JA Puresite - Elegant responsive clean template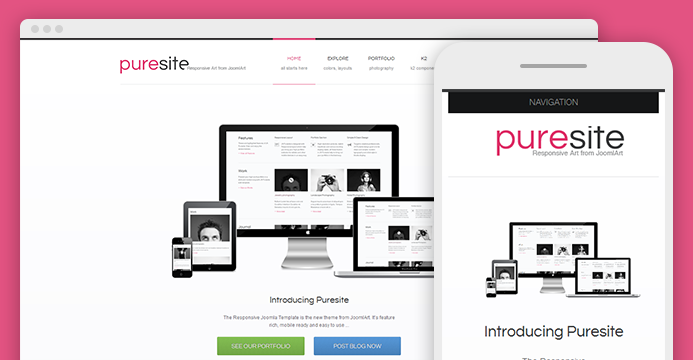 JA Puresite business JoomlArt fully responsive template can be used for design agencies and any business website or portfolio. Given high priority to 2 Blog and usability which will be easy to setup and enhance your business.
This JoomlArt Template suits both, users with minimal HTML programming background as well as advanced designers, developers. It will help you build your creative business, modern portfolio website in no time to your liking with minimal effort. With responsive design your site can be usable on Desktop, tablet, mobile phones.
JA Puresite has very clean, elegant, flexible and modern design, easy to use.
Some great features of JA Puresite
Megamenu - styles menu where you can expand your context with extra build in column with many useful options.
K2 Blog - Blogging has never been more awesome then now, with built in K2 Blog component it will be now more better.
12 bonus pages - Get more contect to your webpage, 12 pages is more then you can wish.
3 color themes - Get more colorful your bussines website, choose a three colors between Blue, Red and Green color.
Compatibility Devices - Compatibility with any modern device like tablet (Landscape, Portrait), smartphone (Landscape, Portrait) and also auto adjust mode.
Compatibility version - Compatibility with Joomla 2.5, 3.x version
2.JA Zite - One of best responsive template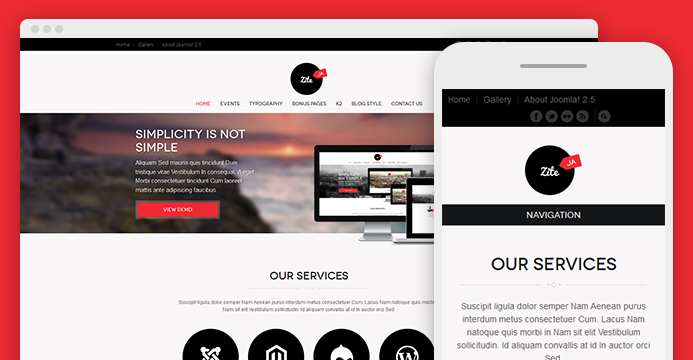 JA Zite is a great clean and professional Joomla business template designed presentation websites. Equipped with powerful features, it allows you to present content in whatever way you like. The large array of customizations gives you more control of the look and feel without having to dig into the theme editor.
Extended styles for K2, integrated JA Social feed plugin and one can import feeds from all popular social sites.
Powered by T3 Framework 2, comes also with some very necessary pages. Compacted in beautiful slideshow with special animation.
Ja Zite is powerful with easy Inbuilt CSS and Javascript Compression configuration.
Some great features of JA Zite
Megamenu - styles menu where you can expand your context with extra build in column with many useful options.
K2 Blog - Blogging has never been more awesome then now, with built in K2 Blog component it will be now more better.
Bonus pages - Login Page, Registration form, News feed and many good content rich pages more.
Speed engine - T3 Framework 2, word say itself with nbuilt CSS and Javascript Compression configuration
Content shark - Auto import content from social sites.
Beautiful Slideshow - Slideshow with special animation
Compatibility Devices - Compatibility with any modern device like tablet (Landscape, Portrait), smartphone (Landscape, Portrait) and also auto adjust mode.
Compatibility version - Compatibility with Joomla 2.5, 3.x version
3. JA Directory - Elegant Directory template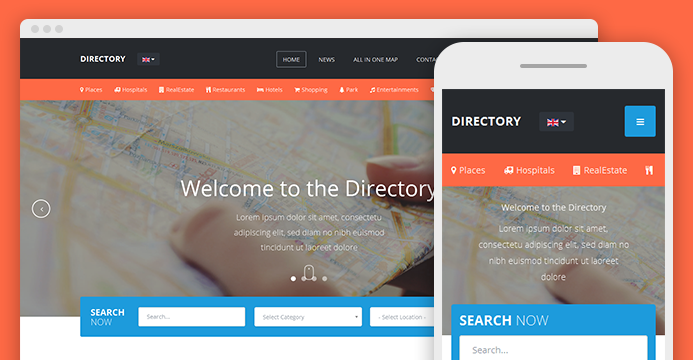 JA Directory is responsive Joomla directory template. With a powerful built-in framework and mobile support you will see a layout optimized for your desktop or mobile devices. Another thing worth a mention is the great JS/CSS compression mechanism which delivers faster loading speed.
Supports K2 componen, filter component tandem with mapping in JA Directory, A Google Map plugin, Bootstrap 3, Font awesome 4 and much more.
Some great features of JA Directory
Megamenu/-Off-canvas - styles menu where you can expand your context with extra build in column with many useful options. JA Directory supports 2 menu system: Megamenu on Large and Normal layout and Off-canvas sidebar for Small and Extra small layout.
K2 Blog/K2 Filter support - Blogging has never been more awesome then now, with built in K2 Blog component it will be now more better.
Bonus pages - Login Page, Registration form, News feed and many good content rich pages more.
Speed engine - T3 Framework 2, word say itself with nbuilt CSS and Javascript Compression configuration
Support RTL language layouts - full support for RTL (right to left) languages like Arabic and Hebrew
ACM - The template supports JA ACM module, a great tool with a lot of pre-defined types and style to help you create professional content easier.
Directory filter navigation - The navigation toolbar under Main menu is for filtering navigation based on categories.
Compatibility Devices - Compatibility with any modern device like tablet (Landscape, Portrait), smartphone (Landscape, Portrait) and also auto adjust mode.
Compatibility version - Compatibility with Joomla 2.5, 3.x version
4. JA Medicare - Responsive therapy template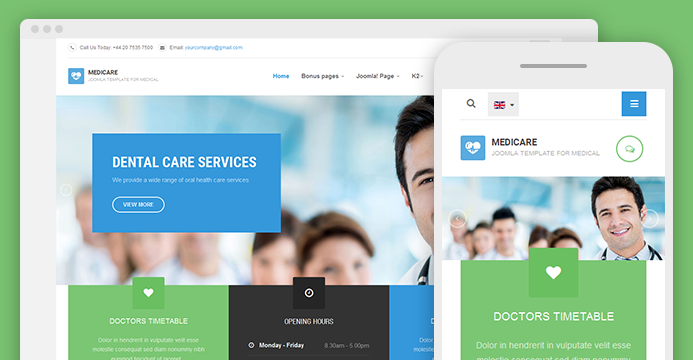 JA Medicare is a classy, modern Joomla template for Hospitals, Clinics and Health Care centers with built-in responsive design features. It has a remarkable appearance that is contemporary, yet charming and high-class. It also has incredibly rich and vibrant shades with saturated color that looks good especially for highlight the courses.
Some great features of JA Medicare
Megamenu / Off-canvas - styles menu where you can expand your context with extra build in column with many useful options. JA Medicare supports 2 menu system: Megamenu on Large and Normal layout and Off-canvas sidebar for Small and Extra small layout.
K2 Blog - Blogging has never been more awesome then now, with built in K2 Blog component it will be now more better.
8 bonus pages - Get more contect to your webpage, 8 pages is more then you can wish.
Speed engine - T3 Framework 2, word say itself with nbuilt CSS and Javascript Compression configuration
Support RTL language layouts - full support for RTL (right to left) languages like Arabic and Hebrew
Beautiful Slideshow - Slideshow with special animation
5 color themes - Get more colorful your bussines medcare website. Apart from the default color, this elegant Joomla template also came with 4 other colors including: Green, Red, Pink and Turquoise.
Compatibility Devices - Compatibility with any modern device like tablet (Landscape, Portrait), smartphone (Landscape, Portrait) and also auto adjust mode.
Compatibility version - Compatibility with Joomla 2.5, 3.x version
5. JA Graphite - Simple and easy joomla template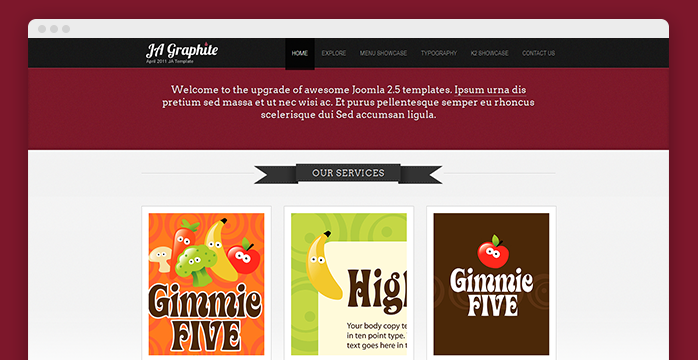 JA Graphite has literally everything you need to build a fully functional real estate website: a thoughtful design with all the must-have features. It gives you space to create your own real estate website with its multiple listings, unmatched advanced property search, polishing inner pages, etc.
Some great features of JA GraphiteSpeed engine
T3 Framework 2, word say itself with nbuilt CSS and Javascript Compression configuration
K2 Blog - Blogging has never been more awesome then now, with built in K2 Blog component it will be now more better.
Megamenu - styles menu where you can expand your context with extra build in column with many useful options.
Compatibility Devices - Compatibility with any modern device like tablet (Landscape, Portrait), smartphone (Landscape, Portrait) and also auto adjust mode.
Compatibility version - Compatibility with Joomla 2.5, 3.x version
6. JA Community Plus - Great Community Plus joomla template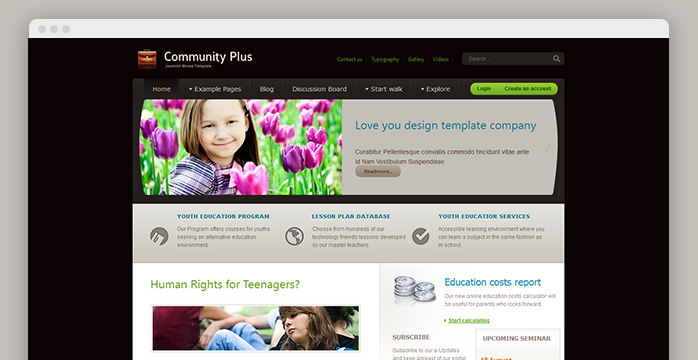 Take a look at JA Community Plus and you can't help but fall in love with its exquisite and distinctive design. JA Community Plus has an unconventional yet elegant responsive design that shines on a wide range of devices. It includes all the advanced features for an incredible user experience. This responsive Joomla template is best used for website of Community.
Typography styles and along with many personalized styles for various display needs such as Video, contact page with embedded Google Map using our own JA Google Map Plugin and an amazing Slideshow layout.
Some great features of JA Community Plus
Speed engine - T3 Framework 2, word say itself with nbuilt CSS and Javascript Compression configuration
K2 Blog - Blogging has never been more awesome then now, with built in K2 Blog component it will be now more better.
Megamenu - styles menu where you can expand your context with extra build in column with many useful options.
Compatibility Devices - Compatibility with any modern device like tablet (Landscape, Portrait), smartphone (Landscape, Portrait) and also auto adjust mode.
Compatibility version - Compatibility with Joomla 2.5, 3.x version
7. JA Portfolio - The personalized portfolio template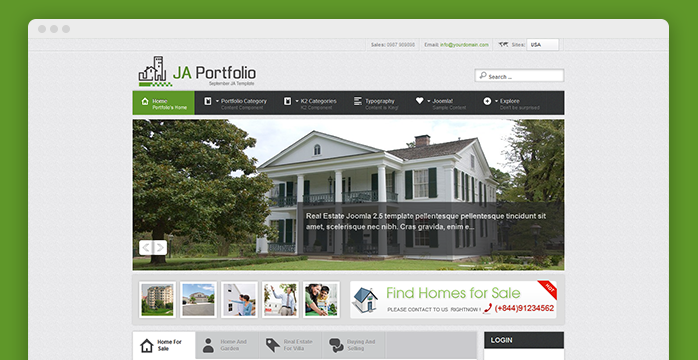 JA Portfolio is a creative & responsive Joomla template with textured background. It is an exotic template that stands out from the crowd with the grunge style. Enjoy all the powerful built-in features such as responsive design, flexible layout and integration with popular extensions.
JA Portfolio brings you supported style for our JA Showcase component and also the newly developed JA Contentslider 2 module along with JA LoadModule plugin as complimentary extensions.
Some great features of JA Portfolio
Megamenu - styles menu where you can expand your context with extra build in column with many useful options.
K2 Blog - Blogging has never been more awesome then now, with built in K2 Blog component it will be now more better.
Bonus pages - Login Page, Registration form, News feed and many good content rich pages more.
Speed engine - T3 Framework 2, word say itself with nbuilt CSS and Javascript Compression configuration
Compatibility Devices - Compatibility with any modern device like tablet (Landscape, Portrait), smartphone (Landscape, Portrait) and also auto adjust mode.
Compatibility version - Compatibility with Joomla 2.5, 3.x version
8. JA Bistro - Go further with JA Bistro Template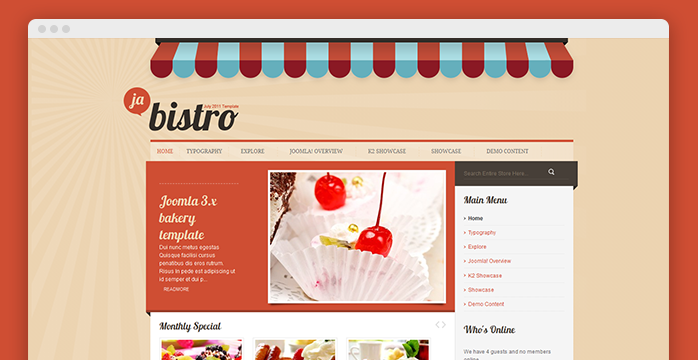 Joomla Restaurant Template for Joomla 1.5, Joomla 3 & 2.5. This JA template comes with seven amazing colors and K2 component support. JA Bistro presents fresh look for a joomla site with eye-pleasing colors and module arrangements. Though its usage is not limited to just restaurant site, the template can be used for multiple purposes ranging from corporate site to personal blog site. We are sure that you would find it pretty flexible for your usage.
Powered by robust T3 Framework 2, it comes bundled with multiple complimentary extensions.
Some great features of JA Bistro
Megamenu - styles menu where you can expand your context with extra build in column with many useful options.
K2 Blog - Blogging has never been more awesome then now, with built in K2 Blog component it will be now more better.
Bonus pages - Login Page, Registration form, News feed and many good content rich pages more.
Speed engine - T3 Framework 2, word say itself with nbuilt CSS and Javascript Compression configuration
Content Position adjust - Left - Main - Right, Left - Main, Main - Right, Full width
Compatibility Devices - Compatibility with any modern device like tablet (Landscape, Portrait), smartphone (Landscape, Portrait) and also auto adjust mode.
Compatibility version - Compatibility with Joomla 2.5, 3.x version
9. JA Mendozite - Incredibly clean Joomla template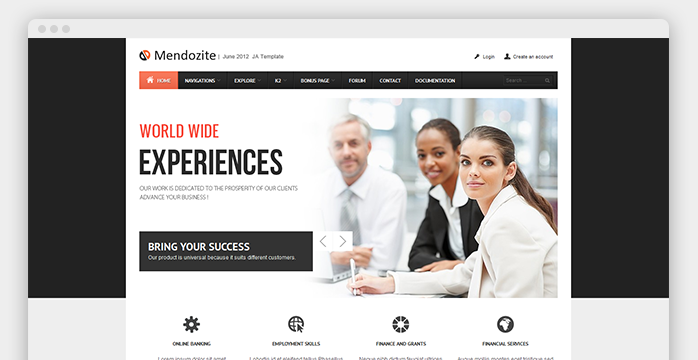 Business corporate themed template and comes in 8 colors to choose from. It also supports K2 and Kunena forum and comes with multiple complimentary extensions. Elegant and professional template for your business needs. Check out the demo, it speaks for itself.
Some great features of JA Mendozite
Megamenu - styles menu where you can expand your context with extra build in column with many useful options, including extra 4 Menu styles.
K2 Blog - Blogging has never been more awesome then now, with built in K2 Blog component it will be now more better. Support K2 and Kunena.
Bonus pages - 404 page, offline page, News feed and many good content rich pages more.
Speed engine - T3 Framework 2, word say itself with nbuilt CSS and Javascript Compression configuration
4 color themes - Get more colorful your bussines website, choose the best suitable color for your business branding from our 8 color themes supported in this template.
Compatibility Devices - Compatibility with any modern device like tablet (Landscape, Portrait), smartphone (Landscape, Portrait) and also auto adjust mode.
Compatibility version - Compatibility with Joomla 2.5, 3.x version
10. JA Kranos - Powerful, content rich template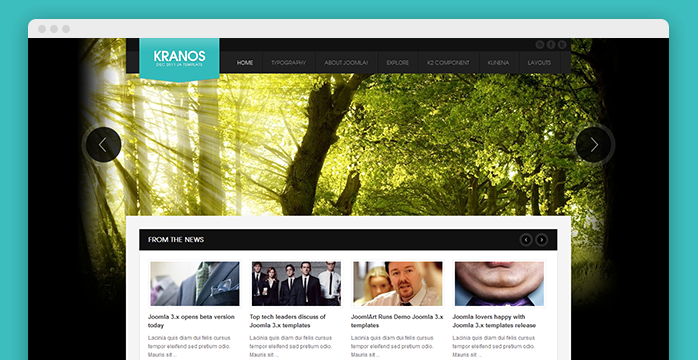 As a content rich JA Kranos joomla templates, JoomlArt JA Kranos has been designed to have a clear typographic structure, good legibility and accessibility for your user experince
JA Kranos is the perfect solution for you photographer, writer, graphic designer, a blogger, or you just want to share the things you love, this is the perfect templates for your News Sites, Blogs, Magazines, Online Portals, and any news-oriented website.
With our new Accordion module in combination with Content slider and Tabs you can nest content into way never thought of before without obscuring it.
Some great features of JA Kranos
K2 Blog - Blogging has never been more awesome then now, with built in K2 Blog component it will be now more better. Support K2 and Kunena.
Megamenu - styles menu where you can expand your context with extra build in column with many useful options, including extra 4 Menu styles.
Multiple Layouts - Get your content the diverse look with the 2 layouts supported in KA Kranos: left sidebar and wrapper fullwidth.
Speed engine - T3 Framework 2, word say itself with nbuilt CSS and Javascript Compression configuration
12 color themes - Get more colorful your bussines website. There are 12 colors that you can flexibly choose and dress up your site with.template.
Compatibility Devices - Compatibility with any modern device like tablet (Landscape, Portrait), smartphone (Landscape, Portrait) and also auto adjust mode.
Compatibility version - Compatibility with Joomla 2.5, 3.x version
---
List compiled by Elar for JoomlArt.