Hi,
We are happy to announce new update for our T4 Page Builder - v2.0.1 with 9 important bug fixes.
T4 Page Builder is the powerful drag & drop page builder tool for Joomla to build beautiful websites, with 100% visual design, drag and drops feature, an easy-to-use inline editor, beautiful website bundles, content blocks and add-ons.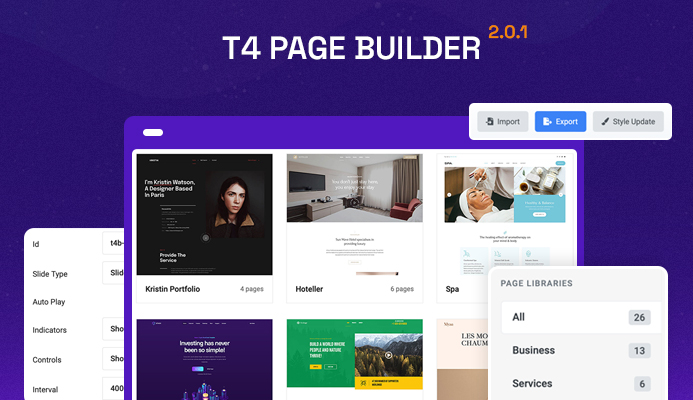 T4 Page Builder version:2.0.1 changelog:
Issue with text element : When editing article with T4 Builder using Text-Element > "Style Manager" - Typography does not work to apply the style.
Issue with style in custom HTML module: Custom html module text style element Typography option does not work.
Element - Accordion] doesn't work: Open specific accordions & tabs item using html anchors links in builder
Issue with button: Change the button link also reset the button style issue fixe.
Can not delete 'Saved' blocks: Remove a saved block from T4 builder not working issue fixed.
Can not drag & drop 'Button' element: Drag and drop button element from category does not work issue fixed.
Issue when saving block as user's block: Rename and save custom saved block remove all custom style issue fixed.
Can't save style in tablet layout: Edit the Typo style in tablet view revert the changes to previous style issue fixed.
Email template in contact form addon: Email template formatting not work for better UI fixed.
---
Upgrade instruction
Simply download latest version of T4 Page Builder component and install. For more information, please check the upgrade instruction