We are happy to announce STABLE release of our all-new, modern, flexible, and highly customizable Joomla template framework - T4 Framework. T4 Joomla template framework built with all new technologies, ready for Joomla 3 and Joomla 4, advanced features and optimized for performance.
T4 Framework Features Overview Video:
Amazing statistics
of T4 Framework before the stable release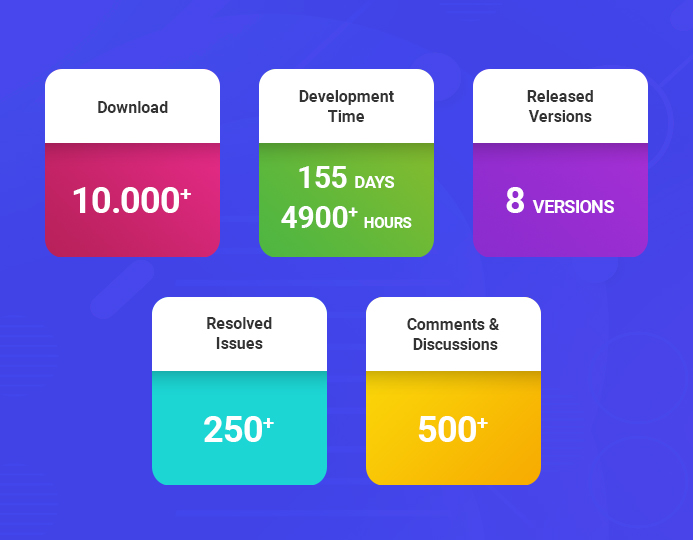 ---
Core features of T4 Joomla Framework :
T4 Framework is a modern, flexible and highly customizable framework helps you to build your Joomla website
Joomla 3 and Joomla 4 READY:
As we know Joomla 4 is on the way with tons of new features, Every Joomla user wants his site to be ready for Joomla 4 once it arrives. T4 framework is built for Joomla 3 and Joomla 4. Any user who already running a website on Joomla 3 or wants to build the site with respect to Joomla 4, T4 framework is best suits for you! We will start rolling our Joomla 4 templates as Joomla 4 goes stable.
New admin panel: better UI & UX, live preview
T4 Framework admin working panel got a complete redesigned with totally new UI and better UX to give a user-friendly interface with more customization tools including Live preview to see custom changes.
Powerful Layout Builder:
T4 Framework comes with inbuilt layout builder tool that helps you to build different types of layouts and easy to customize a layout without even looking over the codes. Yes! If you are a beginner and want to have beautiful customized website T4 framework is the best choice for Beginner to a developer.
Some most important featured in Layout management:
Responsive grid-based Layout builder: The layout is based on the grid system to make it a complete responsive Joomla website. You can change the grid sizes to adapt the content from large screen to small screen size.
Drag and drop to move a section: It's become very easy to customize a block/section in the layout area, you can simply drag and drop the section to move it in a different place.
Multiple header style support: T4 framework offers prebuilt header styles, you can customize a header or choose any of the headers comes with T4 from layout options.
Layout position live preview: This feature is one of the important parts in layout management, you can apply the change in layouts and see them directly in the same window via live preview option.
Image, Video overlay background: A cool option to make layout section beautiful, you can add an image overlay or video overlay background for different layout sections using inbuilt options.
Extra custom style option: If you would like to give an additional style for a module position block, you can define a custom style class.
Navigation System:
T4 framework offers two types of Menu support: Megamenu and Off-canvas menu. Megamenu is an easy and fastest way to build Mega menu in a beautifully styled interface. It offers you all the option that required to customize the menu item from a custom style class to alignment, icons and many more.T4 framework offer wide options to configure the Megamenu on-site to load additional data for each menu item. It's an easy way to beautify a menu item to show extra detail. You can also publish your banners, a module in the menu dropdown.
Some important features supported by T4 navigation system:
Extra Settings for a menu item: You can add Extra class, icon, and caption for each menu item.
Drag and Drop Layout and content options: Drag and drop the mega menu columns in grid view.
Off-canvas menu support: Navigation also support special off-canvas sidebar to do display menu item in sidebar view.
Mega Menu breakpoint: You can define your own view to set Mega menu breakpoint, at which screen size Megamenu change into a mobile menu.
Menu Animations: Support Animation type: fade, slide, zoom or elastic with the option to apply the Animation duration.
Live Preview: Apply any changes you can see the results on the live preview tab.
Advanced Theme Customization:
Every website user wants to customize the size depends on their own requirements When it comes to changes in the theme the task becomes tough for a normal user if he is not a developer. All new modern T4 framework makes it possible for every user. No matter you are just a newbie, a learner or developer. T4 framework is a combination of all essential features to make the theme customization easy and powerful.
T4 Joomla template framework offer live theme customization option that allows you to see change lives on your site. For each different template style, you can apply a new theme changes, This way your site will have a different theme for different pages
Core features of theme customizations:
Every Joomla template consists of different structure and typography options. Customization of font size, font color, headings, the color of module background, header footer, etc, Every site owner wants to customize this option without taking anybody's help. In T4 framework you can change all these values without looking in the codes. YES! Theme customization allows you to edit the changes and check them on the live preview. T4 framework theme tools give you the following options:
Typography: Allow to change Font settings Heading: Allows you to change all heading Page
Colors: Change the page text colors to give a completely different color view.
Brand colors: Change in default color codes used for standard buttons, background, etc.
Google font & custom fonts: Google font supported by default with T4 and moreover you can add own custom fonts too.
Site Settings:
Site Settings panel includes configuration for the site name, site slogan, logo image, custom favicon and more. Now, you can create multiple Site Settings profiles with different configurations for the mentioned settings and assign the profile for different template styles. Thus, you could have different logos, favicon, site name for different pages.
Custom CSS & SCSS:
Support custom CSS, SCSS to define the new style code or override an inbuilt style. The options support custom CSS and custom SCSS.
Stunning Built-in Tools:
T4 Joomla template framework loaded with additional built-in tools that make its more powerful, faster and user-friendly. T4 offers inbuilt options for optimization for CSS and js file, custom code and more cool features.
CSS & JS Optimization: Compress almost all the template's CSS and Javascripts and relevant Joomla's files to improve website performance. More Details →
Addons system: Enable and disable default libraries. Add new CSS and JS libraries like Owl Slideshow, JQuerry infinite scroll.
Custom Code: You can insert any CSS, JS, meta tags, links, and verification codes using the custom code option. With multiple options to add custom to specific tags. This helps you to bring an external script to load on-site.
Built with new web technologies ONLY:
T4 Joomla template framework is loaded with all-new technologies that include Bootstrap4, SAAS, and latest Font Awesome icon packs.
Bootstrap 4 Integration: Integrated with full features and components from Bootstrap to standardize your grid, typography, and modules with less effort.
Developed with SASS: T4 framework is developed with SASS - the most stable, extendable, and powerful frontend development language chosen by the industry.
Font Awesome 4 and 5: Font awesome - the web's most popular icon set and toolkit is available in T4 by default.
SEO optimization
T4 Framework has been built with SEO into consideration. The advanced design of T4 attract your visitors and also SEO friendly to bring new visitors on site. It also increases the SEO score of the site to improve your site ranking on Google.
Performance:
In terms of Performance, T4 play an essential role to make the site faster. In our recent testing with inbuilt optimization, the page load score performed pretty good results on Google insights.
Starting templates: T4 Blank & JA Stark:
With the release of Stable T4 framework, you can get the free T4 Blank Joomla template to start building a new site or migrate your old Joomla site to T4. We have two Joomla templates at with T4 JA Stark and T4 Blank.
---
Download and support