This week, we are doing more activities as well as releasing more product updates. The main updates of this week are T4 Joomla page builder and T4 Framework with new features, improvement and bug fixes.
We also working on Joomla 4 update for the new page builder and framework. Please check the details below:
T4 Joomla Page Builder 1.0.2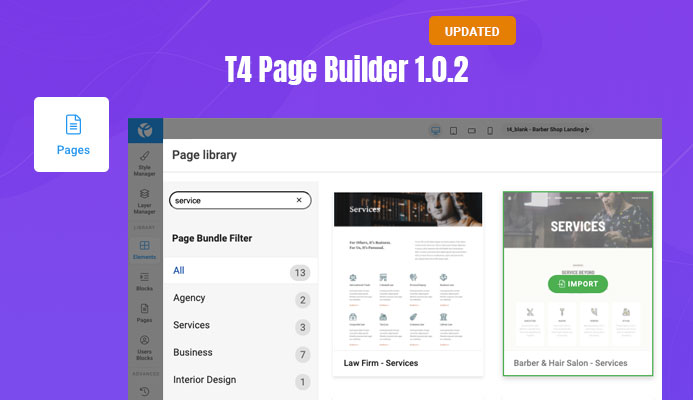 Website Bundles Quickstart Package for Pro & Premium users
If you start a new project, the Bundle Quickstart package will be a good option since it includes all website bundles that we have on demo site, no other extra setup requires.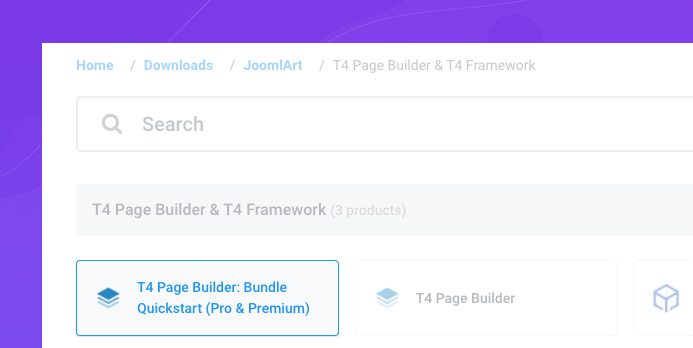 New feature: 1-click page import
There are multiple ways to create a page with T4 Joomla page builder, you can just import pages from website bundles in the dashboard or you can import a page when you are in the edit page.
You can find the page to import with the Page Search feature or website bundle filter. The page that you import will override all content in your current page.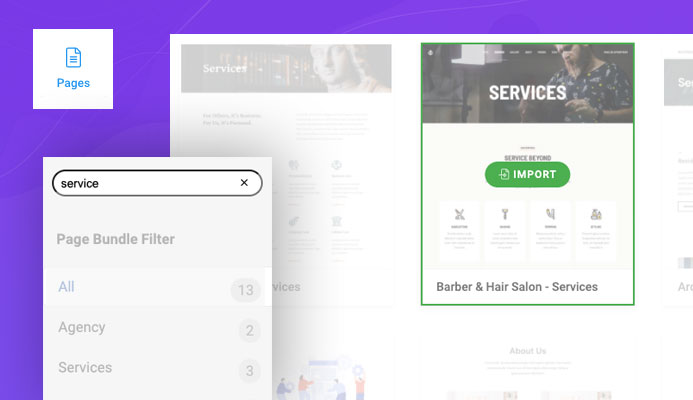 Updated for Joomla 4 Beta 3
T4 Joomla Page Builder is designed to work native on Joomla 4, it integrates Bootstrap 4, Font Awesome 5, and more. The latest version of T4 Page builder already working with Joomla 4 Beta 3, and once Joomla 4 stable is out, our T4 Joomla Page builder will be ready then.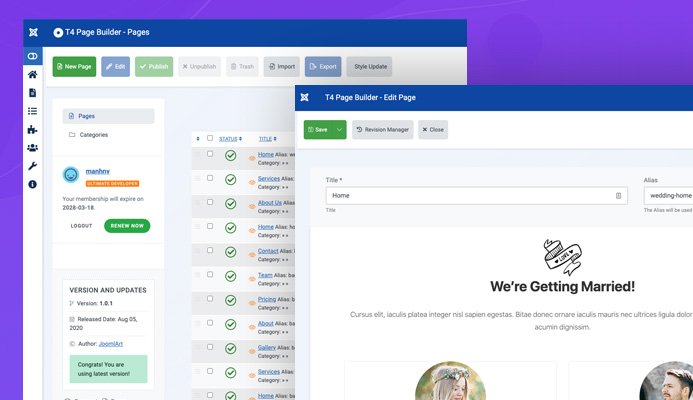 Bug fixes:
This release, we focus on fixing style issue for all content blocks and website bundles on Joomla default template - and issues reported from our users that are listed as below:
Missing style on Help and Support popup
Add more style for Users Blocks popup
Duplicate close icon on popup when import page via upload
Can't add/remove entries in 'List' element
Can't turn off Login Popup on Pages Library
Restyle box search on Pages Library
Update Back button on Pages Library
Duplicate messagse after import page on Pages Library
Can't Login JoomlArt Memeber on the frontend
Backend working incorrectly compare frontend
Add account info on Page Library popup like Import Page popup
Can't show Pages Library popup on the frontend
Icon fonts in setting manager not woking
Update time loading when import page in Pages Library
Upgrade instruction:
Simply download latest version of T4 Page Builder component and install. For more information, please check the upgrade instruction.
---
T4 Framework 1.1.0
The main focus of T4 Framework 1.1.0 is the update for Joomla 4 Beta 3
to make sure once Joomla 4 stable is out, our T4 Framework will be also ready.
We also add new features and fixed multiple issues in this release update.
New Features: Option to disable Google fonts
In case you don't want to use Google Fonts, you can just disable the Google fonts option in the Theme Settings > Typography and in this case, the site will load the default font defined by Bootstrap 4 default, you can check the default fonts used by Bootstrap 4 from this LINK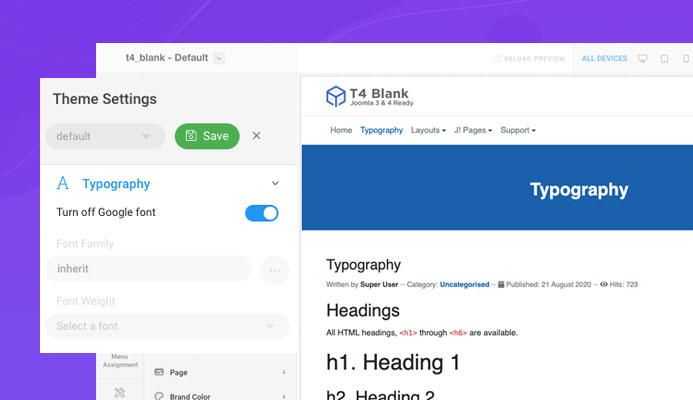 Other new feature: Update new feature suppport extend other file element on template
Joomla 4 update status:
Same as T4 Joomla Page Builder, T4 Framework is also designed to work native on Joomla 4. The latest version updated to work with Joomla 4 Beta 3, and once Joomla 4 stable is out, our T4 Joomla Page builder will be ready then.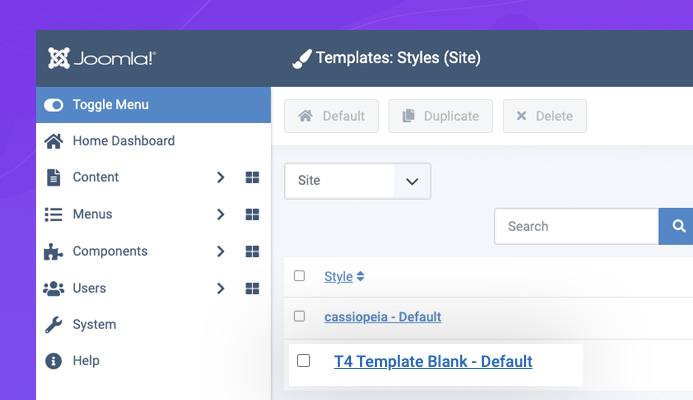 Bug fixes:
Update fix error 500
Remove margin bottom for the horizontal form
Update edit extra field on front end
Update style for btn outline
Fixed switch position col on section layout setting
Fix error megamenu
Fix click dropdown toogle
Update load jquery no-conflict
Update dont load google font
Update language custom font has added
Update fixed add custom font
Update font awesome version to 5.14
Upgrade instruction: