Hi,
Joomla! 4 is the latest major release of Joomla! CMS and this will be Long Term Support (LTS) version. Joomla 4 brings huge upgrade to the CMS. Apart from numerous new features, improvements at core, Joomla 4 also comes with a completely new admin interface and new front-end template.
Joomla 4 RC4 was just released on 13 July 2021, we've also been working to make our products compatible with them.
When is the Joomla 4 stable version release due?
The latest Joomla 4 RC4 released on 13 July 2021. There is no fixed release date for Joomla 4 stable version but new Joomla 4 Release Candidate (RC) is released every two weeks until Joomla 4 Stable is released.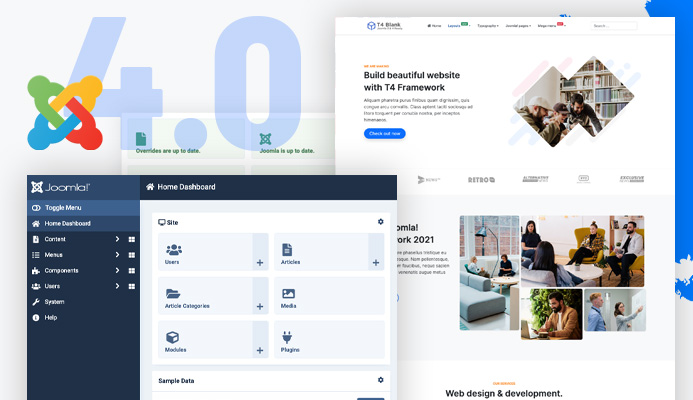 T4 Framework for Joomla 4 preview download
This preview release for Joomla 4 includes major updates as below:
Improved dashboard style
Improved dark theme
Fixed modal issue in back-end
Improved styles for all Joomla pages
Fixed and improve layout settings
Fixed editing module page in front-end
Fixed issues on Joomla register, login, forgot name & password, edit profile pages
Do not use it for your production projects
Joomla 4 is still in development phase, there will be updates at core, bug fixes and more improvements until stable version release. So, do not use it for your production project.
View demo Download T4 Framework for Joomla 4
---
Install T4 for Joomla 4 preview steps
Step 1: Access download page → and download the quickstart package.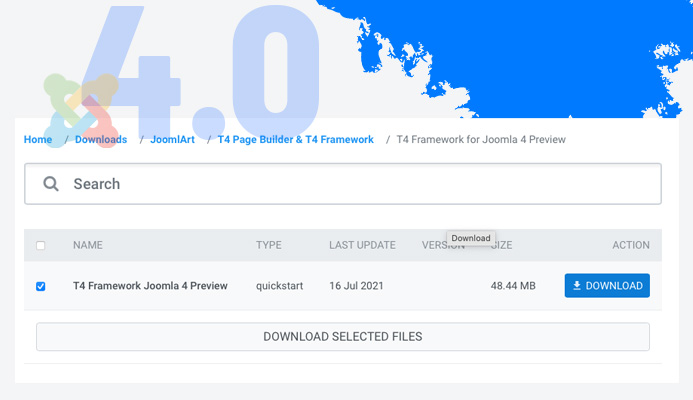 Step 2: install the quickstart package on your server
Install the quickstart as a normal Joomla installation on your preferred server. But make sure it meets the following system requirements:
Joomla 4 installation tutorial →
Step 3: explore the framework on Joomla 4
---
Joomla 4 discussion and support forum
👍 Let us know if you have you have questions, suggestions in the comment box below or in our discussion forum