Dear Members,
As mentioned in the Top 10 for 2010 announcement and Its Overview, its time to release the preview as the systems have reached the beta stages and is under intense testing. Its a unique and never seen before system in Joomla! Sphere and i am sure, i have not seen anything like this before. Its a concept which was developed last year and after these 5-6 months of development, it has taken the shape.

The System comprises of 4 Core features :

Product updates - Search and see for yourself, when was your extension updated.
V

ersion Comparison

- Compare latest version with the older version and find the updated / new or deleted files for yourself. So now on, you would know which file has been updated in the version release.
Downloads Simplified- Choose and download the elements you want, No more download of full package, when you just want to download a single element.
JA Updater Component - Looking for one click update for your Product? now, be it template, module, plugin or extension, Update it in single click. Not Happy? Roll back to previous state. You can even compare the new version right into your Joomla! Backend.
Hard to Believe? Well, checkout the Video Preview of all the four above mentioned features. The video's are captured from live and functional Platform. The video's are 1280 x 720 and should be viewed in full screen. The links given below should open your video's (Youtube) in HD mode, click on full screen and watch them serially (from 1 to 4).
1. JA Product Updates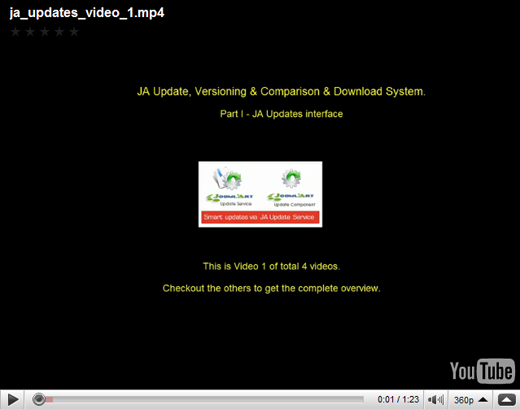 2. Version Comparison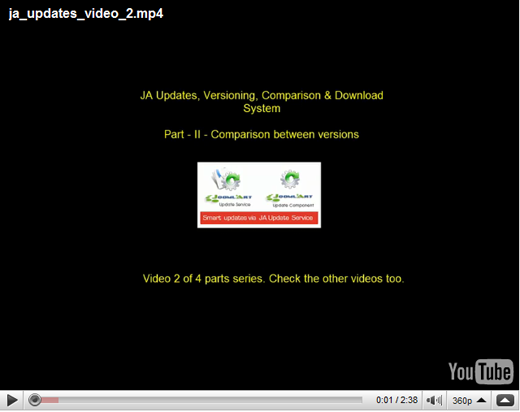 3. New Download Section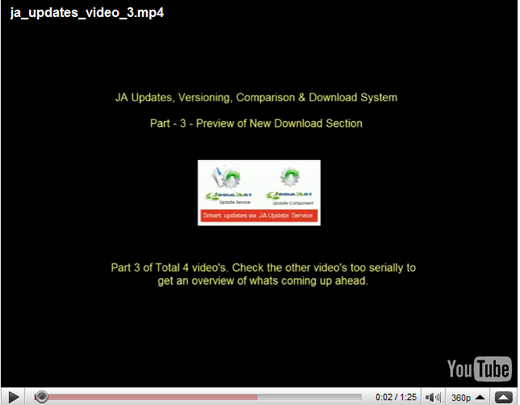 4. JA Update Component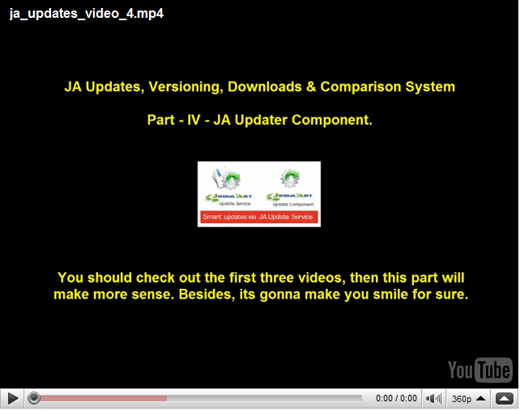 Please Note :

There are some spelling mistakes, overlook them.
The New Download Section will be introduced shortly in the forums (may be later this week).
The Comparison System, will feature only the latest versions for comparison for selected elements only. Later accommodating all the upcoming versions.
The JA updater Component (last video), we are trying to release it with the upcoming JobBoard 1.4.3 version (with over 107 fixes / improvement). However, it depends on the report of testers involved.
There are bright chances that the look and feel of each system in video previews, may be changed by the time they are introduced as we are now fine tuning and polishing them.
No matter how stable and powerful these system may prove, they should never replace the basic instinct of taking backups. Even we try everything on cloned sites (forums / main site etc..) and then update the live sites.