JoomlArt.com is glad to announce its J! Community Support Programme, to support and help Joomla Community around the world. We have allocated funds and resources for this cause for the year 2010 and this would be a regular activity now on.
Whats included / offered ?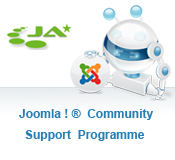 Joomlart
Sponsorship funds.
JoomlArt's products / memberships with discounts or as giveaways for the events, conferences etc...
Free authorized usage of JoomlArt products for non-profit sites, indulged purely for promotion of Joomla.
Coding / development / hosting support for individuals / organization / groups, supporting / working (non-profit) towards promotion of Joomla
Currently we would be primarily supporting the following :

1. Joomla User Groups (JUG)
JUG shall be provided (on request) free usage of JoomlArt products on their sites.
JUG can use JoomlArt products in their promotional / training programme.
2. Joomla Events
Sponsorship and support for Joomla events such as Joomla Days, Conferences etc..
Priority support / funds will be made available for first timer organizers of Joomla Days in their respective countries.
JoomlArt products / membership plans as free giveaways or prizes
Other events or proposal would be considered on an case per case basis and positive support would be provided for events / organization / individual efforts aimed at promotion of Joomla.
For more details, please Contact Us.
Hung Dinh
CEO JoomlArt.com & JoomLancers.com
Please Note : This initiative is part of efforts by Joomlart.com & Joomlancers.com to promote and support Joomla. Joomla (R) is a registered trademark of Open Source Matters and JoomlArt is not affiliated with or endorsed by Open Source Matters or the Joomla Project.