Hi,
At JoomlArt, we've always been committed to delivering high-quality Joomla products that empower your websites. We understand the importance of staying up-to-date with the latest technology to ensure optimal performance, security, and accessibility. That's why we're thrilled to share our plan to update all our active products to Joomla 5, the latest long-term support version that promises to be faster, more accessible, more secure, and highly extendable.
In this blog post, we'll take you through our journey of preparing our products for Joomla 5 and give you insights into the exciting features and roadmap of Joomla 5.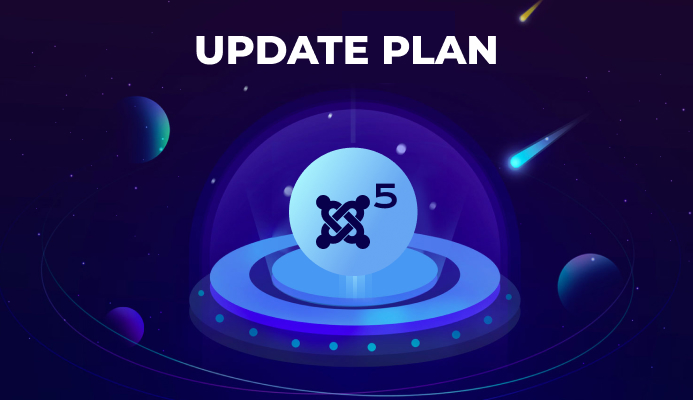 1. What's New in Joomla 5
Making Joomla Fast, Accessible, Secure, Extendable, and Yours.
Joomla 5 is more than just an update; it's a leap into the future of content management systems. Here are some of the exciting features you can expect:
Codebase Optimization: Joomla 5 has undergone significant codebase optimization, resulting in faster page load times and improved overall performance.
Speed Enhancements: Speed is crucial in today's digital landscape. Joomla 5 is designed to be lightning-fast, ensuring a seamless experience for your users.
Accessibility Improvements: Joomla 5 places a strong emphasis on accessibility, making your websites more inclusive and user-friendly.
Security Enhancements: Security is a top priority. Joomla 5 comes with robust security features to protect your website and user data.
Joomla 5 Features: What's New and Improved
---
2. Joomla! Project Roadmap
Understanding the Joomla! project's release schedule and semantic versioning.
Joomla 4
Joomla! 4.x is the currently supported major release series of the CMS.
Schedule
4.3.4
22 August 2023
4.4.0
17 October 2023
End of Support for 4.x
17 October 2025
Joomla! 5.x
Joomla! 5.x is the next major release series of the CMS.
Schedule
5.0.0-beta3
26 September 2023
5.0.0
17 October 2023
End of Support for 5.x
19 October 2027
---
3. Our Product Update Plan
Products in the Pipeline for Joomla 5 Update
We're leaving no stone unturned in our commitment to Joomla 5. The following are the products that will receive updates to ensure compatibility with Joomla 5:
JoomlArt
All active support products will be updated to Joomla 5:
T4 Framework
All T4 Framework templates
All T3 templates from 2015
T4 Page builder
Active JA Extensions
Gavick
Gavern Framework
30 Latest templates
The new Gavick Framework
JomSocial
JomSocial component
4 Themes
3 Pro templates
17 Add-ons
iJoomla
Products will not be updated to Joomla 5
We value your trust in our products, and we want to ensure you have the best experience possible. To maintain high standards of performance and security, we've made the decision not to update products from:
Shape5,
Joomlabamboo,
and DTHDevelopment
Outdated products can result in subpar performance and security risks when updated. Instead, we're focusing on creating new, cutting-edge solutions for Joomla 5 to enhance your websites and provide a better user experience.
---
Can I migrate from Joomla 4 to Joomla 5 beta3?
Joomla 4.4.x to 5.x is an Upgrade, not a migration
Many of you may be wondering if you can migrate your Joomla 4 site to Joomla 5. The answer is yes, but with an important caveat.
You will be able to migrate your Joomla 4 site to Joomla 5, but please be aware that Joomla 5 is currently in beta. As such, it is recommended only for testing and development purposes at this stage.
Head over to the Joomla 4.4.x to 5.x Planning and Upgrade Step by Step documentation.
---