Developing a portfolio or showcasing Joomla site from scratch? JA Appolio will definitely help cutting down the time and efforts of the whole process with its upto date features : latest Joomla version, updated Joomla extensions, interactive UI & UX, social login authentication, T3 Framework featuring all new Bootstrap 3, powerful blogging tool EasyBlog, Responsive and RTL language layouts.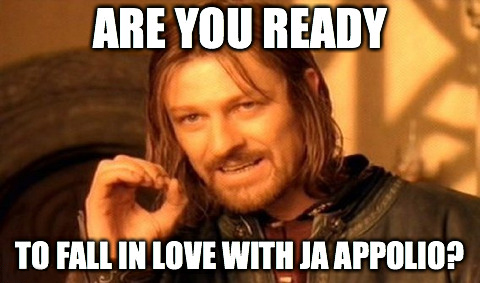 7 reasons why you will love JA Appolio - Responsive Joomla template
#1: There is a reason why Joomla team releases a new version once in a while
You choose Joomla as the profound CMS to build your home (site) on it? Then you should maintain the foundation updated to avoid any future issues that can later be a threat. Joomla team does not merely release a version just for the sake of a new version. Usually a new Joomla version comes with bug fixes, improvements and sometimes new features.
You might not be too keen on the new features, but security fixes are the must. JA Appolio is up to date with the latest Joomla version, that means you get your security in place together with new features, which are always a bonus.
#2: Up-to-date Joomla extensions
Your Joomla is up to date, your extensions should catch up with the hype. Otherwise, server incompatibility or other conflicts might occur unexpectedly. Worst case scenario, your site might be exposed to security risks. All the extensions in JA Appolio are released with their latest version. No upgrade needed, they are already included in the quickstart package.
#3 Interactive UI and UX
Though widely being used, those terms have been misused A LOT. UI or User Interface deals with how users interact with an online website/apps through a mix of approaches and elements. It anticipates the users behavior and assures to give out the proper elements aiming to facilitate those actions easily. On the other hand, UX or User Experience focuses on a bigger picture that revolves around the user's feelings and emotions towards your site.
The ultimate "tool" you can always rely on to have an effective UI & UX that most people did not expect is Design. It helps not only in conveying the generic information to the users but also boost their interaction tremendously if you are doing it correctly. Parallax design fits in the category perfectly by taking the advantage of the CSS technique to make different layers of a particular site move at different rate while scrolling. It makes you feel like actually interact with the page or being walked through a story by just going down the page.
Another way around the UI & UX maximization is working on your Navigation system. It acts as the directory one can count on at times. As people are surfing and moving down the page constantly, your navigation system should "follow" them. Would you let go of a map in the middle of nowhere? I don't think you would, then why put your visitors in the same spot.
So instead of getting your navigation sticky, you can get an Off-canvas menu sticky, which would less likely be distract the visitors. Like how we've done here with JA Appolio on both desktop & mobile:
#4 The new T3 Framework featuring Bootstrap 3
Love Joomla, but don't want to dive too deeply into the code while developing a template? You can seek help in a Joomla template framework such as T3 Framework. Why T3? It is the most popular Joomla template framework out there. The best part is T3 Framework is completely free. Recently T3 Framework version 2.0.0 release just brings T3 Framework to a whole new level with incredibly powerful features. That's the reason why we adapts it to JA Appolio.
#5 Social integration
If people have to create/register for an account on every single website, one can easily loose count on how many accounts they own. Giving people an access to your sites via their social accounts can be well appreciated by not only the users themselves but your server as well. Thanks to cloud-based authentication, you are saving the server data usage big time. Take all those in consideration, JA Appolio integrated SLogin component to achieve just that.
#6 Blogging
Communication regularly and consistently to your audience is vital. Blogging is one of the most effective way to approach to the users, and one of the best blogging tool that has been our long time favorite is EasyBlog, which we also feature in JA Appolio. With EasyBlog you can:
Have multiple blog authors blogging from the front end without requiring them to login the back end
Blog remotely from email, Windows LiveWriter, and etc.
Migrate blogs from Joomla articles, My Blog, K2 or Wordpress, and more.
#7 Responsive Joomla Template with RTL language layouts
With the growth of mobile users along the years, your Joomla template should have been responsive by now. Or face it, you are losing a decent amount of users daily. Thanks to our T3 Framework, JA Appolio is a responsive Joomla template by default. Looking stunning in all screen size is no longer an outraged feature.
Going globally? Don't let the RTL community feel left out. Again, all props go to the T3 Framework as it makes JA Appolio a RTL language layout compatible Joomla template.
Appealing? I suggest you take JA Appolio seriously and play around by building your own demo using the Demo Builder tab located in the left side on the demo page.