Uber Introduction
Quick Info
Updated on:20 May, 2022
Version:3.0.0 Changelog
Download:269,549
Uber is the perfect All in one Joomla template to help everyone build their business site. This special Joomla template is a feature project for Joomla 3 & the latest Joomla 4. It is a built with T3 Framework template with Bootstrap 3, and the Advanced Custom Module.
Uber is the first JoomlArt template to sport on the brand new Joomla extension JA Advanced Custom Module (JA ACM). With JA ACM, one can build a whole website from the scratch with multiple content blocks for Testimonials, CTA, Gallery, Slideshow, Pricing Table, Features Intro, etc. Just choose the blocks you desire and start to connect them.
Uber is now one of the most powerful responsive Joomla template, a Swiss knife for Joomla sites building with 18+ content blocks, 80+ variations, 17+ sample sites, and thousands of possibilities.
Note: All in one Joomla template - Uber version 2.1.0 is here, more powerful, more possibilities in this new intro video.
Uber Features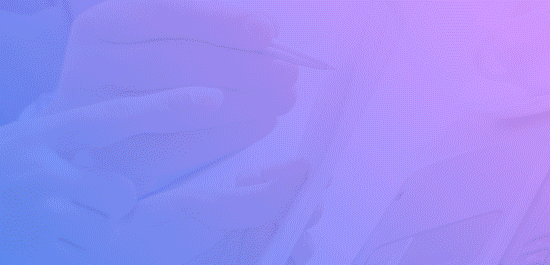 One site fits all template
Uber is the combination of simplicity from Joomla templates and the insight to help startup with their endeavours. You spend less time on creating Joomla site for your business, and have more time to do things that matter.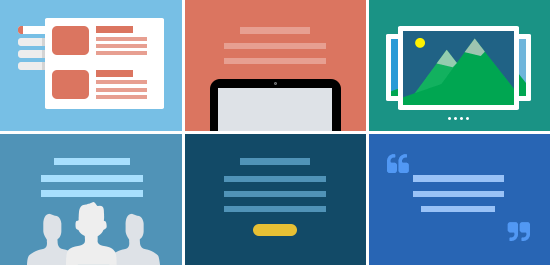 Power of Advanced Custom Module
Advanced Custom Module is the core feature of Uber template. One module, endless possibilities. With JA ACM, you can customize your Testimonials, CTA, Gallery, Slideshow, Pricing Table, Features Intro, with thousands of variations.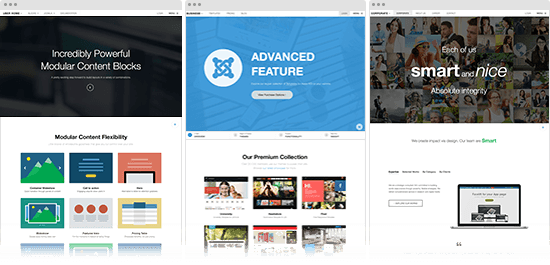 Bundled with 17 pre-built site templates
Uber template is a versatile package with 17 custom built sites: Business, Corporate, and Beauty Spa Centre, etc. With help from ThemeMagic and Layout Configuration, you can create a whole new horizon for your startup and business sites.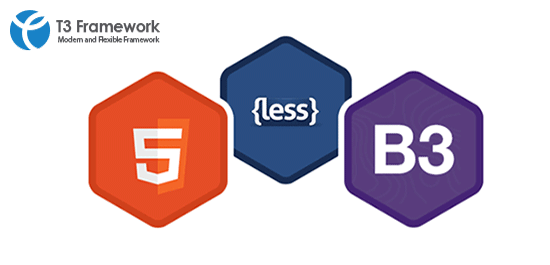 T3 Framework with Bootstrap 3
The traditional power of JoomlArt template lies in T3 Framework with Bootstrap 3. Now it is even more versatile when combined with JA ACM. Simply beautiful layout, and useful tools.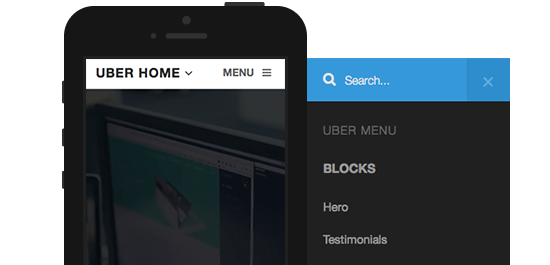 Megamenu and Off-Canvas Menu
Desktop's Megamenu navigation and mobile's Off-Canvas menu are indispensable in Uber template, thanks to T3 Framework.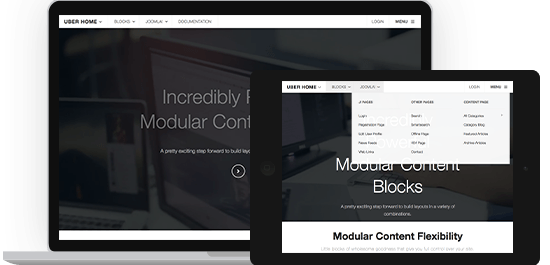 Fully Responsive
Uber is the quick and easy way for an entrepreneur to create fully responsive Joomla website. Now you don't have to worry about what your site looks like across screens!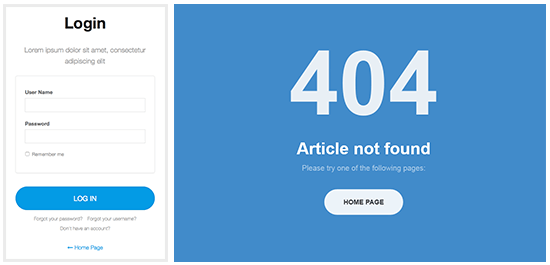 Joomla custom pages
Uber supports all the default Joomla custom pages.
3rd Party Extensions
AcyMailing

EasyBlog

EasyDiscuss

EasySocial

JomSocial

Kunena

Paycart

VirtueMart