JA Extensions Manager Introduction
Quick Info
Updated on:24 Nov, 2022
Version:2.7.5 Changelog
Download:5,308
JoomlArt is proud to introduce JA Extensions Manager, a brand new component for Joomla .The component aims to bring a new way to manage extensions: upgrade, rollback, remote install, internal repository and compare versions.
Our development team promised to transform old extensions management into a new and modern one. The component has its roots in the Joomla Extensions Manager, but it comes with new features to speed up and ease the processes.
Internal Repository
Updates Checker
Version Comparison
Upgrade and Back-up User Setup
Remote Install and Upgrade
AJAX Technology
Main Features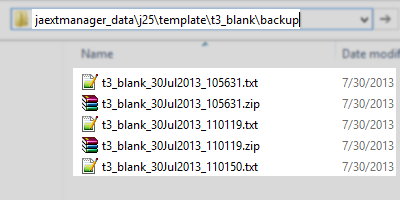 Internal repository
Store multiple versions of your extensions packs in the repository
Each pack contain both original files and modified by user
Repository also stores the database for any of the content extensions
Updates checker
For each of your extension, you can easily check for updates
If you uploaded a new version for an extension in the repository, click "Check for updates" and the component will show up "New version is available".
If your extension is configured to use external update service, it will search for updates on developer repository.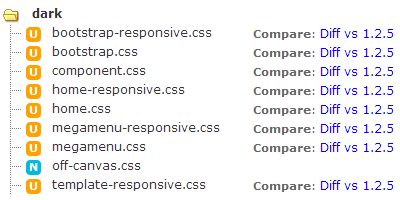 Version comparison
Compare files from user setup with the new version files
Compare files content
Highlight new files, changed by developer, changed by user, deleted by developer, modified by both developer and user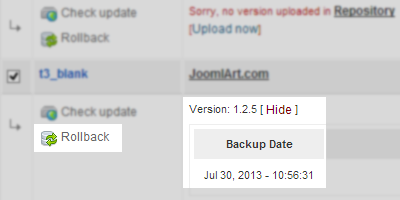 Upgrade and back-up user setup
After the comparison of the user setup with latest version, click "Update" for the extension
Re-apply user customization and check for any malfunctions caused by the code changes
Roll-back to the previous setup if the update and customizations reapplied don't work properly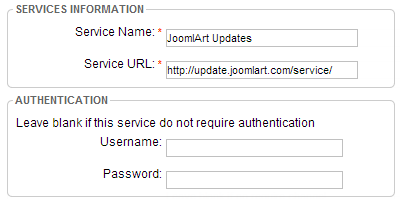 Remote install and upgrade
Configure external update service and login to your desired extension's website with JA Extensions Manager interface to access downloads.
You can upload extensions from a remote address and the repository will keep the installation package in the jaextmanager_data folder for future usage.
Repository will keep both initial user setup before the update and the new version of the extension to allow user to easily rollback later.
When you apply customizations to the new version, and then rollback, this new and customized version will be also stored in the repository.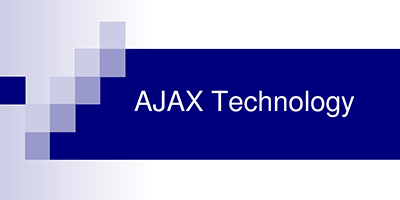 AJAX technology
Checking for updates, updating, uploading new versions, all operations controlled via AJAX technologies, no complete page refreshing.
Updating extensions now makes it possible to save bandwidth too.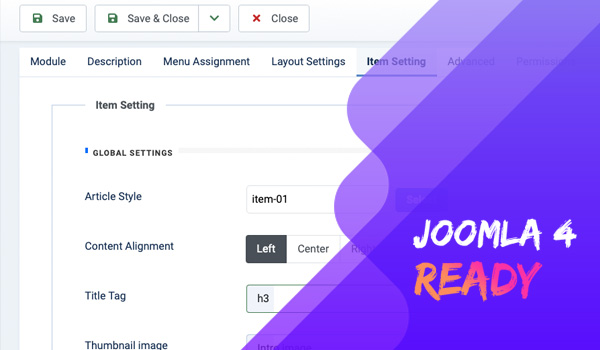 Joomla 4 extensions update extension
Joomla 4 stable is out with huge updates and improvements. The extension is updated to fully support the latest Joomla version. Install and set it up on your Joomla 4 website.
JA Extension Manager - Video tutorial
JA Extension Manager component is free Joomla extension for Joomla 2.5 and Joomla 3. It's used to manage your Joomla extensions easily: remote installation, checking for update, comparing versions and files, upgrading, backup and uploading.
Still have trouble?