JA Restaurant Introduction
JA Restaurant is a powerful Restaurant Cafe Bar Joomla template with dedicated design, pages and features. It has 4 Menu types: Simple Menu, 2 Column Menu, Menu with image and Vik Restaurants Menu to show menu in smarts ways. 3 options for Reservation system: Open Table, Vik Restaurants Reservation and Phone Reservation. Other useful pre-built pages for Restaurant website includes: Gallery, Offers, About Us. The restaurant template integrates Vik Restaurants - Joomla menu and food ordering system extension and Open Table. It supports 5 theme colors by default.
JA Restaurant Joomla template is built with robust T3 Framework, powerful admin panel with built-in functionalities: Theme settings, Visual layout configuration, Megamenu builder and option to optimize CSS & JS. It is SEO friendly and easy to customize based on optimized and well structured codebase.
JA Restaurant supports RTL language layout
JA Restaurant features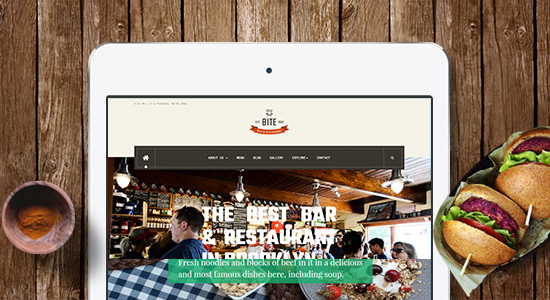 Joomla template for Restaurant Cafe Bar
JA Restaurant is designed for Restaurant Cafe Bar website with dedicated design, pages and features.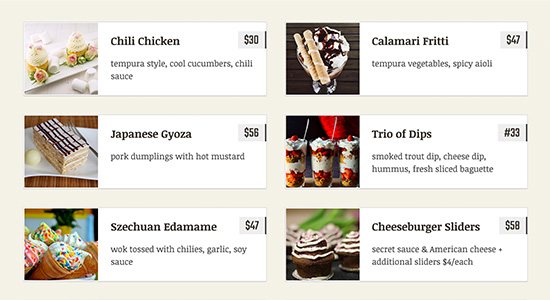 4 Menu types
Display menus in beautiful design and well structured layout with multiple types supported by default: Simple Menu, 2 column menu, Menu with image and Vik Restaurants Menu.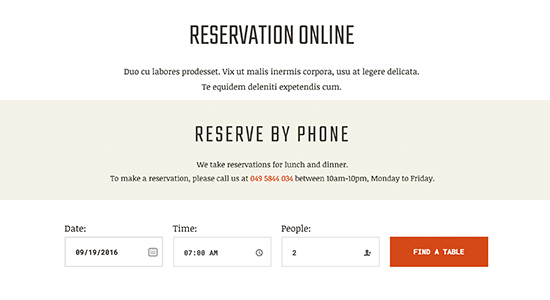 Multiple Reservation options
Powerful reservation system where you can manage reservation with ease. 3 available options:
Open Table Reservation
Vik Restaurants Reservation
Phone Reservation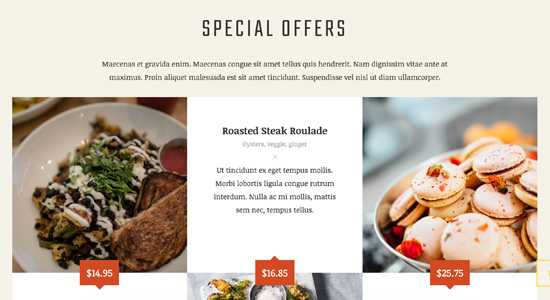 Dedicated Offers page
The pre-built page helps you create Offers page for your Restaurant with Special Offers, Newsletter promotion or Happy Hours program.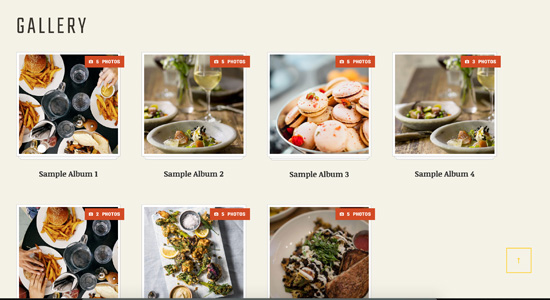 Creative Gallery page
Showing your restaurant menu, restaurant photos in beautiful design based on extended content - Gallery content type.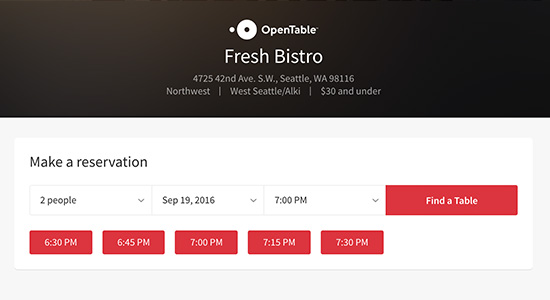 Open Table integaration
JA Restaurant template integrates table booking system - Open table to build Reservation system for your Restaurant website.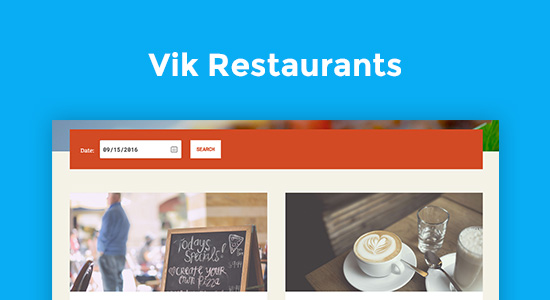 Supports Vik Restaurants
JA Restaurant supports Vik Restaurants component - Joomla menu and food ordering system extension with advanced features: Menu system, Reservation system, Order system, Take-away system, Table Overview.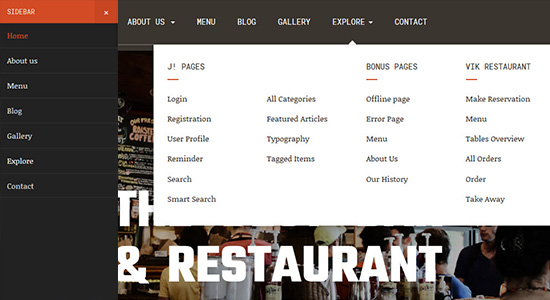 Megamenu & Off-canvas menu
The restaurant Joomla template navigation system is powered with outstanding Megamenu and Off-canvas menu (for Mobile menu).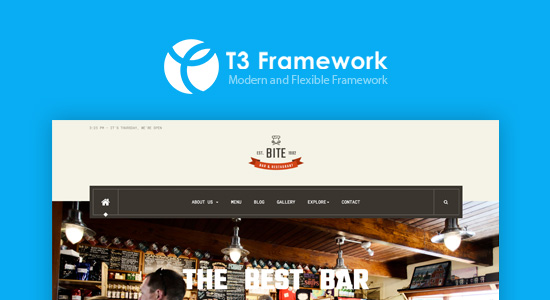 Built with T3 Framework
It is built with the best responsive Joomla framework - T3 Framework with powerful features and ease of customization.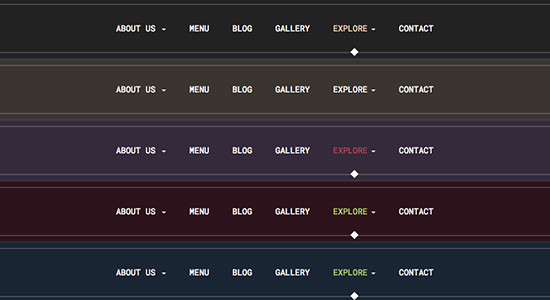 5 theme colors
The template supports multiple theme colors: Blue, Green, Orange, Pink, Purple. You can switch to any theme in the theme setting.
Right to left language layout ready
JA Restaurant support right to left layout that allows you build intranet website in special languages: Arab, Persian, etc.
Changelogs
Version 1.0.9
30 Sep, 2020
Bug Fix
Update style for Acymailing 6.15.1
Issue with VikRestaurants v1.8.1
Version 1.0.8
08 Aug, 2019
Bug Fix
Search: Got error on Clear button
Version 1.0.7
23 Jan, 2019
Bug Fix
Got css error on email popup
Button displays not nice on user profile page
Got css error on contact page
Privacy popup displays error on contact page
Version 1.0.6
16 Nov, 2018
Bug Fix
J3.9: Got CSS errors when enabling the plugins: "User - Terms and Conditions" & "System - Privacy Consent"
J3.9 - Invisible Recaptcha: Remove the Captcha label
Got error with Blog page
Version 1.0.5
01 Dec, 2017
Bug Fix
Missing language in Module setting page
RTL - Vikrestaurant: Some Css errors on order page
Vik restaurant: Problem with Special Instruction on order page
Got some css error on Editor
RTL - Vikrestaurant: Logout button displays wrong position
Vik restaurant: 'Order Type' label displays wrong position
Iphone/Ipad: CSS error on Landing page
RTL: CSS error on Vikrestaurant menu
Vik restaurant: Got Css error when 'Make a Reservation'
Broken Css on the latest version of Vik Component
IE: Css error on Subscribe block
Version 1.0.4
19 Oct, 2017
Bug Fix
Fix bugs to compatible with Joomla 3.8
Version 1.0.3
16 Aug, 2017
Update
Upgrade to joomla 3.7.4 compatibility
Bug Fix
Got error in ACM timeline module
Version 1.0.2
24 May, 2017
Update
Upgrade to joomla 3.7.1 compatibility
Bug Fix
Joomla Menu: Got some errors
Problem with Editor when using "Editor - TinyMCE"
Version 1.0.1
15 Feb, 2017
Improvement
Add style for landing page
Bug Fix
Links displays ugly on search result page
Version 1.0.0
15 Sep, 2016
First release