JA Brickstore Introduction
JA Brickstore is a creative and powerful eCommerce fashion Joomla template, it fully supports Virtuemart component with all features and pages (products list, product detail, filter extension, checkout, payment integration, etc ) with customized style to fit the template design. The template supports 2 menu types: Vertical and Horizontal, it is built as an option to be configured in the template admin panel. We have developed all new Filter Component for this template - JA Mega Filter component (Commerical extension) to help you build an advanced product filter page with multiple fields and custom fields.
The Joomla template for shop is built with robust T3 framework. It has intuitive admin panel with built-in functionalities and tools: visual layout configuration, theme setting, megamenu builder, compression, etc. JA Brickstore is easy to customize and supports RTL language layout.
JA Brickstore features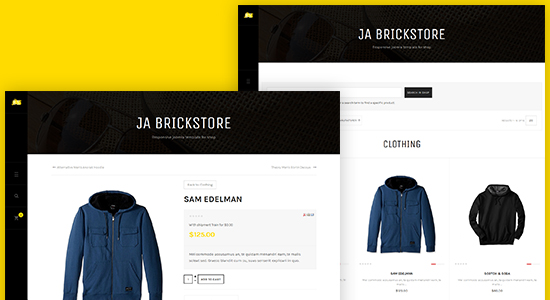 Joomla template for eCommerce
JA Brickstore is a creative and powerful Joomla template to build E-Shop websites.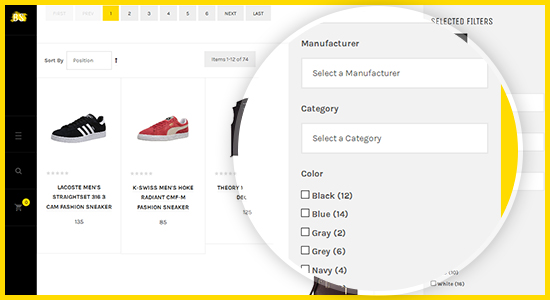 Fully support JA Mega Filter component
We have developed all new Filter Component for this template to build product filter page with multiple fields to filter. (JA MegaFilter is commerical extension and required JAEC or Developer membership for downloads.)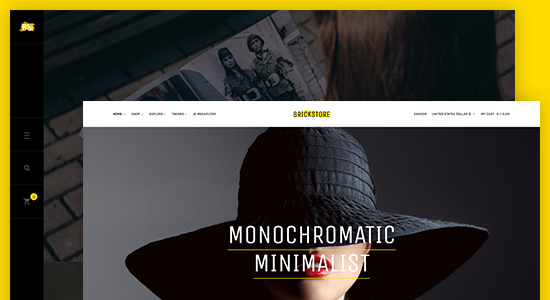 Vertical and Horizontal menu
JA Brickstore supports 2 menu types: Vertical and Horizontal to display menu system flexiblely. The Off-canvas menu is clean and used as Mobile menu.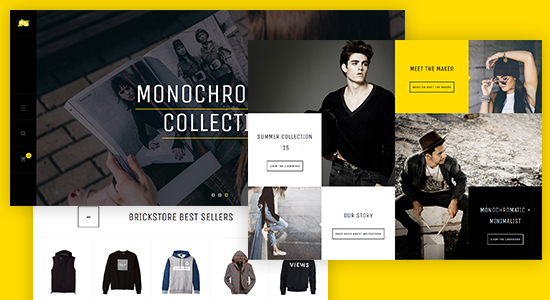 Supports JA ACM with multiple blocks
Create creative blocks with ease based on multiple content types support: Slideshow, Features Intro, Gallery, Contact.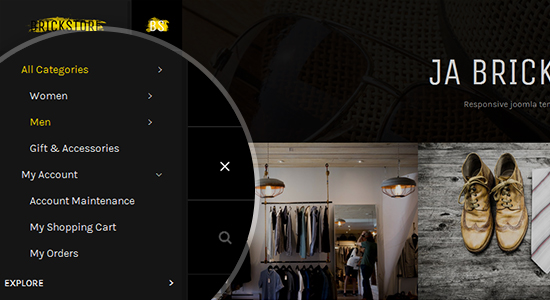 Fully support Virtuemart component
JA Brickstore is based on Virtuemart component - Free Joomla eCommerce extension, all features and pages are supported and styled.
Product list page
Product detail page
Filter page
Checkout page
Payment integration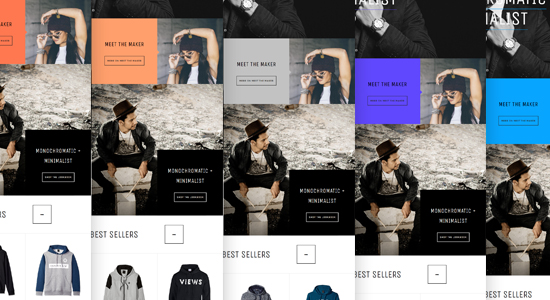 Multiple theme colors
The template supports multiple theme colors. You can switch to any theme in the theme setting within 1 click.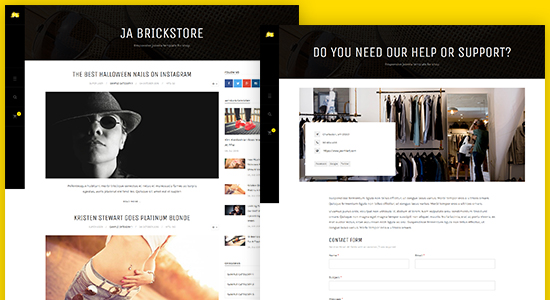 Supports all Joomla pages
The eCommerce template supports all Joomla default pages with customized style to fit the template design.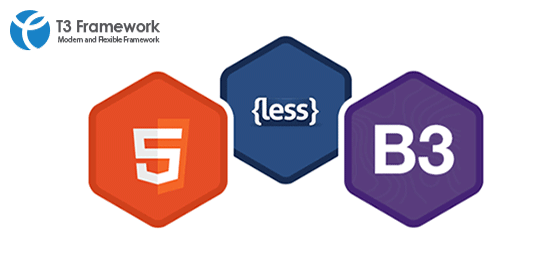 Built with T3 Framework
It is built with the best responsive Joomla framework - T3 Framework with powerful features and ease of customization.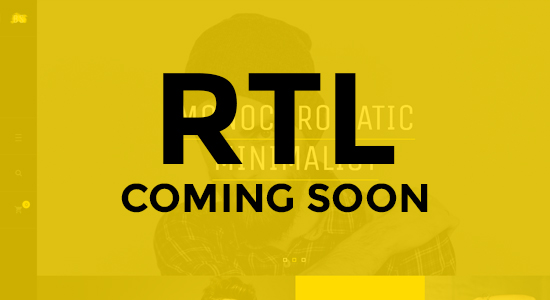 Right to left language layout - Coming soon
JA Brickstore will support right to left layout that allows you build intranet website in special languages: Arab, Persian, etc. It is planned to be ready in version 1.0.1
3rd Party Extensions
AcyMailing

VirtueMart
Changelogs
Version 1.0.7
2019-01-23
Bug Fix
Realign checkbox on contact page
Fix to load privacy content on popup on contact page
Version 1.0.6
2018-11-16
Bug Fix
Missing style with the email form
[J3.9 - mod_articles_category] Missing language on the module when set Tags option in Grouping Options tab
Missing Time Zone option in edit profile page
J3.9: Got some errors when enabling the plugins: "System - Privacy Consent" & "User - Terms and Conditions"
Issue with Virtuemart Products module
J3.9: Some CSS errors when enabling invisible recaptcha
Version 1.0.5
2017-12-06
Bug Fix
Got error on megafitler
Megafilter: Css error when display as 'list view'
Restyle search filter on tag page
Horizontal layout: Menu is not styled
RTL-Got css error on shopping cart
Missing style on VM product
Css error on Landing page
Got css error on iphone when sort by product name
Some CSS errors on Editor
Version 1.0.4
2017-08-16
Update
Upgrade to joomla 3.7.4 compatibility
Bug Fix
Highlight keyword search displays error after upgrade joomla 3.7.3
Joomla Link not loading in blank page Template issue
Using the joomla contact extension in brickstore template
Got some error on product detail page after upgrade VM latest version
Version 1.0.3
2017-05-12
Bug Fix
Cant show custom fields on contact page
Got js error and warning on my account page
Css error on edit article page
Got notice error on product detail page
Got js error on article detail page
Increase product icon displays error when view in RTL language
Custom field is not displayed after title
Products display error in list page
Version 1.0.2
2016-12-29
Update
Update to compatible with the JA MegaFilter component latest version.
Version 1.0.1
2016-11-03
Bug Fix
RTL - VM Ask a quextion popup should be in center on iphone
RTL Most read title displays ugly on iphone
RTL Missing border on the last item
RTL - Button displays ugly on forgot username/pass
RTL - Got error on category page
RTL Appears white spacing on cart module
RTL - Title masthead displays on small scren
RTL Tag page displays ugly
RTL-VM my account displays error on iphone/ipad
RTL - Vendor and Your order page displays error on small screen
Cant show submenu when switch to homepage horizontal
RTL - Price should be in left direction
RTL Submit button on forgot username/pass is gone when enable recaptcha
RTL Search box displays error on home page horizontal
RTL - Got 404 page when click on the article on tag page
RTL Some texts are not translated on megafilter
RTL Most read text should be aligned center
RTL - Appears scrollbar on checkout step 4 when view on iphone/ipad
RTL- Product hover displays error on homepage horizontal
RTL Most read popup should be in the middle
RTL - Got some errors on homepage
RTL Got error on ipad after checkout without login
RTL Appears scrollbar on homepage horizontal
RTL - Appears scrollbar on article detail when view on iphone
RTL missing search fields in RTL: category, manufacturer and some new custom fields
RTL Missing most read article popup when scroll down
RTL there is scrollbar on add address page when view on iphone
RTL should enable language switcher on homepage horizontal
RTL - cant show dropdown selectbox when click to open on iphone
RTL Description slideshow displays error on iphone/ipad
Version 1.0.0
2016-10-25
First release