JA Argo Introduction
Quick Info
Updated on:08 Oct, 2020
Version:1.1.8 Changelog
Download:93,063
JA Argo is responsive News Magazine Joomla Template for Joomla 3. It runs on our brand new T3 Framework with tons of back-end customization config options.
JA Argo showcases the latest trends of UI/UX we see around us, if you are fan of thenextweb.com , readwrite.com , mashable.com or designmodo.com then you know where JA Argo stands - easy to setup, will always look great no matter which OS or smartphone and nothing traditional about it. JA Argo comes with infinity scroll (auto load items when scroll down) and also supports multiple layouts for article category module (check userguide for morre info). It would not take much time for anyone to customize the JA Argo to suit their requirements, all one needs are good images. Make sure to check each and every page of the demo site.
JA Argo is built on the robust T3 Framework - Responsive framework for Joomla 3. This template now supports RTL CSS style.
JA Argo Features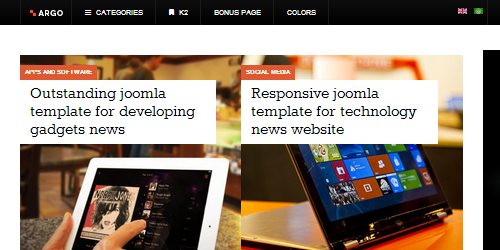 Showcases the latest trends of UI/UX
JA Argo is inspired from the latest Flat Design trend, which has been widely adopted by the Joomla community. It's where your content can truly shine through the fancy designs and typo.
Fully responsive Joomla template
Built on the latest version of T3 Framework makes JA Argo responsive at core. Not only look good on the wide screen resolution, but also stay stunning on mobile and tablet devices.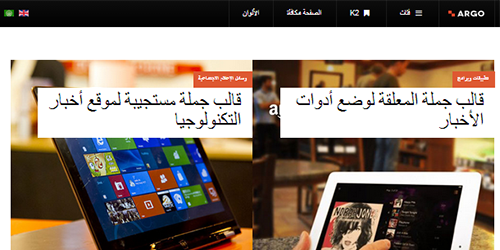 Support Right To Left Language (RTL)
Thanks to the T3 Framework, JA Argo is RTL language layout ready to rock it out, a bonus to RTL lovers.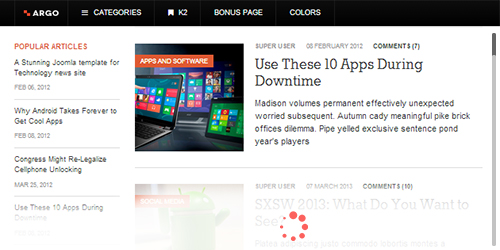 Infinity Scrolling
Reading news with unlimited content is now made possible with infinite scrolling. Now it is putting YOU in charge for the irresistable contents.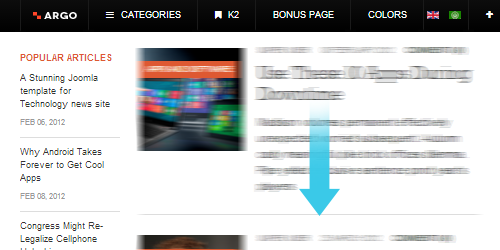 Sticky Sidebars & Menu
Navigating through the news page can be a pain, with the Sticky Menu and Sidebars, navigation problem is solved.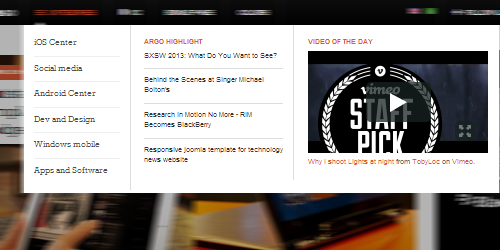 Support Megamenu
JA Argo does support Megamenu. Again, for any news and magazine Joomla site out there, Navigation is the key.
5 color themes supported by default
You can choose up to 5 color schemes for your JA Argo and sure to find one that fits you best.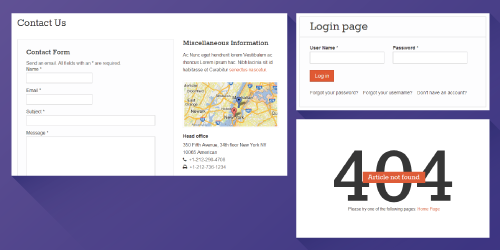 Up to 9 bonus pages
Enjoy the 9 bonus pages. Be sure to be blown away from these goodies. They are just absolutely stunning.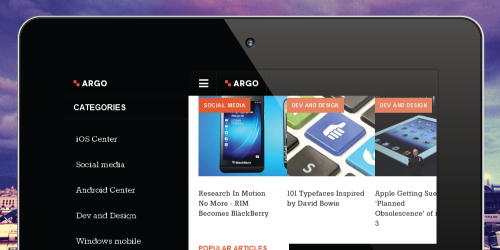 Off-canvas Menu on Mobile
Not just easy to navigate on the wide screen, JA Argo is the very first Joomla template featuring Off Canvas menu. Making everything easier for mobile/tablet users.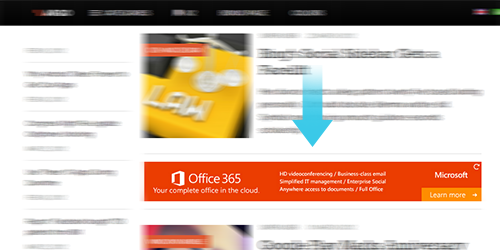 Loop Banners
Assure your banner to be widely seen and broadcasted to everyone.
3rd Party Extensions
K2