JA Twitter Module Introduction
Quick Info
Updated on:06 Dec, 2022
Version:3.0.1 Changelog
Download:1,743
JA Twitter Module provides API integration with the Twitter microblogging service to drive more traffic to your site. This module comes with ease of configuration, its powerful admin panel includes all settings for you to configure, no customization is required.
One thing for sure, nothing in this module can make you confused. Give it a try and you would know.
Twitter Account information can be configured to be displayed in front-page of the module or not.
Limitation for number of tweets to be displayed.
Twitter account Avatar can be displayed in each Tweet displayed in the module or not, in this case, you can set size for the Avatar.
Twitter username can be set to be displayed above each tweet.
One click to enable or disable Tweets source.
Custom Text heading: enable it and type any text to be displayed as the heading of Twitter block.
Friend list with friend number and avatar size that are configurable
Multiple Following button styles supported by default
Encryption of OAuth information for security, so that you will never lose your OAuth information.
Main Features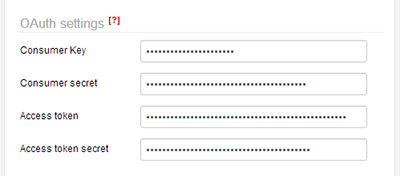 Encryption of OAuth information for security
Since 2013-06-11, Twitter has stopped supporting API v1 and fully moved to API v1.1. In API v1.1, Twitter denies non-Authorized request, that means you need to provide the information below to authorize your request. The information needs to be secured so after you save settings, the OAuth information will be encrypted.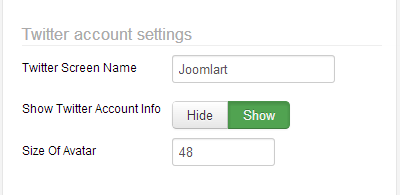 Show / Hide Twitter account information
The Twitter account information displayed in front-page bases on provided screen name. The information includes: Avatar, username, location , web, etc.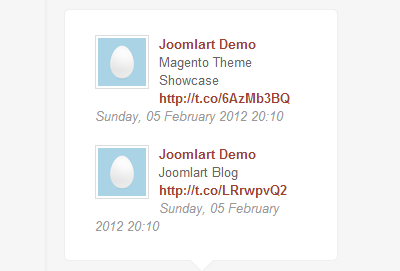 Multiple settings for Tweet displaying
The Tweet displaying settings include: number of tweets to be displayed, Twitter account avatar displaying in each tweet, size of Twitter account avatar, Twitter username, tweet source and custom text heading.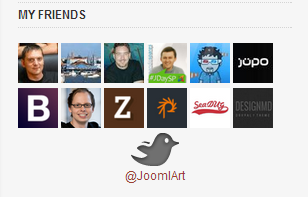 Twitter friend list settings
JA Twitter module allows you to display your Twitter friend list. Number of friends and their avatar size are configurable.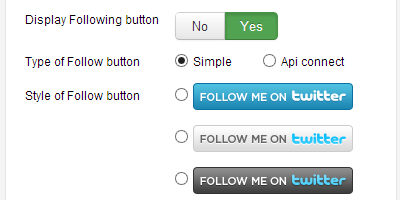 Multiple Following button styles
For simple follow button type, multiple button styles are supported by default, select the one you prefer to use in your site.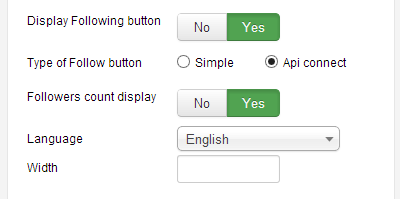 Api connect button style
In you don't like button styles supported in "Simple" button type, you can use button type: "Api connet". It includes: Followers count display setting, language, width, alignment, etc.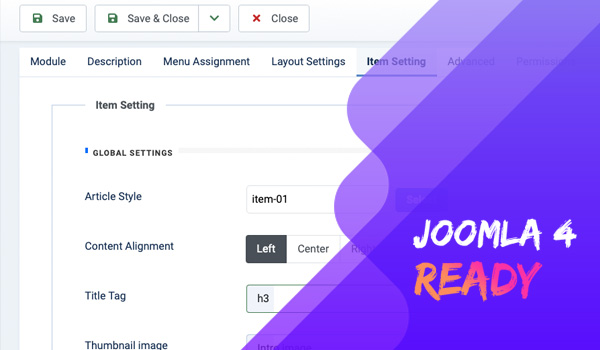 Joomla 4 twitter extension
Joomla 4 stable is out with huge updates and improvements. The extension is updated to fully support the latest Joomla version. Install and set it up on your Joomla 4 website.