JA Campaign Introduction
Quick Info
Updated on:21 Sep, 2023
Version:2.0.2 Changelog
Download:9,802
JA Campaign is a free Joomla template to quickly build a community support campaign website with offer listing feature, offer submit system and customizable email systems.
The project is based on our real campaign - COVID Support campaign for the Joomla community with corporation from 40+ Joomla clubs and Hosting providers to provide good offers to support the Joomla community with their Joomla projects.
We want to make things easier for anyone to set up a campaign, so we decided to release the quickstart, you can replicate the campaign demo site, revise content and some more simple steps and it's ready to launch.
Tags
JA Campaign template features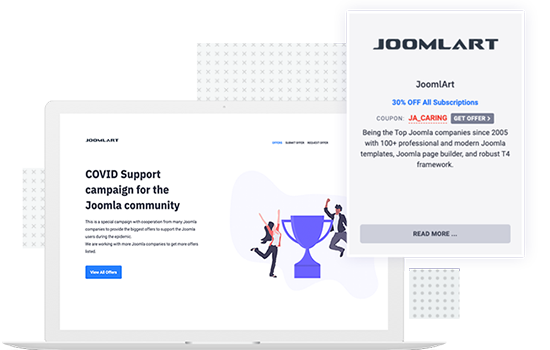 A product from COVID Support campaign for the Joomla community
JA Campaign is inspired from our COVID Support campaign for the Joomla community to provide a list of good offers from professional Joomla companies, Joomla clubs and Hosting companies to the Joomla community.
It is a platform where a Joomla company or anyone who is working on the business can submit their offers and get the offers listed on the campaign to support others.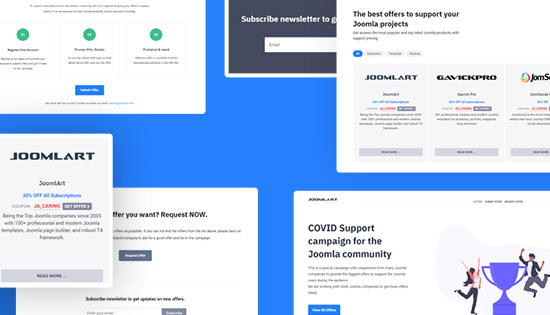 Build a complete offer listing website fast and easy
We provide the quickstart installation with demo content, setup the same as our COVID Support campaign to help anyone build a complete offer listing website faster.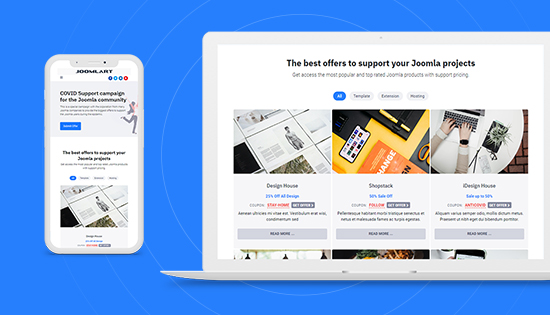 Show offers in beautiful layout
The most important section in the website - Offer listing is designed to be displayed professionally with important content elements: brand logo, offer title, offer details, coupon code and brand overview.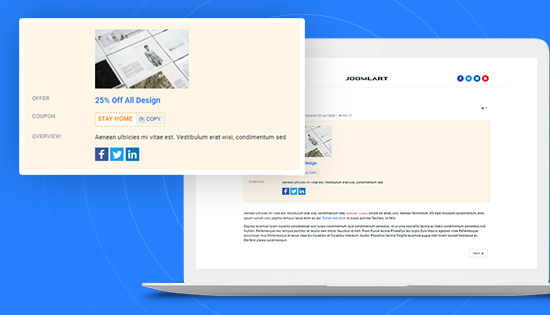 Offer detail page with well structured layout
Each offer has detail page where provider can provide more content about their product, services and any information they want to show to the users.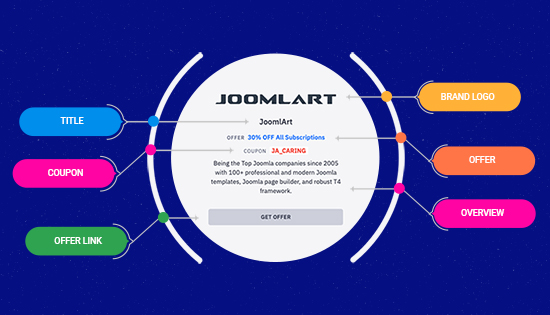 Take advantage of Joomla extra fields
The important content elements for an offer is powered with Joomla custom fields for easier content update, offer submit and customization.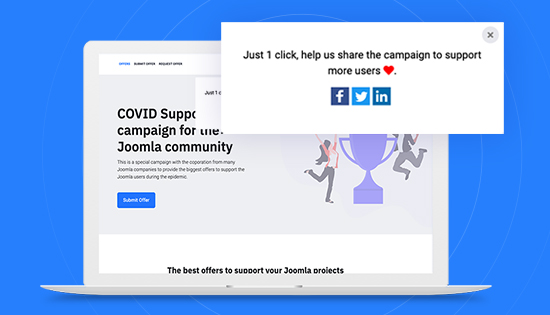 Smart social sharing
Share the whole campaign, or any offer with the social sharing. We also build a popup for social sharing where you can customize the title, description and the duration (in seconds) to show the popup.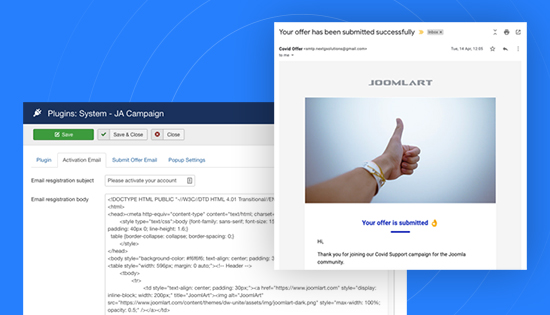 Customizable email template
We built a dedicated plugin to allows admin override email template that supports HTML mockup to build professional email template. We also include the email templates we used for our campaign, you can use the mockup and update content.
Activation email
Offer submit notification email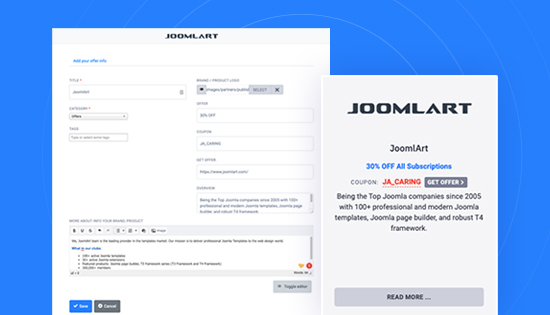 Offer submit feature
JA Campaign allows providers to submit their offers on the system. They can register a free account and submit offer details using Joomla article submit. Admin can just review and publish the offer.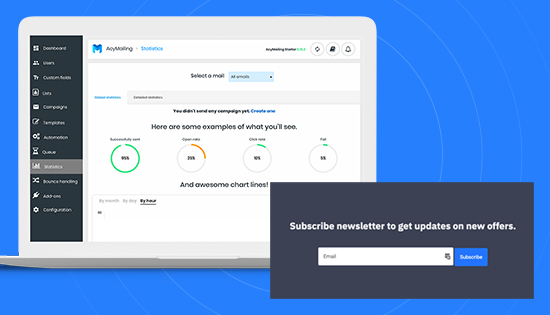 Support Acymailing for email marketing
The template supports the most popular Joomla email marketing extension - Acymailing to help website owner setup newsletter signup, collect users information for marketing purposes.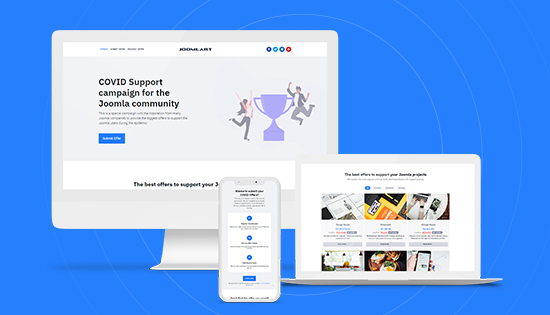 Fully responsive design
JA campaign is fully responsive at core and optimized for performance to build mobile friendly and fast loading Joomla based website for support campaign and offer listing.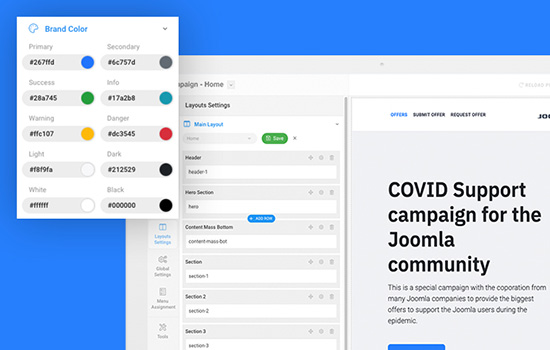 Built with T4 Framework
JA Campaign is built with the latest T4 Joomla template framework with new web technologies, advanced features and ease of customization.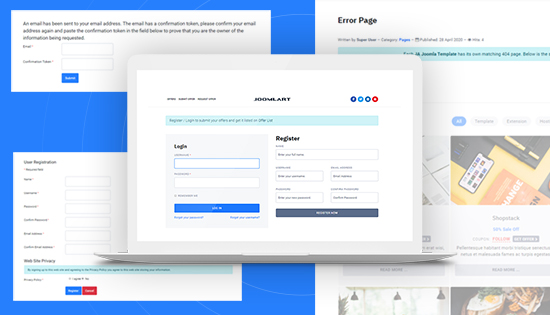 Supports all default Joomla pages
The free Joomla template supports all Joomla default pages with rich design elements and typography to help you build full functional websites faster.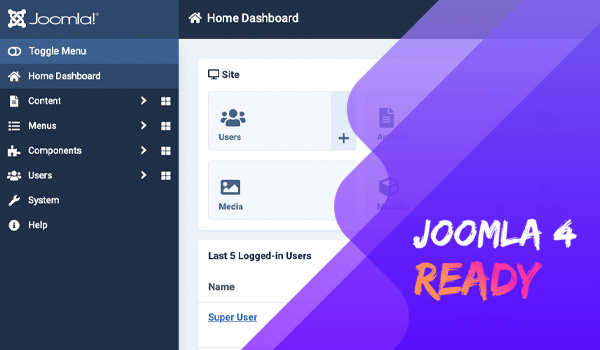 Joomla 4 ready
The template supports the latest verion of Joomla 4 and Joomla 3. You can build your projects with any Joomla version you prefer. We provide quickstart package for both Joomla 4 and Joomla 3 to quickly replicate our template demo on your server.
3rd Party Extensions
AcyMailing