JA Biz Introduction
The Responsive Joomla template for Business - JA Biz supports both Joomla 3 and Joomla 2.5 and will transform your ordinary looking Joomla site into professional business site.
JA Biz is built on the robust T3 Framework with Bootstrap 3 at core, supports RTL language layout at default and support for the powerful EasyBlog component, and the cool Joomla extension for map & location - JA Image Hotspot module.
JA Biz Joomla template comes with multiple layouts, 5 colors presets and various typography pages. Altogether makes JA Biz a refreshing functional template design that anyone can quickly pickup and get started in minutes, set up and push it live. If you have been looking for for a business template that you can count on, JA Biz will not disappoint you. This template supports RTL CSS Style.
JA Biz Features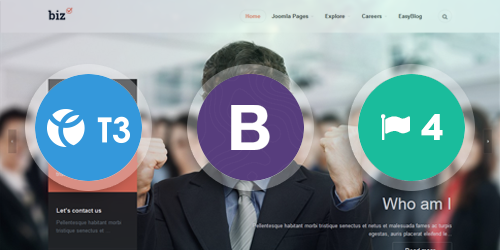 Built on the latest T3 Framework and with Bootstrap 3
JA Biz supports the latest T3 Framework and Bootstrap 3 at its heart, assuring you a powerful yet flexible and stable Joomla framework to work on.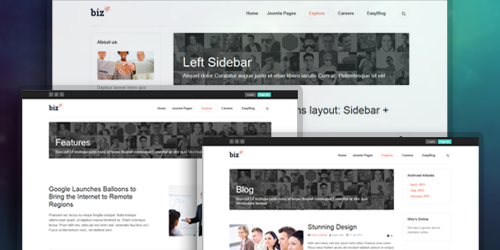 Multiple default layouts
Be unique with different styles is what JA Biz brings forth in 5 preset layouts including Feature, Blog and 3 other basic page structures.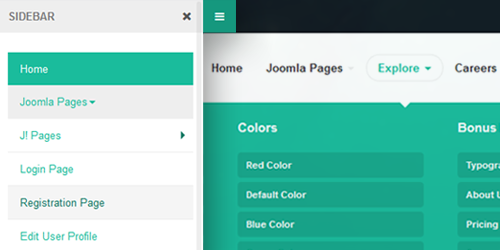 Megamenu and Off-canvas menu
Love the megamenu and the convenienct of the Off-Canvas menu? JA Biz offers you the best of both world with the 2 navigation system in one template. You can now have the megamenu on top while enjoy the convenience of the Off-Canvas sidebar.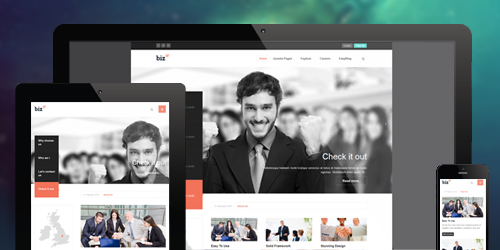 Fully responsive design
That means JA Biz will stay stunning regardless of which screen size it is to make sure each and every of your customers go WOW.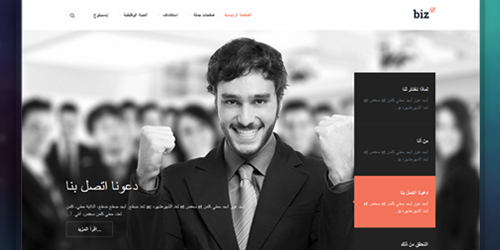 Right to left language layout
Thanks to T3 framework, RTL language layout in JA Biz is instantly switchable within a few clicks and promises to deliver a slick display.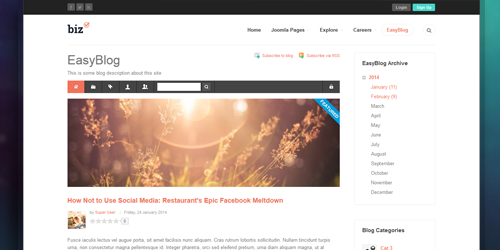 Support EasyBlog
It's of utmost importance that you keep constant communication with your visitors through blogging. JA Biz will help secure audience's interest through the powerful blogging component - EasyBlog.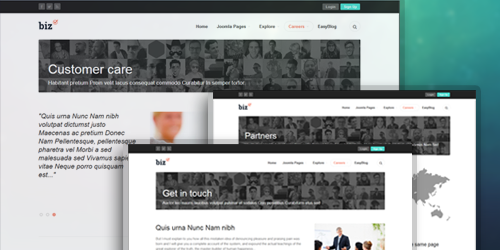 Handy typography pages
JA Biz is packed with a variety of bonus typography pages that will definitely come in handy for your Joomla business site such as: Customer care, Get in touch, Partner, Pricing table, Support Policy, About us.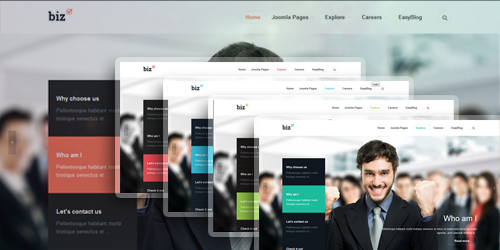 5 colors by default
Apart from the default color, JA Biz is also available in other color styles from Red, Blue, Green to Turquoise for more freedom in defining your online identity.
3rd Party Extensions
AcyMailing

EasyBlog
Changelogs
Version 1.2.0
26 Mar, 2019
Bug Fix
Careers page: Missing style
Fix article popup
Version 1.1.9
13 Dec, 2018
Bug Fix
J3.9: Email form is missing style
J3.9 - Contact Us: Can't open Privacy note content
J3.9: Can't show Term and Privacy on register page
J3.9 - Invisible recaptcha: Remove Captcha label
J3.9: Counter displays error on Category list page
Version 1.1.8
14 Dec, 2017
Bug Fix
Filter Field need more styled on tag page
List Contact is not styled
Notice error on Tag page
Some Css errors on Edit page
Problem with EasyBlog after upgraded to latest version
Css error on Contact Us page
Version 1.1.7
21 Jun, 2017
Bug Fix
Upgrade easyblog latest version
Can't show custom fields after title
Editor: Some css errors
Version 1.1.6
12 Aug, 2016
Bug Fix
Back to top works error in RTL
Should realign featured icon on easyblog page
RTL - Css error on easyblog page
Message alert displays error on home page
Should realign search icon
Got some css error on article editting
[Easyblog] Css error when hover Continue reading
Version 1.1.5
15 Apr, 2016
Bug Fix
Easyblog: Can't rating
Remove weblinks
More button display error when hover on it
Image is not responsive on article detail
Easyblog is not change color
Css error with break article
Problem with redirection of JA Login module
Easyblog: Css error when comment
Missing icon on Editor
Version 1.1.4
07 Jul, 2015
Bug Fix
[Biz/ Biz RTL joomla 3.4] [Iphone 4] No recaptcha form is break
[Biz/ Biz RTL for joomla 3.4] " Hotspot" module is wrong style
[Biz/ Biz RTL for joomla 3.4] Missing image
[Biz for joomla 3.4] " Social " module is missing style
[Biz for joomla 3.4] Categories detail is missing style for video
[Biz for joomla 3.4] error hover
social icon size not correct even all template in firfox
[Biz/ Biz RTL for joomla 3.4] checkboxs are overlap
Version 1.1.3
14 Nov, 2014
Improvement
Update font Awesome latest version.
Bug Fix
[RTL] Css error on login form
Version 1.1.2
15 Aug, 2014
Update
Upgrade Joomla 3.3.3 and 2.5.24
Update font Awesome latest version.
Bug Fix
Miss beforeDisplayContent position in Article Page
Version 1.1.1
18 Jul, 2014
Update
Upgrade to joomla 3.3.1 Compatibility
Bug Fix
IE8: Can't show submenu when hover
Easyblog: Css error on Tag module