JA Image Hotspot Introduction
JA Image Hotspot module is a free Joomla extension to help you upload any static image then fill in information for a specific area that you want to point out in your image. You can add unlimited markers, each marker can have its own title and description. You can select to always show pointer title and description or only show those information on mouse hover. The module is easily customizable, one can easily change the marker types and upload own image or map and the best part is that this module is responsive and fits well even in mobile and tablets.
Flexible Back-end settings
Unlimited markers (easy to customize)
Drag and drop markers or define using Offset X and Offset Y
Support 4 content types: Text, Video, Web Link, Social and video.
Select pointer type from pointer list
Support 2 point types: Font Awesome 4 icon & image icon
A responsive module that fits all devices
Upload your own image easily right from the backend
Main Features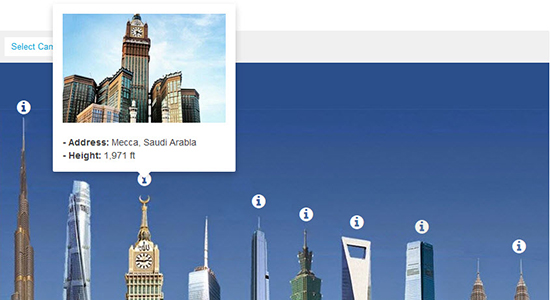 Add unlimited markers in intuitive admin panel
You can add as many markers to the image map, each marker is a pointer with icon or image and it has popup with info when hovering.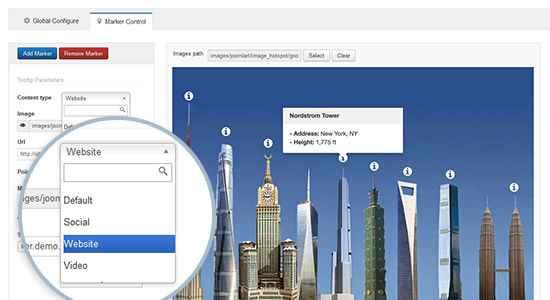 Supports 4 content types
You can add info for each marker flexibly as the module now supports up to 4 content types: Text, Video, Web link and Social.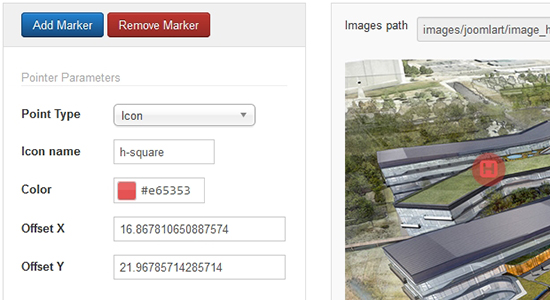 Icon and Image point type
For each marker, it has an icon, the icon can be font awesome 4 icon or image icon.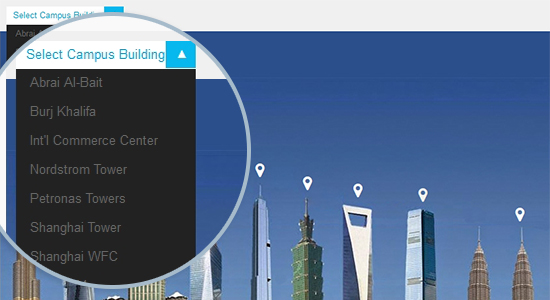 Select pointer from pointer list
All added pointers will be listed in the "Dropdown marker" box. Select a pointer in the list and its popup will be displayed.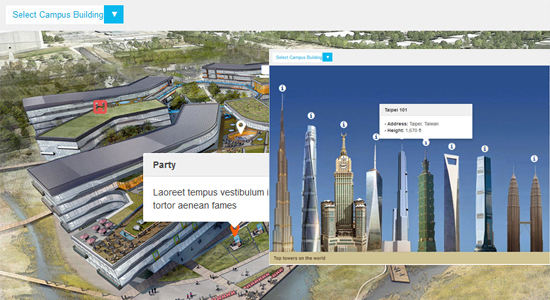 Multi-purpose
You can upload your own image and even use custom markers to use with this module. Highlight a map or car or a park layout.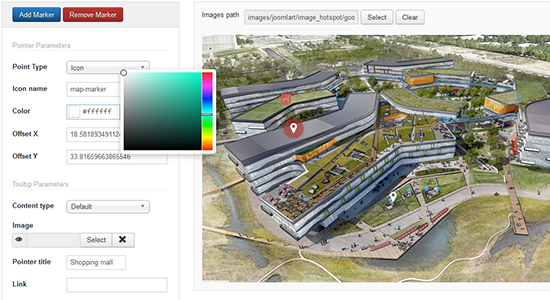 Ease of customization
These settings are really helpful if you want the module to have a different outlook, you can change the color for background, main content, button, shadow, tabs, title, etc.
Changelogs
Version 1.1.6
13 Dec, 2019
Bug Fix
Pointer is hidden after hover on it
Can't click to open link on iPad
Version 1.1.5
27 Jun, 2019
Bug Fix
Missing language in the module
Issue with popup of pointer text in IE browser
Cant see image marker after saving
Can't scroll tooltip box on mobile
Linking a hotspot
Tooltip background dark color is not working
Improve style for dropdown list
Pointer text have link after add url for point icon
Positioning differs on various devices.
Cant play video on tooltip
Version 1.1.4
04 Jan, 2019
New Feature
Feature Request: Support 'Click' option for the tooltips
Bug Fix
Video content type doesn't work
Fix issue with type website with unicode
Support HTTPS
Click option: with dropdown function doesn't work properly
Version 1.1.3
18 May, 2017
New Feature
Modify the height and width of the popups
Bug Fix
Icon Pointers disappear after upgrade
Version 1.1.2
20 Apr, 2017
New Feature
Update JS Library
Auto Position
Bug Fix
Always show: must be hidden when click to icon.
Tooltip background Color: doesn't work
Joomla 3.7: can't add image in backend
Link: click to icon doesn't link to new page.
Select drop down to show Popup >> not showing. (type Click)
Image: doesn't show on front-end.
Mobile view: missing opacity.
Hover: not on right position on first time hovering.
Version 1.1.1
21 Feb, 2017
Bug Fix
Pointer text not displaying correctly in the box in IE11
Version 1.1.0
29 Aug, 2016
New Feature
Support more Pointer Content Type
Version 1.0.8
19 Mar, 2015
New Feature
Different tooltip background colours per marker type
Bug Fix
Need to hit two times on a pointer to see the description of the pointer in Chrome in Adnroid
Do not display line break in popover
Version 1.0.7
26 Sep, 2014
New Feature
Add new setting to configured delay time for tooltip
Bug Fix
Can not print position marker
Version 1.0.6
20 May, 2014
Bug Fix
Update to compatible with JQuery 1.9+