JA Rent Introduction
Quick Info
Updated on:19 Jun, 2023
Version:2.0.3 Changelog
Download:352,933
The best dedicated responsive Joomla template for Vehicle rental service.
JA Rent is a Joomla template designed for vehicles rental service website. This template is fully responsive based on Bootstrap 3 grid system. It is built with our solid T3 Framework, supports K2 component and dedicated Car rental component - Vik Rent Car (to be purchased separately) . JA Rent gives you power to build a full Rental functionality website.
The template is based on T3 Framework and powered with many new web technologies: Bootstrap 3, Font Awesome 4, LESS, etc and supports all Joomla pages with individually customized styles to fit the template design.
JA Rent supports RTL language layouts.
JA Rent features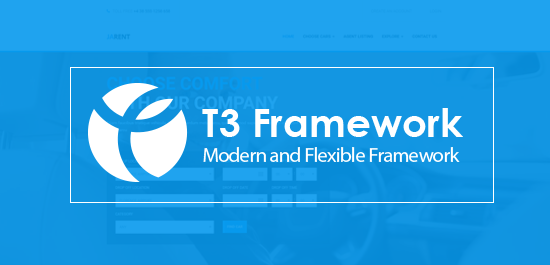 Built on solid T3 Framework
T3 Framework is a trustworthy and powerful Responsive Joomla framework. The framework helps you manage and customize your site easier based on the Options and Tools in the admin panel.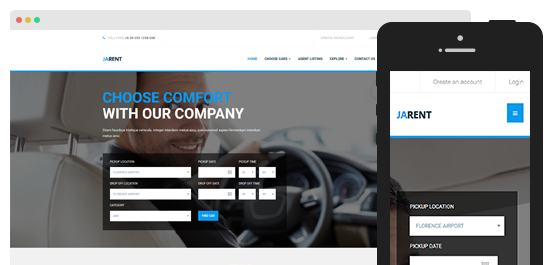 Fully responsive Vehicle rental template
JA Rent is responsive and based on Bootstrap 3 grid system. This ensures your site will fit with any screen.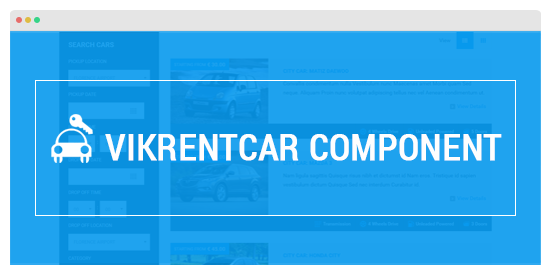 Dedicated Vehicle rental component
Vik Rent Car is a Joomla extension dedicated for vehicle rental service. The style of the component is customized to fit JA Rent design.
To be purchased separately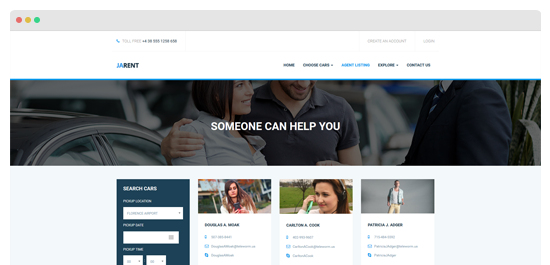 Support K2 component
With K2 component, you have a powerful CCK in hand to build your own styled content. In JA Rent, the component is used to build Blog and Agent Listing page, other pages are also supported.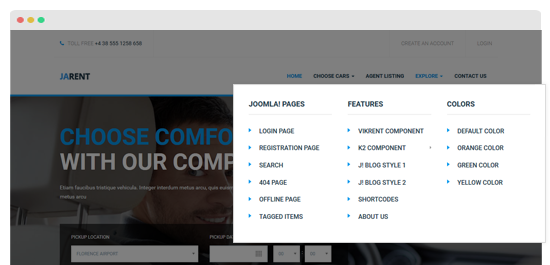 Megamenu and Off-canvas Sidebar
JA Rent comes with flexible menu system: Megamenu, Off-canvas and Bootstrap dropdown menu. Megamenu is used for Desktop menu, Off-canvas and Bootstrap Dropdown are used for Mobile menu.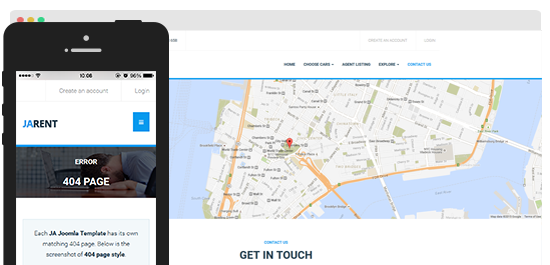 Default Joomla pages with customized style
Besides the pages for vehicles rental service, the template also supports all default Joomla pages with individually customized style.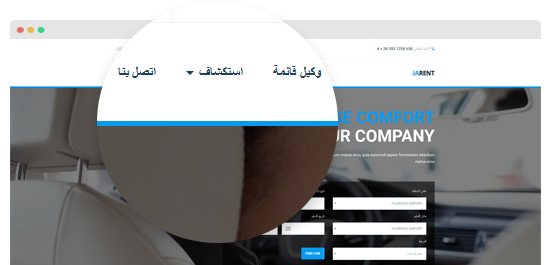 RTL Language Layout
JA Rent template supports Right to Left language layouts from the 1st version.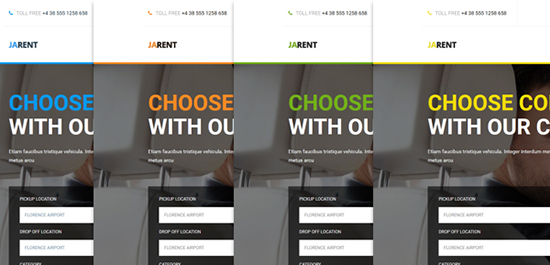 Multiple theme colors
You can choose your favorite color among Blue, Orange, Green, Yellow. Each color scheme reflects the character and specialty for your online rental service.