JA Events II Introduction
Quick Info
Updated on:11 Jul, 2023
Version:2.0.2 Changelog
Download:353,241
JA Events II is the responsive Joomla event template dedicated for event organizers. Whether you're a professional events manager or one-off organizer, this Joomla template for events will help you to plan for successful events.
JA Events II features 2 Joomla extensions for events JEvents and Events Booking, email extension Email Beautifier and ticket extension JTicketing. Events II design is light, beautiful and useful for all events manager.
Events II is a new must-have Joomla template for all event managers. You will be able to set up an event site with nice schedule, beautiful speaker details, easy to find Google map location, multiple custom pages, themed color.
With T3 Framework, you have all the power to customize your event site using ThemeMagic and Template Configuration. And JA Events II is fully responsive.
It's your turn to reinvent your events homepage!
JA Events II features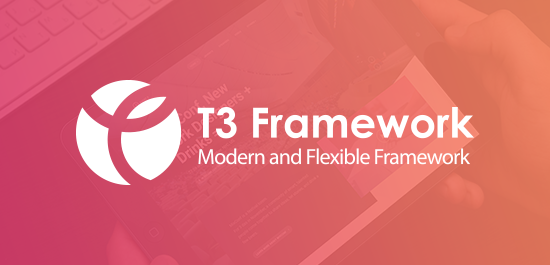 Built on the latest T3 Framework with Bootstrap 3
With the powerful T3 Framework and Bootstrap 3, you will have a trustworthy Joomla framework at hand. Building and customizing Joomla templates are more comfortable.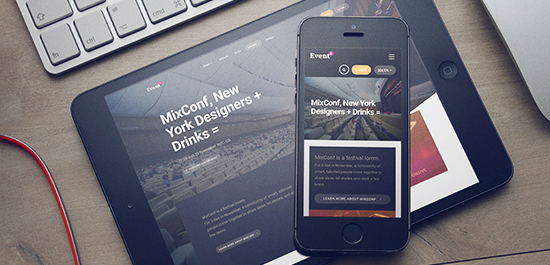 Fully responsive Joomla events template
With T3 Framework, JA Events II maintains smooth user experience across devices, from desktop to mobile.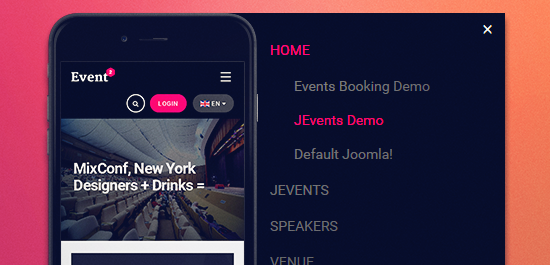 Megamenu and Off-canvas menu
Events II helps organizing your menu and navigation with Megamenu on desktop and Off-canvas menu on mobile devices.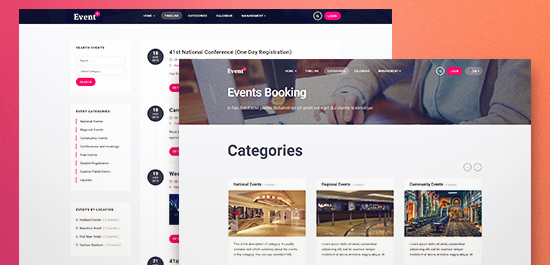 Supports Events Booking - Joomla Events Registration extension
Events Booking allows JA Events II users to create events (free and paid) with multiple types of registration (individual, group or shopping cart), and also to accept online payment.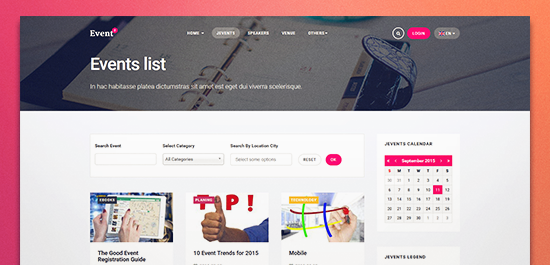 Supports JEvents - Joomla events calendar extension
With JEvents extension, you can create your own Joomla event site with calendar views, event listings, event registrations, tickets and much more.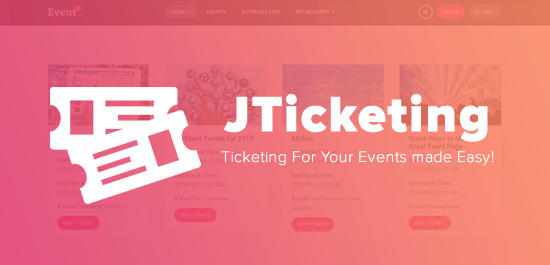 Support Jticketing - Joomla extension for event ticketing
JA Events II supports Joomla event extension JTicketing to create a featured packed event booking system. JTicketing also features an Android and iOS app for event organisers.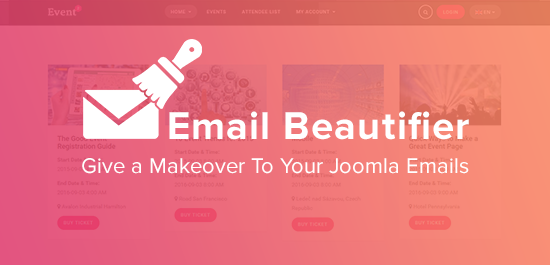 Support Email Beautifier extension
With Email Beautifier, JA Events II is no longer sending boring emails to event attendees.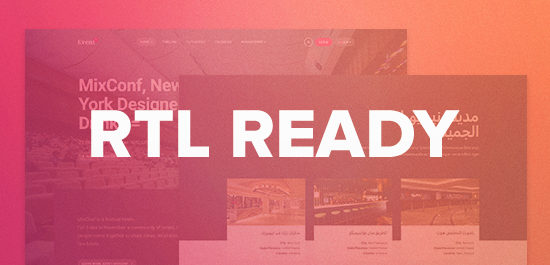 Support RTL languages layout
JA Events II supports Right to Left languages layout.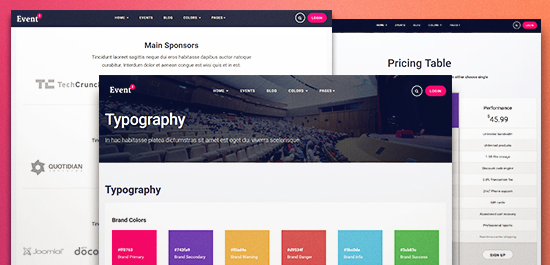 Events Bonus pages
The events template has many custom Joomla pages dedicated for event management i.e. Shortcodes, Typography, Speakers, Sponsors and Pricing Table pages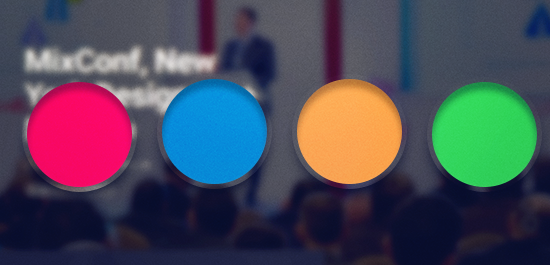 4 vivid themed colors
With Default, Blue, Orange and Green, JA Events II has a handful of colors for you to play with.
3rd Party Extensions
Email Beautifier

Events Booking Component

JEvents Component

JTicketing