JA Facebook Like Box Module Introduction
Version 2.6.1 has been released to make the module work with Facebook Graph API v2.3, check out more →
JA Facebook Like Box Module, provides Facebook Page owners to attract and gain Likes from their own website content, it uses the FaceBook LikeBox API.
Display Facebook page owner in your site
Number of connections is configurable
Show|Hide Facebook stream and header
Module size is configurable
Support 2 color schemes: light and dark
17 standard colors for module border
JA Facebook Like Box Features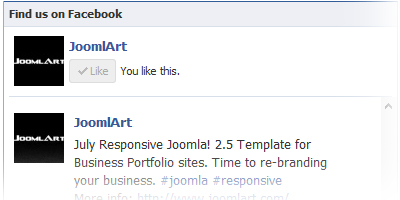 Display Facebook page owner in your site
Add the Facebook Page ID that you want to display its content in your site.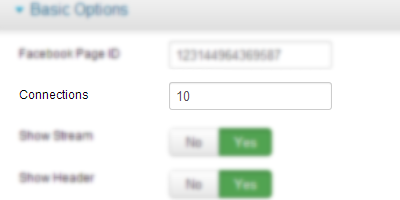 Number of connections is configurable
You can set number of connections to be displayed in the module.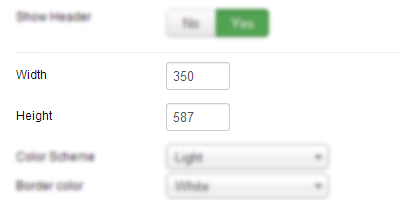 Module size is configurable
To make sure the module can fit any position in your site, you can configure the module's size.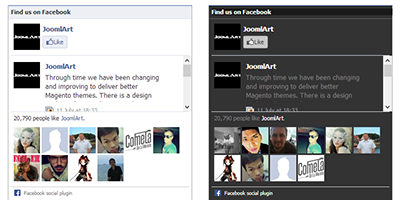 Light or Black color scheme
The module supports 2 color schemes: Light or Blank. With one click, you can switch within the 2 themes.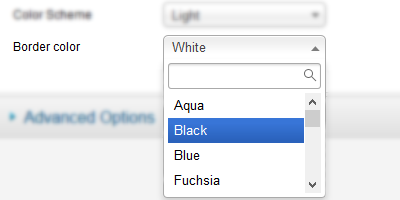 17 colors for module's border
There are 17 standard colors that you can select for the module's border: white, dark, blue, green, lime, gray, etc.
Changelogs
Version 2.6.2
21 Aug, 2017
Bug Fix
Field Module Class Suffix is missing in backend
Version 2.6.1
10 Jul, 2015
Improvement
Upgrade to new Facebook Page plugin
Version 2.6.0
27 Mar, 2015
Bug Fix
[J 3.4]JS error on back-end
Version 2.5.9
09 May, 2014
Bug Fix
Update to compatible with JQuery 1.9+
Version 2.5.8
11 Nov, 2013
Bug Fix
[FBLikebox] Border color doesnt work
Version 2.5.7
09 Oct, 2013
Bug Fix
Fix conflict js with joomsocial
Version 2.5.6
18 Apr, 2013
Improvement
Improvement to compatible with Joomla 3.1 beta4
Improve UI in back-end working panel
Version 2.5.5
26 Feb, 2013
Bug Fix
Parameter "Color Scheme" does not work properly
Version 2.5.4
16 Nov, 2012
Update
Update for joomla 3.0 compatibility
Bug Fix
[T3v3 J30] Show msg error in module backend setting
Version 2.5.3
31 Aug, 2012
Bug Fix
The field of facebook page-id could not be saved in the module back-end !