This weekend, we are releasing an update for our Free responsive Joomla template - JA Stark and T3 Joomla template framework, and New T4 Joomla template framework updated for bug fixes and latest Joomla compatibility.
T4 Framework - Joomla Template Framework:
New Feature: Advance responsive layout control
In the latest version, we added moe control options over the responsive layouts. Now you can able to add different margin and padding for the extra-large view, Medium view, and small devices to make more beautiful blocks. There are Total 5 different responsive views supported: XL, LG, MD, XM, and XS
Improvement
Improvement in Off-canvas menu : Off canvas Menu now support 3 style that fully compatible.
Bug Fixes
Got CSS errors on Login module
Small thumbnail when choosing image in modules/article
Appears scroll bar when showing submenu
RTL: Can't show offcanvas on right side
T3 Joomla template framework 2.7.6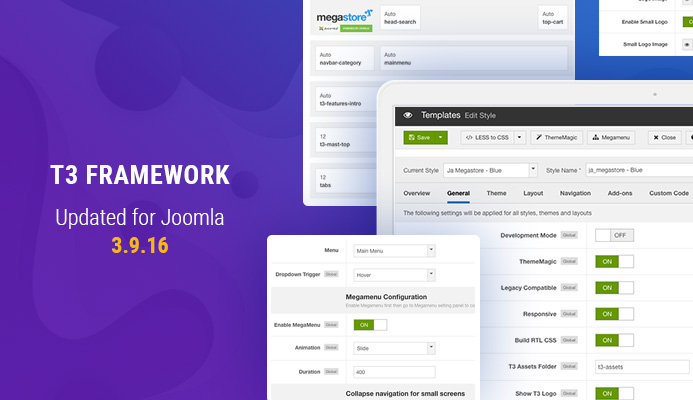 Release Changelog Version 2.7.6 :
Custom Theme not available after update to Joomla 3.9.16
PHP notice in contact page | Link
Button CSS style problem in backend
Menu Separator css problems
Media folder list error in frontend editor
Free Joomla template - JA Stark :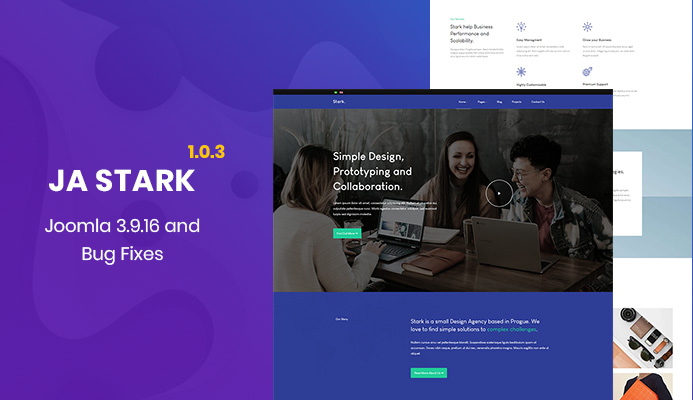 JA Stark is a creative FREE Joomla template for business, company, and creative agencies with multiple theme color support, additional pages, and impressive page elements: slideshow, features intro, portfolio, services, projects and more.
Release Changelog Version 1.0.3 :
Can't show menu on small screen
Problem with thumbnail image on article editor
RTL: Off canvas displayed not nice on mobile
CSS error on edit Profile form
Upgrade Steps