Download & installation
Module Installation
1. Download JA Weather - access this link to download the module.
2. Install module - from your site back-end, go to: Extensions >> Manage, browse the module installation file and install.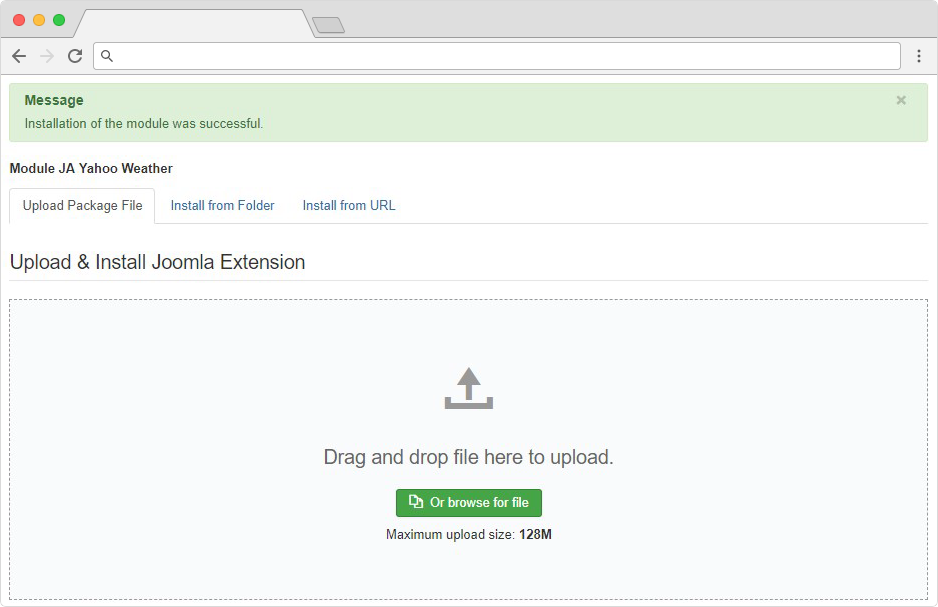 For more info, please refer to the extension installation guide
Enable Module
Once the installation is done, go to: Extensions > Modules, open the setting panel of the module to configure.
Open module setting panel, in the detail tab, publish the module then assign to a position
Next, open the "Menu Assignment", tick on the menu items that you want to display the module on.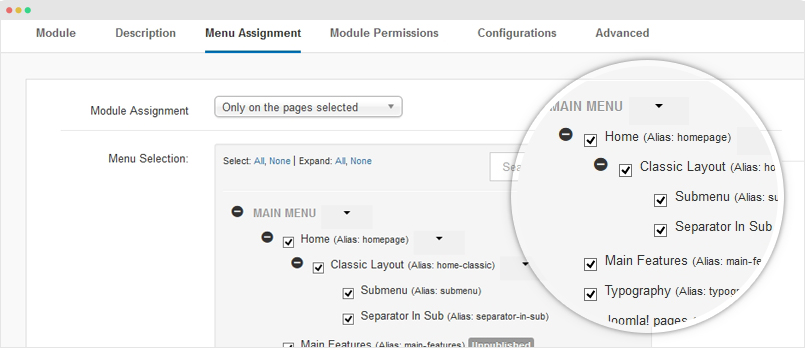 Module Configuration
JA Yahoo Weather is a Joomla module used for presenting weather conditions from Yahoo! Weather forecast services. This module allows you to display weather forecast from any place in the world you wish with a great ease. You can easily configure locations, it supports multiple location type: WOEID, Location name or using location Latitude and Longtitude.
1. API Configuration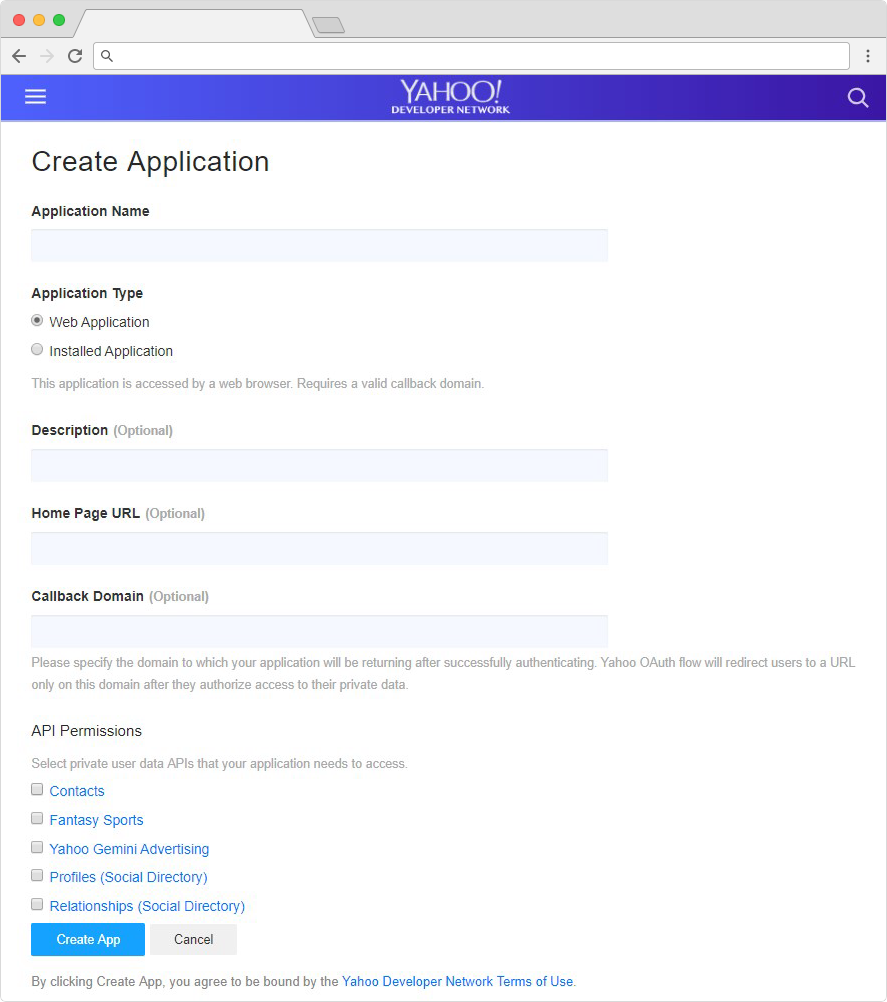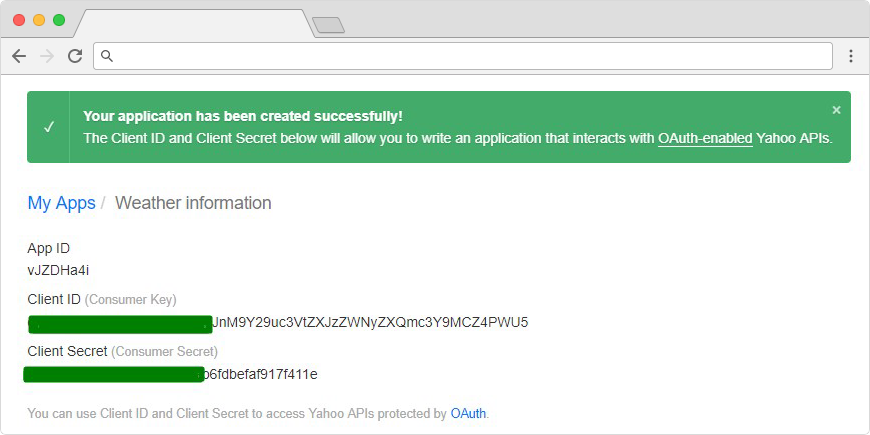 1. Before configure the Weather module you must create a Yahoo App for your Weather settings from Here
2. In the 2nd step you must Whitelist your app on Yahoo via fill out this form https://goo.gl/forms/ixXUBJ00xMQc5ne23 It takes few days to process this request.
3. Once you sucessfully created an API key and whitelist your app. you need to copy App ID, Consume Key, Consume Secret And add them in Module.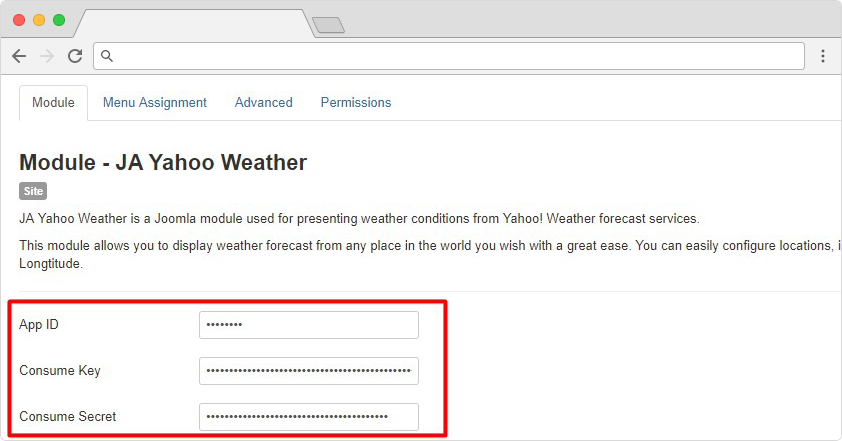 If you face any issue in the Yahoo API Key creation, Kindly check the Yahoo website Here for FAQ and troubleshooting issues.
1. Module Settings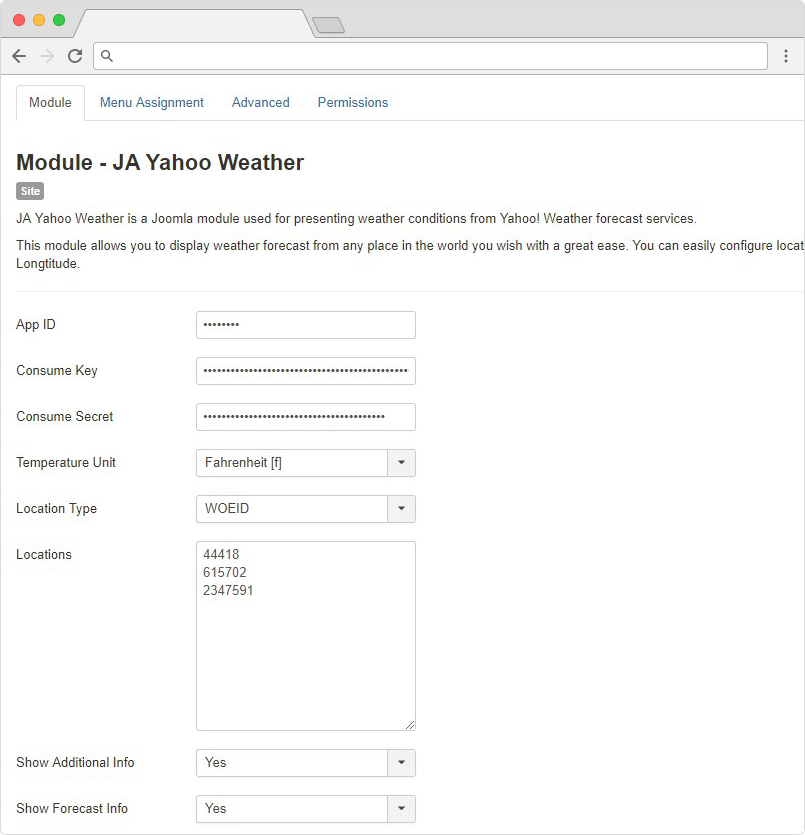 The JA Weather Module gives a wide range to show weather from different locations with different temprature units, and location types.
App ID : An App ID required to get the weather services from Yahoo. You can create an App on : https://developer.yahoo.com/weather
Consumer Key : Once you register an app, you can see Consumer key in your Yahoo Weather App
Consumer Secret : This Key is also in the Yahoo weather App, once you create an app you can copy it and add in module.
Temperature Unit : The module support Fahrenheit or Celsius temperature unit. You can set it by selecting one option.
Location Type :
Locations : You have 3 options to set location : 1. Location Name, 2. WOEID and 3. Lat, Long. Here some typical examples:

1. Location Name : London, UK (Type location name)
2. WOEID : 24505175 (Find WOEID for your location)
3. Lat, Long : 40.712776, -74.005974 (Add lat and long. of your location)

Show Additional Info : Select Yes to show addition infomation. This option only works with accordion and tab
Show Forecast Info : Select Yes to show forecast information.
This option only works with accordion and tab
2. Advance Configuration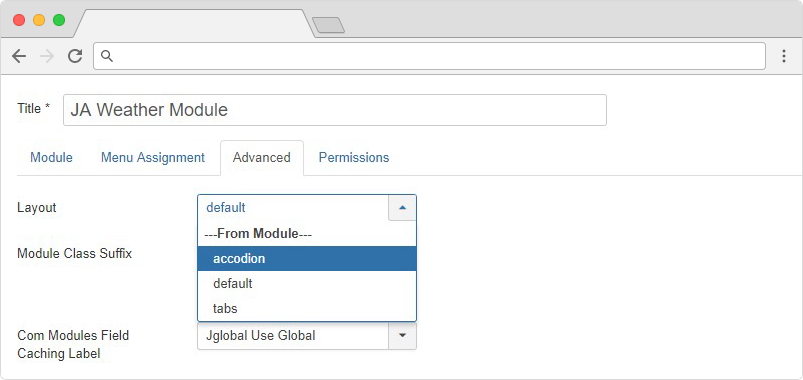 The JA Weather Module Support 3 Type of Layout : Default, Accordion, Tabs
1. Default Layout

To use default layout open JA Weather module > advance tabs > Select Layout default
2. Accordion Layout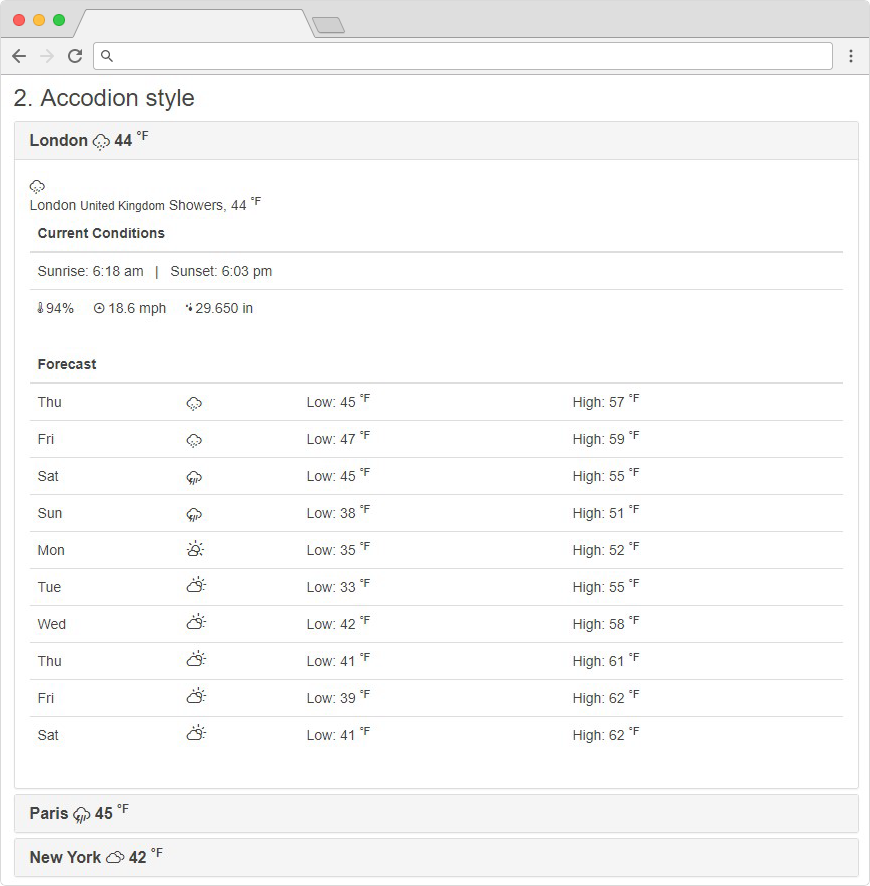 To use default layout open JA Weather module > advance tabs > Select Layout Accordion
3. Tabs Layout