JA Social Share Introduction
Quick Info
Updated on:11 Aug, 2023
Version:1.0.1 Changelog
Download:1,709
Introducing JA Social Sharing, the innovative plugin designed to empower users like you with the ability to effortlessly integrate social share buttons into your website. With its extensive range of features and user-friendly configuration options, JA Social Sharing takes your social media strategy to the next level.
Main features:
Support multiple popular social channel
Customizable button styles
Sharing count
Short code to show the social share on the pages, position you want
Simple configuration
JA Joomla social sharing extension features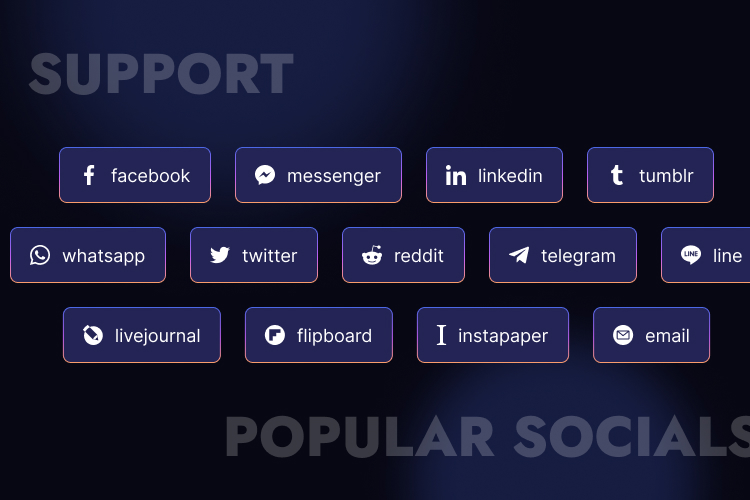 Flexible Integration and Popular Social Channel Support
JA Social Sharing offers unparalleled flexibility when it comes to integrating social share buttons into your website. Whether you want them prominently displayed at the top of your pages or discretely positioned at the bottom, this plugin gives you the freedom to choose from multiple positions to suit your design preferences. Plus, with support for popular social channels such as Facebook, Twitter, LinkedIn, Pinterest, and more, you can ensure that your content reaches a wider audience effortlessly.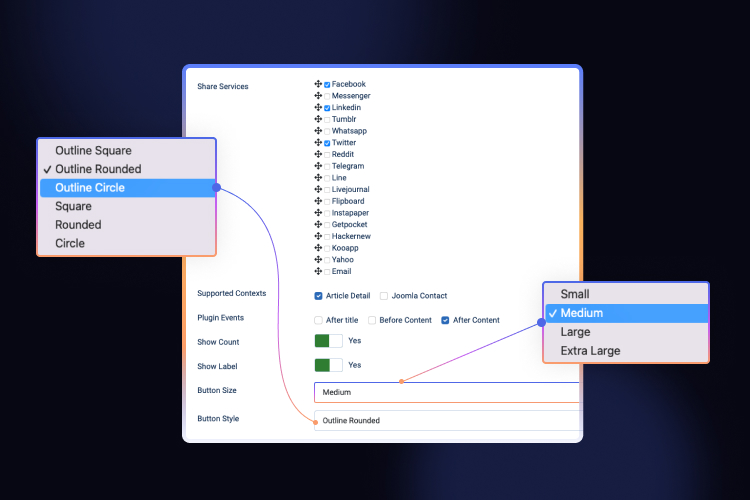 Easy to use and configure
Configuring JA Social Sharing is a breeze, thanks to its intuitive and user-friendly interface. No coding skills are required. With just a few clicks, you can enable or disable social channels, select button styles, adjust positions, and customize various other settings.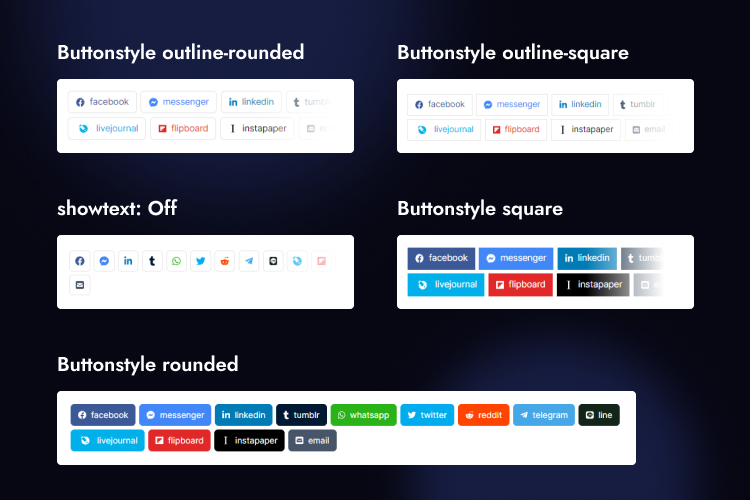 Customizable Button Styles
With JA Social Sharing, you can make your social share buttons seamlessly blend with your website's aesthetics. Our plugin provides a wide range of button styles, allowing you to choose the one that best complements your website's design. Whether you prefer sleek and minimalistic or vibrant and eye-catching, there's a button style for every taste.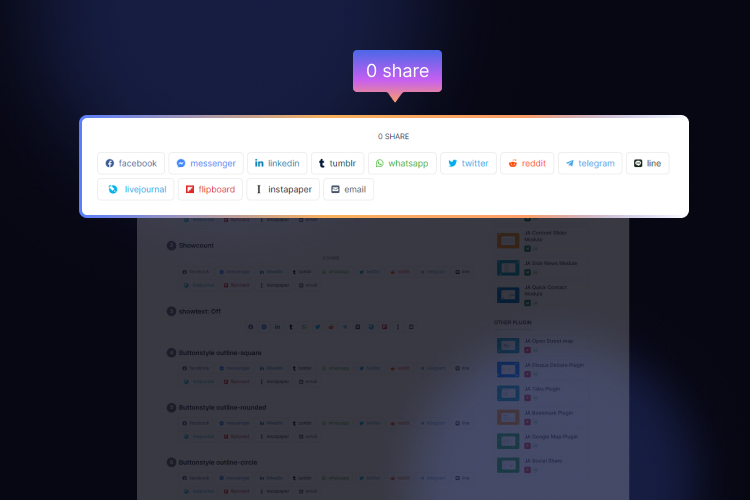 Sharing Count
Track the impact of your social sharing efforts with JA Social Sharing's built-in sharing count feature. Easily display the number of shares your content has received, providing social proof and encouraging more users to engage with your website.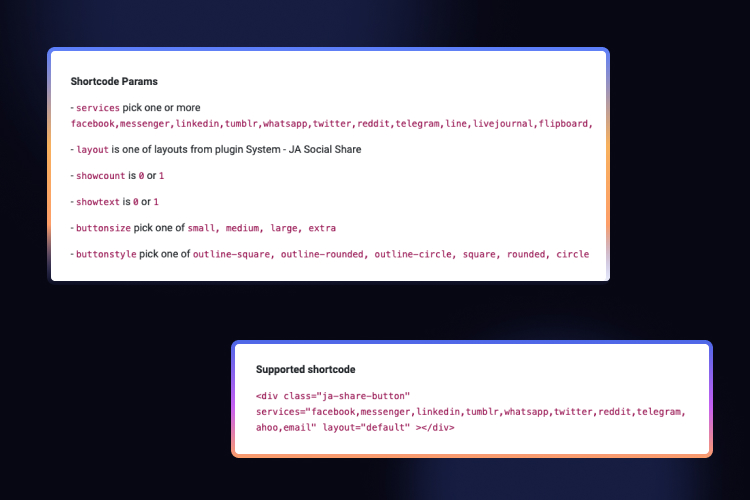 Support short codes
JA Social Sharing offers seamless support for shortcode to display the social share buttons in any section of your website by inserting the shortcode where you want the buttons to appear.
Example:
<div class="ja-share-button" services="facebook,messenger,linkedin,tumblr,whatsapp,twitter,reddit,telegram,line,livejournal,flipboard,instapaper,email" layout="default"></div>
				
Shortcode params:
services: pick one or more: facebook, messenger, linkedin, tumblr, whatsapp, twitter, reddit, telegram, line, livejournal, flipboard, instapaper, email
layout: is one of layouts from JA Social Share plugin: default
showcount: is 0 or 1
showtext: is 0 or 1
buttonsize: pick one of small, medium, large, extra
buttonstyle: pick one of outline-square, outline-rounded, outline-circle, square, rounded, circle
Request more features
Please request more features in the forum, our team will check and plan. Your suggestions are all welcome.