JA K2 Filter Component Introduction
K2 extra fields is one of the best feature of K2 Component . Our JA K2 extra field filter and search component gives the functionality to filter or search K2 articles based on their extra field values.
JA K2 extra field filter is easy to use and being a component, so it is more powerful than any other extensions. The search module supporting horizontal and vertical layouts thus can be used in any module position.
It comes with good documentation, clean code and is actively developed with more features being added regularly. Give it a try and you would know.
Filter and Search K2 articles based on extra field values
First and the only module to provide such an advanced search feature
Configurable filter parameters (option to select specific parameter to display in the search)
Multi display options for each filter parameter
Easy back-end for configuration
Additional Themes
Auto complete search function
Auto Filter function
Sorting order for item in result page
Vertical and Horizontal display mode
Dynamic Counter: Auto update counter of each filtering field value based on what users selected
Sort search result by extra fields
Sort list of values of each extra field
Advanced keyword search with a lot of operators: intitle, intext, inall, inmedia, etc.
Main Features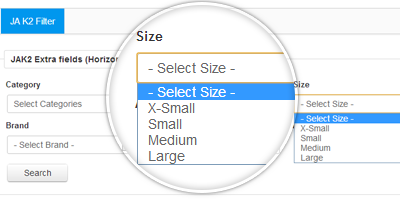 Filter and Search based on extra-field
Besides the normal search options by Keyword, category and author, JA K2 Filter allows you to search, filter your K2 articles based on extra fields.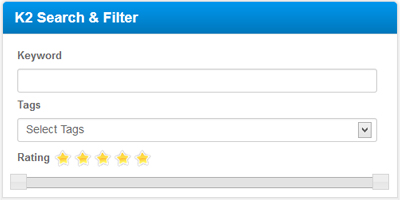 Multiple Standard Fields for filtering
Besides filter by extra fields, the module supports a lot of "Standard Fields" like: Filter by keyword, by categories, by tags, by rating, etc.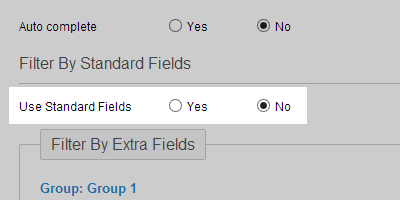 Filter by extra fields only ?
With one click, you can disable all standard fields in the filter and search block. In this case, the filter mode is extra field only.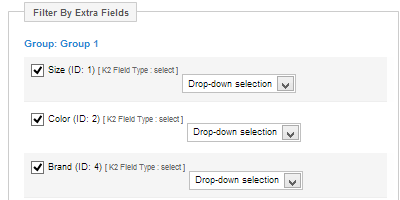 Configurable filter parameters
The module is highly configurable, from its layout (multiple layout supported for flexible content display) to its filter parameters. Each time you add an extra field, you will have the filter option for this extra field in JA K2 filter.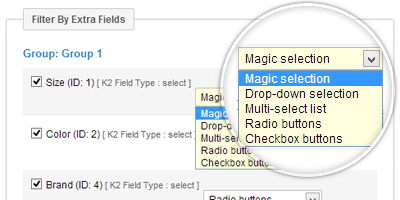 Multi display options for each filter parameter
For each extra field, you can configure for its display in front-page by assigning a filtering type for it: Range Slider, Magic selection, Drop-down selection, Multi select list, Radio buttons or Checkbox buttons.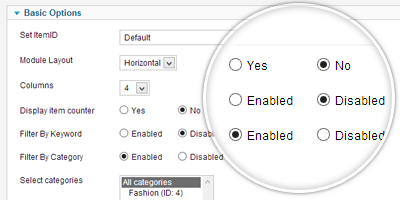 Easy back-end for configuration
This is not only a rich-fetured module but also a highly configurable module by its powerful admin panel. JA K2 Filter module is for filtering configuration while JA K2 Filter component is for configuring the layout of search result page and items in the page.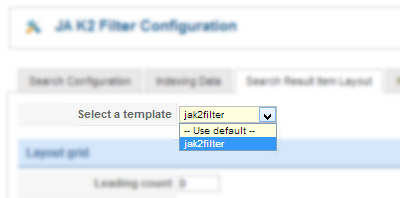 Additional Themes
We support one theme by default, and an additional theme that you can add to JA K2 Filter module used in your site. Moreover, you can create your own theme for the module.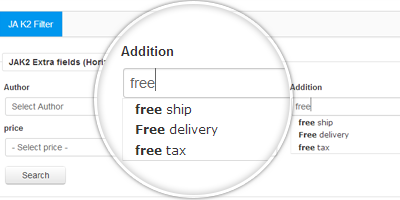 Autocomplete search function
If you are running version 1.0.5 and over, enable this option in the module setting pannel. The Autocomplete search function provides suggestions when you type into search field.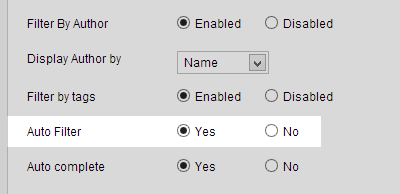 Auto Filter function
This option can be enabled or disabled, it's up to you. When enabled, the result will be auto narrowed due to your filtering values without clicking on Filter|Search button.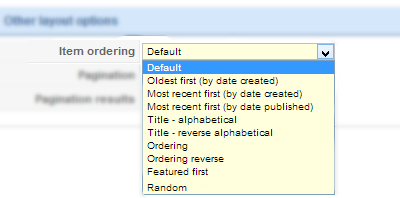 Sorting order for item in result page
In Search result page, you can configure number of items to be displayed and set ordering for the items by: Oldest first, Most recent first, Highest rated, etc.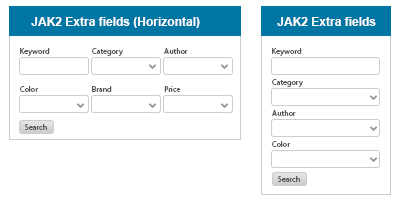 Vertical or Horizontal
JA K2 Filter module supports 2 displaying modes: Vertical or Horizontal, with one click, you can change within the 2 modes.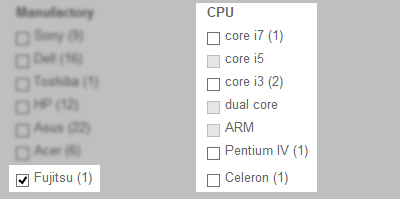 Dynamic Counter
When the option is enabled, counter of each value from filtering fields will be updated based on what users selected.
Changelogs
Version 1.3.3
31 May, 2019
Bug Fix
Issue with responsive layout
Backend: Got problem with some tooltips
Message warning when Reset
Missing language on Rating field
Link button need more styled
Version 1.3.2
29 Mar, 2019
New Feature
Choose to exclude Author from filter
Show number of items found in search result page
Support 'Show more' link for long list as in JA Megafilter
Improvement
Update counter when ajax filter
Keep values ​​when go back after clicking item
Bug Fix
All Etra-Fields should be hidden after 'All Fields' has been selected
Fix error when search "ha ha" on searchword input
Update language for Fields Pri-filter by Tag on module K2 filter
Problem with loading ajax
Search Keywords with minus character doesn't work
Error when search keyword on k2 filter
Should be restyle and add tooltip for Show hide options field on K2 filter module
Missing language and should be add tooltip for excluded author config on module
Relevance Settings: Describe need more clear
Search Keywords specify location doesn't work properly
Fix duplicated ajax send when hit enter on text filter ( by extrafileld)
Update tootip for Select categories field on K2 Filter Module
Minimum/ Maximum Keyword Search parameters do not work
Error when indexing
Fix alway redirect when hit enter on keyword search
Update language for Fields Start/End date on module K2 filter
Search Keywords inall doesn't work properly
Version 1.3.1
27 Jul, 2018
Update
Convert jadepend js from mootools to jquery
New Feature
Support to add class / ID filter
Improvement
Support 'Pre-filter' settings in com_k2 menu item
Features Requested: support to search for keyword is extra field
Bug Fix
Remove the scrollbar on two Extra field groups
Get code error on K2 Module with Radio select
Get Code error on K2 filter module
Issue with Dynamic mode
Version 1.3.0
21 Dec, 2017
Update
Issue with select box when enabling K2 filter plugin
Improvement
jadepend: covert mootool to jquery
Bug Fix
Do not trigger submit when date error
Fix auto filter with ordering even setting is off
Remove uniquie from #__jak2filter_taxonomy_map.node_id
Fix duplicate input variable
Fix chosen search can't work correctly
Add chosen to extra field tab, use flatpickr for date field
Fix can't rate item
Do not auto filter on date ranger filter
Version 1.2.9
05 Oct, 2017
Improvement
Support filter item rating = 0
Remove mootools, use jQuery instead
Upgrade to compatible with K2 2.8
Upgrade to compatible with Joomla 3.8.1
Bug Fix
Avoid error if not show standard field on ajax filter.
Search button doesn't work on firefox after deleting some sorted fields
Error if 2 modules call the same depend filter category,
Version 1.2.8
10 Feb, 2017
Update
K2 filter - updateserver tag updated
Bug Fix
JA K2 Filter Component search not working in IE 11
Update jak2filter plugin ajax only affect multicategory field to avoid jce editor bug can not save.
Fix some errors with JED Checker
Version 1.2.7
30 Dec, 2016
Bug Fix
Change jsite get menu to joomla3x
Rewrite code: Change jquery to mootools submit function to prevent js conflict
Fix regexp escape fields
Version 1.2.6
27 Oct, 2016
Bug Fix
Filter by rating doesnt work anymore
Reported Security Vulnerability in JA K2 Filter Component
Got error when active 2 extra field groups
Version 1.2.5
20 Oct, 2016
Bug Fix
Fix check required for multiple selectbox
Remove echo on search result page
Update Jrequest to Jinput
Fix missing k2 container for ajax options.
Version 1.2.4
04 Oct, 2016
New Feature
New feature: options to add fields as required fields
New feature: blank page with message before searching
Improvement
Improve performance
Update multi ordering for horizontal layout
Bug Fix
Fix issue of searching text extrafield with "/" (slash)
Fix bug for reset button that returns to default k2 template