JA Joomla GDPR Extension Introduction
JA Joomla GDPR extension brings GDPR compliance to Joomla sites. Easy to setup and customize. displays personal data of users as stored by the Joomla site owners.
Main features:
List all user personal data from Joomla core and 3rd party extensions in 1 single page
Custom section for manual deletion request for 3rd services like: Sendy, Intercom, Facebook, ...
Multiple actions for users: Edit profile, delete profile of specific section in website or delete all
Admin dashboard to manage user's activities
Super easy to setup, all features are built-in powerful admin panels
3rd party extensions to be supported: Kunena, JomSocial and more
Support multilingual
Powerful admin panel showing all user's action
Main Features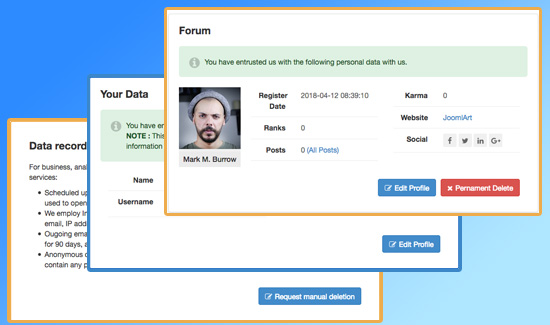 Manage all user info in 1 page
User can view all their information they submitted to the website in 1 page. The information is displayed in well-structure list layout.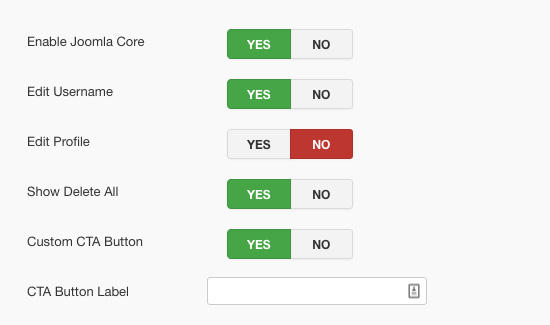 Easy to configure and customize
JA Joomla GDPR extensions is designed for ease of usage and customization. All features are built-in as options, fields in the intuitive admin panel.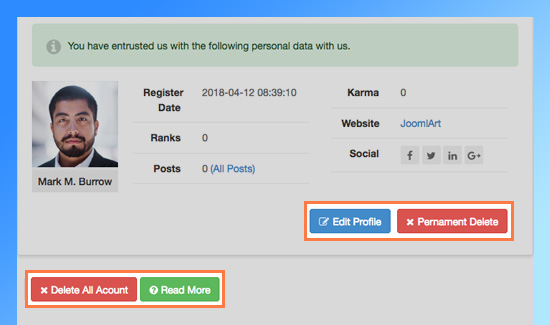 Multiple options for users to manage their data
Users have full permissions to manage their submitted data, they can edit all the info, delete profile or send manual deletion request to administrator.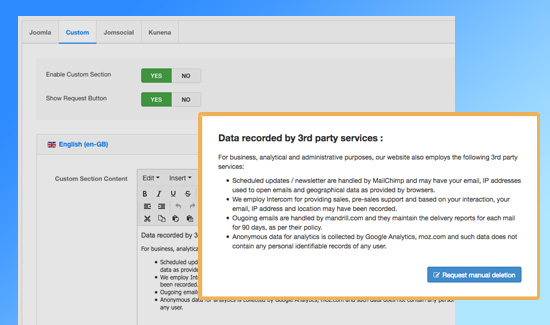 Custom Section: Manual deletion request
This custom section adds relevant information the site users need to know - this we are sure would be different for each website based on 3rd party services or data processing. So for now, its simple custom HTML
Email action for admin to manual update / remove information collected from users but not stored on site.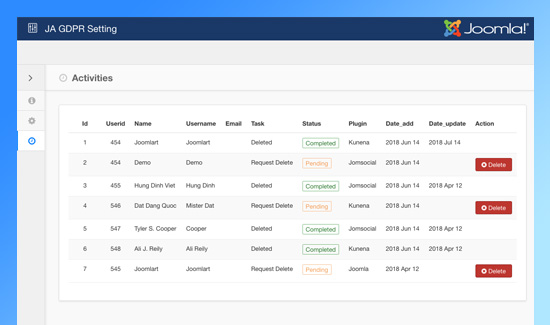 Powerful admin panel
The admin panel shows admin all user's action. When you user request deletion, admin can do the user profile deletion via the admin panel.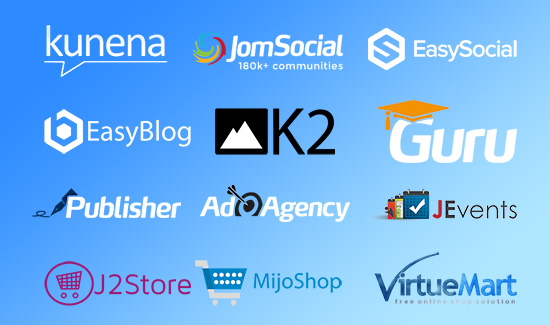 JA Joomla GDPR Addons / Plugins
JA Joomla GDPR will supports multiple Joomla 3rd party extensions. Below is the list we are planning to work on:
Social extensions ; JomSocial, Easysocial, Community Builder
iJoomla extensions : Guru, Adagency, Publisher
Contact forms : Breezing forms,
Newsletter extensions : Acymailing
Event extensions : Jevents, Event booking
Shopping carts : virtuemart, j2store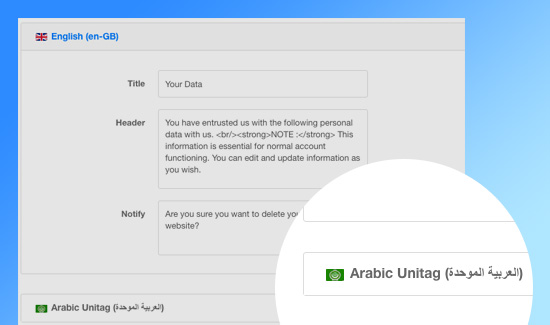 JA Joomla GDPR component supports multilingual
The Joomla GDPR extension supports for multilingual Joomla websites. You can customize content, button label for different languages.