Introduction
1. Get to Know Your Template
Everyone should read the Template's Overview Article! This is a quick and complete overview of the template, from the colours included, to all of the powerful Joomlart complimentary extensions that come with it. You'll also find links to the LIVE Demo Site, the Download area, as well as the Forum where you can ask questions.
Need Help Getting Around Joomlart.com? We've created a QUICK ACCESS GUIDE to help you become a Joomlart Power User. This is a wonderful reference, full of tips on how to quickly find template info, demo sites, module position guides and more. We don't want you to miss a thing!
2. Download Template and Extensions
Check download folder for the Quickstart, Template zip and other complimentary extensions zip files.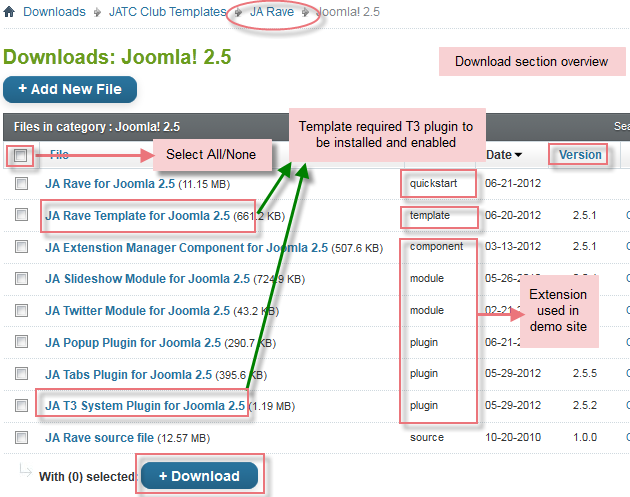 Plan your site Development
Making a New Website? - If you are planning to make a new site, use our Quickstart package to clone the demo site and replace the demo content with yours. Check How to install Quickstart Package.
Installing on your live website? - If you are planning to use this template on your already live site, you should follow How to make your site look like demo site guide first to learn about the steps involved. Then you can follow the userguide below.
The user guide covers the following aspects:
Installing Template on your Joomla
Installing T3 Framework 2 Plugin
Installing complimentary / included extensions.
Custom HTML Modules.
Mega Menu configs
System requirement
JA Rave is compatible with Joomla 3 and Joomla 2.5. Please make sure your system meets the following requirements:
Joomla 3 System requirement
Software
PHP (Magic Quotes GPC off): 5.3.1 + (5.4+ recommended)
Databases
MySQL(InnoDB support required): 5.1+
MSSQL 10.50.1600.1+
PostgreSQL 8.3.18+
Web Severs
Apache 2.x+
Microsoft IIS 7
Nginx 1.0 (1.1 recommended)
Joomla 2.5+ system requirement
Software
PHP 5.2.4+ (5.4+ recommended)
MySQL: 5.0.4+
Web Sever
Apache: 2.x+
Microsoft: IIS 7
Nginx: 1.0 (1.1 recommended)
Browser requirement
The requirements are the same with both Joomla 2.5 and Joomla 3
Firefox 4+
IE (Internet Explorer) 8+
Google Chrome 10+
Opera 10+
Safari 5+
Development Environment
The requirements are the same with both Joomla 2.5 and Joomla 3
During development process, Localhost is preferred. You can use the following servers on your PC to develop your site.
Windows
WAMPSEVER
XAMPP for Windows
Linux
LAMP Bubdle
XAMPP for Linux
Mac OS
MAMP & MAMP Pro
XAMPP for Mac OS
Installing the Template
1. Installing the Template on your Joomla system
Browse and Download: Go to the Download page of JA and download the Template zip file. Refer to this screenshot for the overview of the download folder.
Install the Template: Now install the Template on your Joomla 2.5 system. Follow This Guide if you are not familiar with the installation procedure.
Template Configuration:
JA Rave template will install with Settings used on the demo website, so you can postpone the configuration until you complete the setup (install other modules / plugins used on the demo website).
Once you have completed the setup, you can come back to the template back-end and check the various options for customizing your template. Refer to this Universal T3 V2 Back-end Config Guide for options on how to customize your installed template.
Note:
T3 V2 template configurations are the same in Joomla 1.6 and Joomla 2.5, so the above guide link is valid for both.
Links to resources on T3 V2 Framework templates and advanced configurations:
Error? - I see "Missing T3" error on the website front-end?
T3 framework 2 based templates need the T3 Framework Plugin to be installed and enabled
2. Installing T3 Framework 2 Plugin (T3 system plugin)
Download and install T3 Framework 2 Plugin (aka T3 System plugin). Follow this guide if you are not familiar with the installation procedure. After the plugin is installed, enable it as described in the same guide.
Installing the Extensions
Installing complimentary / included extensions
Free Extensions: (aka complimentary / included extensions). We use many extensions on our demo site to provide greater flexibility and features. These are provided for free to our members.
Custom HTML Module: To match the design of the template, we also style (CSS) for Custom HTML modules using different div classes. You will need to check the HTML codes and make sure to use the recommended HTML markup to get correct display. We provide the HTML code in this userguide.
3rd Party Extensions: This template uses JA Comment Component (with its plugins) that is also used for JA Rave Joomla 2.5. You will need to download JA Comment package, it is available to Developer members and JAEC members only.
Know your Module Positions:
Installing and Configuring Included Extensions:
List of modules / plugins used in JA Rave Template Demo:
JA Slideshow Module
JA Twitter Module
JA Popup Plugin
JA Tabs Plugin
T3 Framework Plugin
JA Extensions Manager Component
JA Janrain plugin
JA Comment Extension
Note: We provide the screenshot of the settings used on our demo website. Make sure you configure your modules / plugins in the same manner to achieve demo site alike style / functions.
Extensions Configuration
1. JA Slideshow Module
There are 2 Slide Show Modules displayed in JA Rave: JA Slideshow Module and Today Highlights. JA Slideshow Module's source is taken from Image Folder, while Today Highlights is rendered from Articles. This one is a bit tricky. Please read the following instructions carefully.
1.1 JA Slideshow Module
Make sure you install the module JA Slideshow first. To manage this module, select Extensions >> Module Manager, then click module named: JA Slideshow Module

Module Position : slideshow
Module Suffix : _slideshow

As you see in the image above, the slideshow's source is From Image Folder, Images are taken from the images/stories/slideshow/ folder. How to make slideshow run like our demo? Here after is the step-by-step instructions.
Step 1: Create slideshow image directory
Go to: Content/Media Manager/stories/, create the slideshow directory - and upload images for slideshow here.
Slideshow images should be in 596x298 pixels.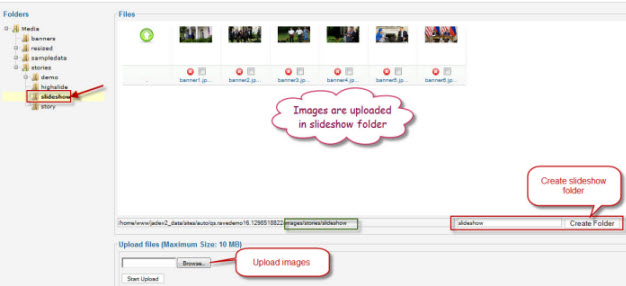 Step 2: Copy images folder link to Resource settings
Copy link images/stories/slideshow and go to Slideshow Module to paste this link into Image folder as below picture: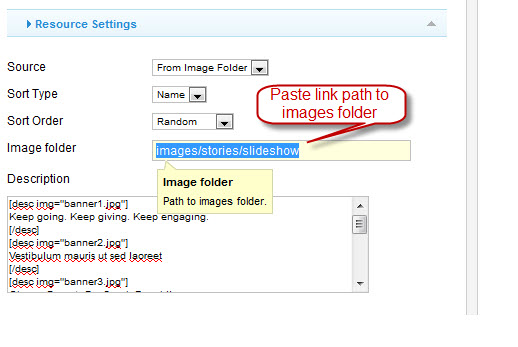 Step 3: Add description for each image
You can enter the description to each image with the code format:

[desc img="image_name.jpg"]Description goes here [/desc]