JA Nuevo template introduction
JA Nuevo is a versatile responsive Joomla template for portfolio, business, application page, etc. It is native with both Joomla 3 and Joomla 2.5. JA Nuevo is built with latest version of T3 Framework, developed with LESS, integrates Bootstrap 3 and support Font Awesome 4.1. The template has flexible and powerful menu systems with Megamenu, Off-canvas sidebar and default Bootstrap navigation on small screens.
Main features
Responsive Joomla template for Joomla 2.5 and Joomla 3
Bootstrap 3 integration
Font awesome 4.1 support
Developed with LESS
Multiple theme/colors by default, switching theme with one click
Developed with latest T3 Framework
K2 support with fantastic design
Flexibible menu system with Megamenu, Off-canvas, Bootstrap collapsed menu
Multiple alternative layouts for modules
Improve your site performance with CSS and JS optimization
Supported JA Extensions
The Joomla extensions are developed by JoomlArt, they belongs to JAEC club or specific developed for the template only. You can free download those extensions when you buy JA Playmag template.
JA Content slider module
JA Masshead module
JA Image Hotspot module
JA Slideshow lite module
JA Disqus Debate plugin
JA Bookmark plugin
Supported third party extensions
Supported default Joomla pages
These are default Joomla pages but its style is overridden so that its displaying, UI is better and fit the template design. Please check the Menu item configuration section to view the how-to steps to create such pages as demo.
Login page
Registration page
Edit user profile
Web links
News Feeds
Smart Search
Search
Offline page
404 page
Contact page
All categories
Category blog
Featured articles
Archived articles
Bonus pages
The bonus pages help you build your content easier. The bonus pages include:
Service page
Portfolio page
Features page
About page
Typography page
Blogs page
Module positions
Home layout structure: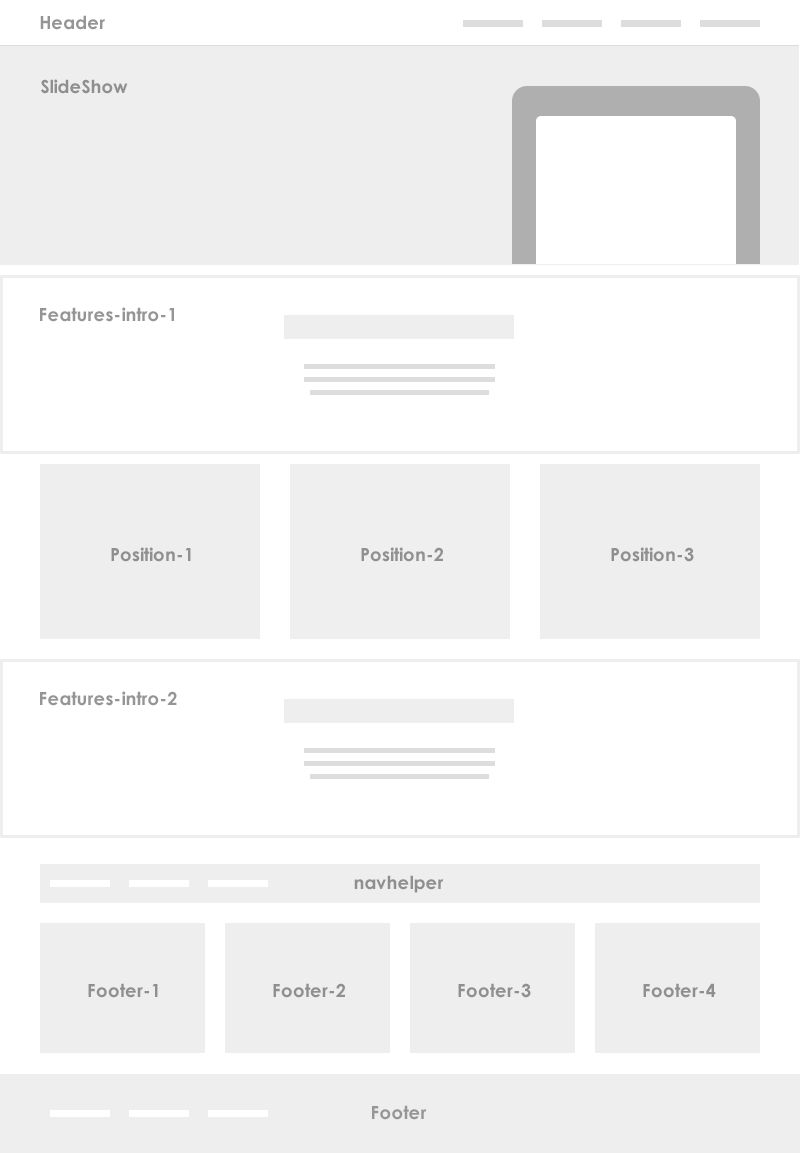 Default layout structure: