JA Bookshop Introduction
JA Bookshop is fully compatible with Joomla 2.5 and Joomla 3, the documentation is based on Joomla 3, for Joomla 2.5, it's almost the same with Joomla 3.
Ecommerce or Showcase, Portfolio site
JA Bookshop can be used as ecommerce site or showcase, portfolio site.
Ecommerce: based on Mijoshop component
Showcase or Portfolio: based on Joomla com_content with styles included in template package.
Ecommerce Demo Showcase & Portfolio Demo
Main Features
Ecommerce Template with Mijosho
Fully Responsive Template
Joomla 2.5 and Joomla 3 native
Bootstrap 3 integration
JA Extensions Supported
JA Slideshow Lite module
JA Side News module
JA Content Slider module
JA Extension Manager
JA Google Map plugin
JA Tabs plugin
T3 Framework
Supported Third party extensions
Mijoshop
Acymailing
Easyblog
Supported Joomla pages (by default)
Login
Registration Page
Edit User Profile
Web Links
News Feeds
Contact Us
Smart Search
Offline Page
404 Page
Site structure and Module position
System requirement
JA Bookshop is compatible with Joomla 3 and Joomla 2.5. Please make sure your system meets the following requirements:
Joomla 3 System requirement
Software
Software: PHP (Magic Quotes GPC off): 5.3.1 + (5.4+ recommended)
Databases
MySQL(InnoDB support required): 5.1+
MSSQL 10.50.1600.1+
PostgreSQL 8.3.18+
Web Severs
Apache 2.x+
Microsoft IIS 7
Nginx 1.0 (1.1 recommended)
Joomla 2.5+ system requirement
Software
Software: PHP 5.2.4+ (5.4+ recommended)
MySQL: 5.0.4+
Web Sever
Apache: 2.x+
Microsoft: IIS 7
Nginx: 1.0 (1.1 recommended)
Browser requirement
The requirements are the same with both Joomla 2.5 and Joomla 3
Firefox 4+
IE (Internet Explorer) 8+
Google Chrome 10+
Opera 10+
Safari 5+
Development Environment
The requirements are the same with both Joomla 2.5 and Joomla 3
During development process, Localhost is preferred. You can use the following servers on your PC to develop your site.
Windows
WAMPSEVER
XAMPP for Windows
Linux
LAMP Bubdle
XAMPP for Linux
Mac OS
MAMP & MAMP Pro
XAMPP for Mac OS
Download and Installation
1. Plan your site Development
Making a New Site ? - If you are planning to make a new site, then use our Quickstart package to clone the demo site and replace the demo content with yours. Check How to install Quickstart Package.
Installing on your live site ? - If you are planning to use this template on your already live site. Then you should follow How to make your site look like demo site guide first to know about the steps involved.
2. Download Template and Extensions
Browse and Download: Go to the Download page of JA Bookshop and download the Template zip file.
3. Install Template and Extensions
Install the template that you download in your Joomla system.
JA Bookshop template will install with Settings used on the demo website, so you can postpone the configuration until you complete the setup (install other modules / plugins used in the demo website).
4. Build demo with our Demo Builder
The demo builder service allows you to build demo for any Joomla template. All infomation of the demo will be sent to your email. You will have one day to explore our template before it's deleted.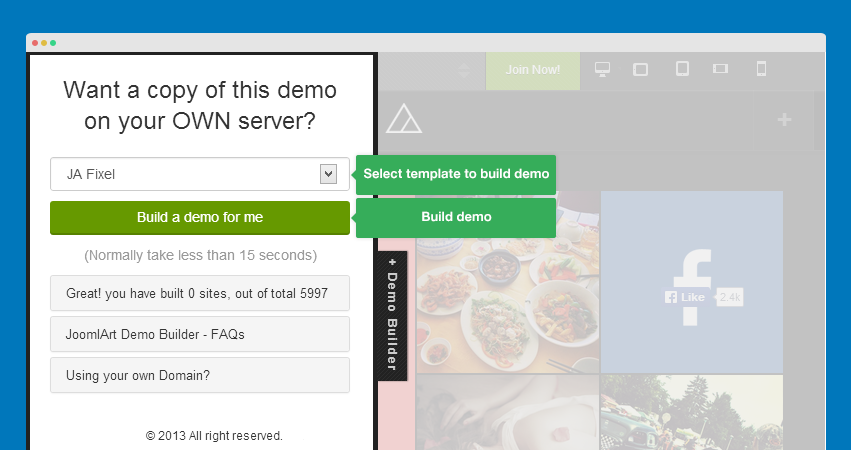 Note:
Custom HTML Module: To match the design of the template, we also style (CSS) for Custom HTML modules using different div classes. You will need to check the HTML codes and make sure to use the recommended HTML markup to get correct display. We provide the HTML code in this user-guide.