How to set up multilingual
This docs is in WIP, we will release it soon.
Multilingual setup in JA T3v2
With our T3v2 framework, if you want to set up multilingual, you need to create new profile for each language, choose menu for such profile and assign it to each language respectively. You can see the configuration from the image below: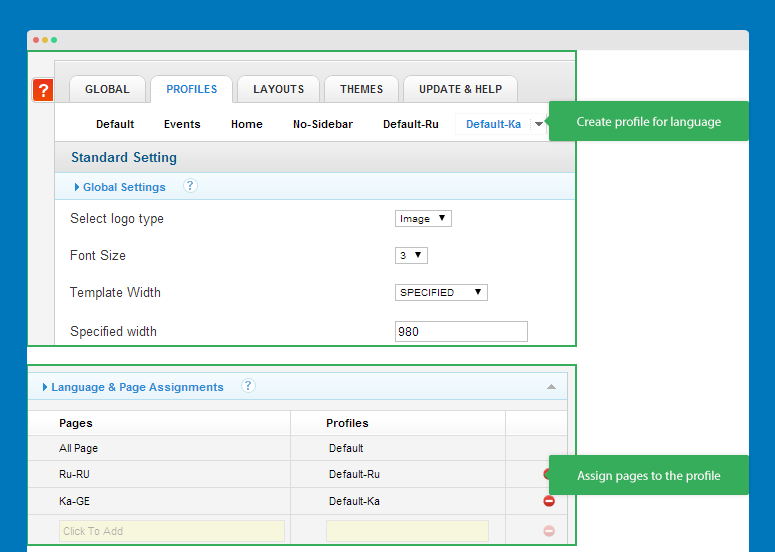 How to translate template
Question:
I am using a multilingual site (e.g: you are using JA Magz and your site is multilingual with English and French), now I want to import a French ini translation for template.
Solution:
What you need is to create a French language file for template, follow the steps below:
Copy two files: en-GB.tpl_ja_magz.ini and en-GB.tpl_ja_magz.sys.ini then paste into \language\fr-FR folder
Rename the copied files to: fr-FR.tpl_ja_magz.ini and fr-FR.tpl_ja_magz.sys.ini respectively
Open these files and change the language to French
Edit text of JA Onepage
In main page of JA Onepage, there are some blocks that has Tip Message enabled. The Tip Message is only displayed when the module title is displayed.
When module title is enabled, a language parameter is auto rendered to file: language/en-GB/en-GB.tpl_ja_onepage.ini. Here is an example: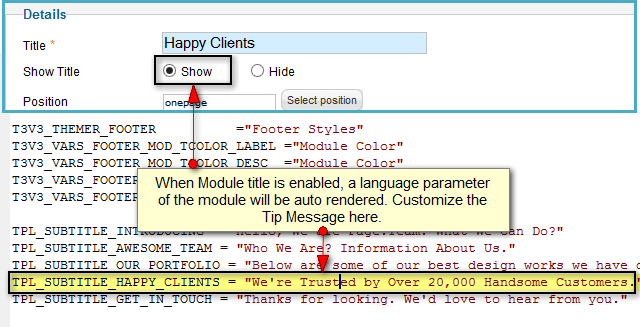 Now you can add/change the Tip Message to whatever you want.